Couples
Adventure and Rejuvenation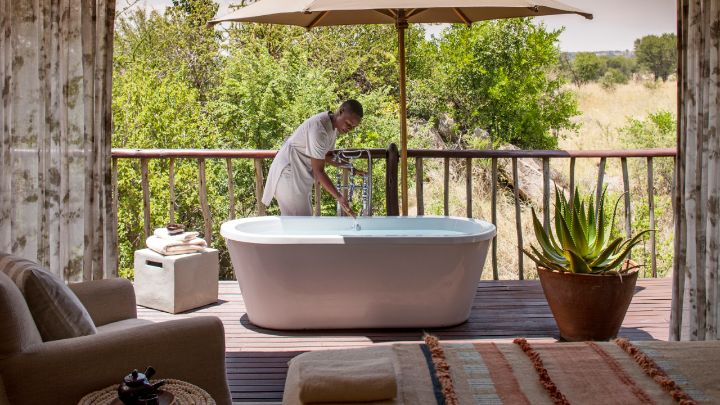 For the perfect balance of safari adventure and blissful relaxation, our Adventure and Rejuvenation package offers a four-day itinerary designed to offer a vacation that is action-oriented yet inherently recharging.
The Adventure and Rejuvenation Itinerary
Day 1
Afternoon: Following a journey through the heart of the Serengeti, arrive to the Lodge to unwind in the comfort and luxury of your room. Enjoy views of the nearby nature without even stepping from your four-poster bed or simply recline on your private balcony ahead of your first spa experience, African Detox (120 minutes).


Begin with a full body scrub made from the Msasa plant, handpicked here in Serengeti and used in traditional African medicine. Our detoxifying mud masque is enriched with a potent blend of seaweed, ivy and guarana extract, which is heat-activated with an herbal steam to create a slimming and firming effect, while converting fat into energy for weight loss. Africology's cellulite detox massage oil treats fatty deposits and eliminates toxins.
Msasa & baobab body scrub

African Slimming Detox Mud Masque

Herbal detox steam

Full-body circulatory & lymph drainage massage with cellulite detox oils

Oils of lemongrass, cypress, geranium and grapefruit


Evening: Take in a viewing of the traditional Maasai dance at Boma Grill, enjoy live cooking stations at Kula's Restaurant or dine poolside at Maji Bar and Terrace. With your personal dining guide presented upon check in, choose your dining option from any of the available restaurants to sample traditional Tanzanian specialties or a range of international fare.
Day 2
Morning: Rising early following a peaceful night's rest, depart the Lodge for a half-day game drive to discover the fascinating creatures of the Serengeti up-close, with expert insights provided by your Four Seasons driver-guide.


Lunch: Back at the Lodge, take time to process the morning's safari sightings over lunch at Maji Bar and Terrace, while being sure to keep an eye out for the visiting wildlife to the adjacent watering hole.


Afternoon: Stretch your muscles and calm the body and mind in a 60 minute yoga class of your choice before commencing your second signature treatment, the Mbuyu Experience (90 minutes).


The Mbuyu Experience begins upon arrival at the Spa, where a freshly prepared baobab infusion offers pre-treatment hydration ahead of the Lodge's signature 90 minute Kifaa Massage, which uses pure, organic baobab massage oil. Following the treatment, the Mbuyu goodness is shared through a nutritious baobab tasting sampler, and to complete the experience, a locally made decorative baobab tree souvenir and collection of recipes containing the full nutritional benefits of baobab are available to take home. The baobab flour and fruit are also available for purchase from the Spa's boutique.


Evening: Take in the spectacular African sunset with your choice of cocktail at Maji Terrace ahead of a dinner under the stars, immersed in Tanzanian flavours and a Maasai performance at Boma Grill or choose from an array of international specialties at Kula's Restaurant.

Day 3
Morning: Set out before the sunrise to board a spectacular hot air balloon safari. As the sun rises over the Serengeti, witness the active movements of the wildlife below as you soar to great heights and skim across treetops. Upon landing, a champagne breakfast is served, before a half-day game drive allows your safari sightings to continue as you return to the Lodge.


Lunch: Enjoy a relaxed poolside lunch at Maji Bar and Terrace.


Afternoon: Take a nap, a refreshing swim or a tour of the Discovery Centre - the afternoon is yours to spend as you wish.


Evening: The third and final signature spa experience takes the form of the Sunset Kopje Nature Walk and Meditation (75 minutes).


Our Maasai will guide you along a short, uphill, nature trail to the top of our sunset kopje, where you will take in panoramic views of the sun setting over the Serengeti plains. Pause for a few moments to keep a mental souvenir of this experience, with a guided meditation from our yogi.


Following the relaxing session, return to enjoy the comfort of your room, where a selection of the chef's specialties await for you to enjoy from your personalised choice of in-room dining amenities. As your stay draws to a close, sit back and soak up the serenity of your final Serengeti evening in the complete tranquillity of nature.


Day 4
Morning: After breakfast at leisure, take a final glimpse of the Serengeti's wildlife in your departure transfer to Seronera Airstrip.