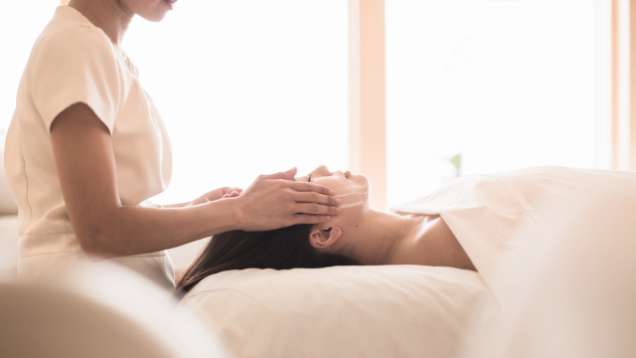 At the Four Seasons Hotel, Seoul, we are very proud to be partnering with two world-renowned and results-driven skincare lines. Biologique Recherche is a family-run French band with a long heritage of marrying scientific expertise with highly active ingredients and cutting-edge technology. Sodashi, from Australia, presents a natural and chemical-free collection of pure and potent skincare products and treatments, which work on the body, mind and spirit holistically to initiate healing.
SECOND SKIN
Exclusive to Four Seasons Hotel Seoul, Biologique Recherche has pushed new frontiers in the beauty world with their facial Second Skin. This treatment, famous its injectionless filler results, uses five lifting and regenerating electrospun masks, made with 80% hyaluronic acid and a regenerating serum, which target damaged skin instantly. This exceptional treatment visibly refreshes the signs of ageing, boosts the complexion's water retention and accelerates the healing process via the skin's extracellular matrix. It is a genuine cosmetic alternative to invasive treatments, with none of the downtime.
SKIN INSTANT
This is your facial. Intensely uplifting, contouring and results-driven, it is customized especially for you. Using the time-honoured Biologique Recherche Methodology, your therapist will start by analysing your complexion, diagnosing your skin at this instant and creating a personalised prescription for the very best results. While deeply restorative hands-on therapy via a reshaping massage helps defy gravity, active skincare products will restore the natural pH of your skin, boost hydration and improve texture for an energized and radiant result. This facial is appropriate for all skin types.
LUMINOUS FACE
Creating visible brilliance, this brightening facial uses a series of fragrant and profoundly hydrating powders and serums to combat hyper-pigmentation and reveal your skin's natural inner radiance. The feeling of wellbeing extends to the body via our 30-minute back massage, working on common areas of tension like the neck, shoulders and back. The whole experience imparts a feeling of total wellbeing, while leaving your complexion with an enviable luminous and dewy shine. Perfect for fatigued and freckled skin.
PLUMP AND SHINE
This results-driven facial turns back the clock, giving you a visibly youthful radiance. A journey of cleansing, exfoliating, masks and moisturizing imparts a beautiful glow to the complexion, while a lymphatic massage helps detox the complexion. Ideal for tired and dehydrated skin.
MANKIND FACIAL
Designed to treat complexion concerns that men face, this treatment takes the skin on a journey through deep cleansing and exfoliation, a balancing mask and powerfully hydrating mists to bring a glow back to the complexion. The face is left looking refreshed and revitalized. Suitable for all skin types.
PURITY
This treatment combines Sodashi's unique plant essence formulas with the deep cleansing properties of mineral-rich Argiletz clay to cleanse and balance congested, breakout-prone skin. Complemented by a pressure point facial massage to restore the skin's natural radiance, this facial refines the pores and leaves skin feeling purely refreshed, clear and balanced.
Note: Prices and treatments are subject to change without notice. Prices include all taxes.