My Four Seasons
Seoul Food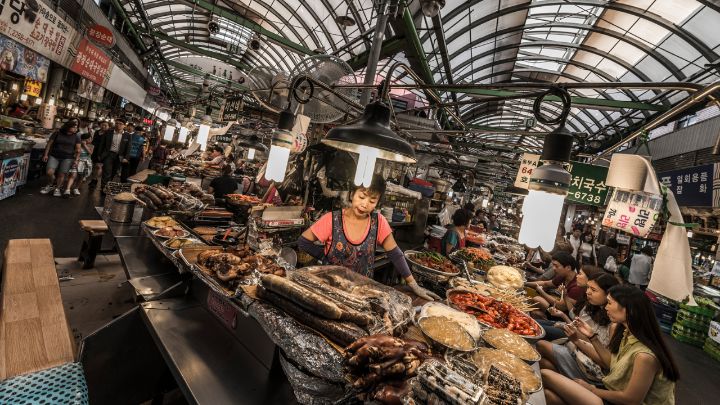 The Korean Wave has played a central role in expanding Korean culture throughout the world: K-pop's bouncy beats can be heard from Hong Kong to Los Angeles, and K-drama heartthrobs fill smartphone screens from São Paulo to New York City.
But perhaps the best barometer of the appeal of Korean culture is the growing global popularity (and ubiquitousness) of Korean food. Today, you can find bibimbap in Amsterdam, jjigae in Cairo and even Korean-Mexican fusion dishes (such as the trendy Korean taco) in food trucks throughout North America.
For a tongue-tingling taste of authentic Korean cuisine, however, the best thing to do is to – of course – pay a visit to Seoul and embark on a food tour around this city of gourmet delights. Take our word for it: there's no shortage of exceptional dining experiences to be had here, whether you choose to dine in a Michelin-starred restaurant or in the midst of a throbbing street market. The only problem is choosing from among the many delicious dishes on the menu.
To begin, start with a Korean snack such as tteokbokki (chewy rice cakes doused in a fiery sauce) or dakkochi (chicken skewers in a spicy-sweet marinade). Both of these are street food staples, providing sustenance to shoppers in any of Seoul's amazing street markets throughout the day.
For a more substantial meal, try a staple dish such as samgyetang (chicken soup with ginseng) or jijgae, a traditional type of stew featuring a wide variety of vegetables, seasonings and meat or bean curd. Perhaps the best known Korean staple is bibimbap, a delicious combination of ingredients mixed with chilli paste, best served in a dolsot (stone bowl) that turns the rice at the bottom into a perfectly browned and crispy treat.
If you're in the mood for some Korean comfort food, eat like a local and try some anju – food that is customarily eaten with alcohol. Highlights include beer paired with Korean fried chicken (Chi-Mc, a compound word combining "chicken" and maekju, the Korean word for beer), samgyupsal (unmarinated slices of barbecued pork belly) paired with soju (South Korea's unofficial national drink), and pajeon (scallion pancake) washed down with makguli (sweet rice wine).
Of course, no meal would be complete without a little dessert, so when the main dishes have been cleared away, tuck into some patbingsu (red bean shaved ice), which can be made with any number of ingredients, providing the perfect cool antidote to the burn of a perfectly fiery Korean meal.