My Four Seasons
The Historic Market and the Seafood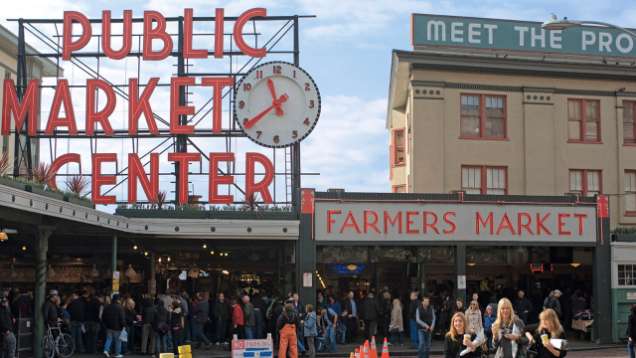 Fish that fly through the air. A giant squid that hovers in place. A brick alley wall covered in gum. These are not your typical Farmer's Market sights. Then again, you're not at the typical Farmer's Market. Established in 1907, Pike Place Market — the oldest, continually operating farmers' market in the United States — is a sprawling complex of food stalls, shops and family-owned eateries. Over 200 shops, 190 craftspeople, 100 farmers and 240 buskers make their home away from home here.

Where to start? To paraphrase Lord Byron, the best place to begin is at the beginning. By the entrance you'll find the iconic clock that's been ticking the seconds since 1930, and an information kiosk with maps of the labyrinthine market. Be sure to drop a few coins (any currency will do) into Rachel, the life-size, bronze-cast piggy bank. Donations help fund the Market's social services.

Elsewhere you'll find other life-sized sculptures — and terrific photo ops. A wood carving of the mythical Sasquatch stands under the aforementioned giant squid. Crafted of copper, the sea beast dangles from above. The Market's most unusual expression of art would be the Market Theater Gum Wall. Thousands upon thousands of pieces of gum continue to be placed on the wall — some randomly, some stretched into letters, and some sculpted into designs. It has since become a destination for wedding pictures.

Meander the many nooks and crannies, and consider cut flowers ablaze with colour, antique collectibles and homemade wares, and specialty-food items. The highlight of the Market, however, is the world-famous Pike Place Fish, home to salmon-slinging fishmongers. Select a whole fish, and then watch one of the employees send it flying over the stall towards the back to have it packed in dry ice for the plane ride home.

This is still just the beginning of what you will find at Pike Place Market. The Market is an all-day event: sip a latte from the very first Starbucks, or look for an unmarked pink door that leads you to an Italian restaurant for romantic dining on a patio overlooking Elliott Bay.

It's all just a few minutes away from the Hotel. Ask the Concierge about experiencing a tour of the Market.