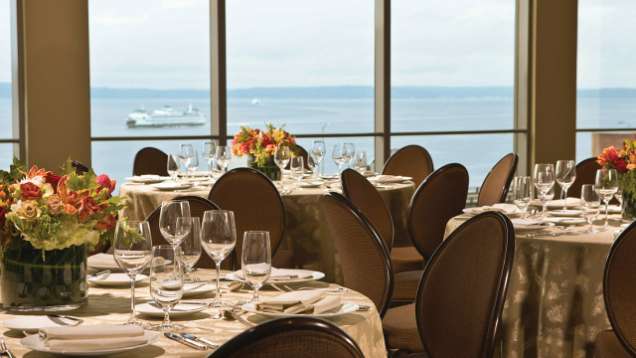 Invite up to 500 guests to a social or corporate event backdropped by stunning views of Elliott Bay and Puget Sound presented through a window wall that frames the drama of water, mountains and sunsets.
This room may be divided into smaller rooms :
Invitingly Styled
Set a grand stage for a memorable wedding or charity gala event: The spacious Ballroom delights with gold textured wall panelling and Northwest-inspired custom wool carpeting in six warm earth tones.
Aglow with Elegance
Welcome in ample sunlight (or a starlit night) from a wall of floor-to-ceiling windows. Above, elegant halos of light seem to hover within geometric-shaped coves recessed into a soaring ceiling.
A Space for Connecting
Catch up with old friends or network with new colleagues — without interrupting Ballroom events — in the adjacent foyer, or check your mobile email via the Hotel's wireless Internet connection.
Seating
Classroom
U-shape
Theatre
Reception
Banquet rounds

220
55
450
500
384

Room Features
Pre-function space and wired or wireless Internet access available
Natural light from floor-to-ceiling windows
Built-in screen and projector

Location
SECOND FLOOR
Size
Area
Dimensions
Height

459 m2 (4940 sq.ft.)
20 x 23 m (65 x 76 ft.)
5.5 m (18 ft.)