Swing for the greens on two of Arizona's most celebrated golf courses –– The Pinnacle and The Monument. A complimentary golf shuttle provides convenient transport to the adjacent Troon North Golf Club in Scottsdale.
Two Courses
Troon North Golf Club stands as a hallmark of the Scottsdale desert golf experience with two 18-hole courses stretching through the natural ravines and foothills in the shadows of Pinnacle Peak.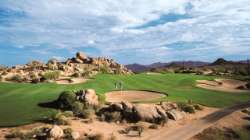 Monument
Opened in 1990 and conceived by legendary golfer Tom Weiskopf and architect Jay Morrish, this 7,039-yard, par-72 course has five sets of tees to provide a challenge for both low- and high-handicap players.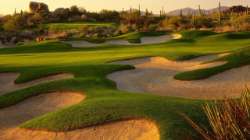 Pinnacle
Opened in 1996 and designed by Tom Weiskopf, the Pinnacle is a 7,009-yard, par-71 course with five sets of tees, the most forward ones playing to 4,831 yards.
Group Golf
Whether you are looking to conduct business, or to inspire friendly team-building competition, Troon Golf pro-vides the ultimate experience for your group's golfing needs.
Callaway Performance Center
Callaway's certified specialists provide professional fittings to help you im-prove your game. The ball-flight simu-lator provides instant feedback on every swing, allowing you to elevate your play using the same advanced technology used by the pros.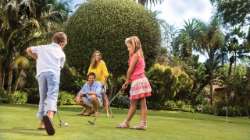 Family Golf
Troon Golf is leading the way with introducing juniors to the game of golf. With options like juniors play free after 3 PM, or complimentary instruction when playing with a paying adult, a day of golf can be a fun family affair.
Golfer's Massage
Real warmed golf balls help ease golf-related stiffness and tension in a fashion similar to hot stones. The treatment is ideal prior to a day on the course, or after as a way to work out the kinks of a well-played game.
Get Fit with EXOS
Golf students work with EXOS' inte-grated team of golf instructors, per-formance specialists and physical therapists during this three-day evalu-ation. A personalized golf training, nutrition and recovery game plan is created to optimize each student's performance and personal health.
PXG Xperience
This three-day golf immersion seamlessly blends the celebrated performance of PXG equipment with the breathtaking panoramas of Scottsdale National Golf Club's three elite courses: The Mineshaft Course, The Other Course and The Bad Little Nine. Add world-class service and exceptional food to the equation and you've got a once-in-a-lifetime Xperience only PXG could offer.