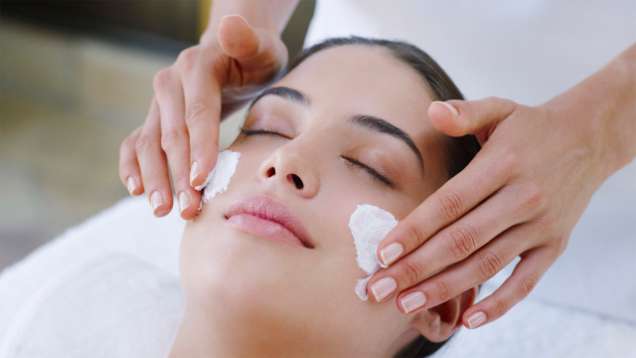 Custom-designed to your skin type, our face treatments bring out a healthy, youthful glow – naturally boosting your inner radiance.
Rainforest
This restorative face treatment uses therapeutic rainforest plant extracts, lymphatic drainage techniques and herbal mud mask to rejuvenate facial skin. Boosting nutrients at a cellular level, it encourages toxin release and collagen production, reduces puffiness and supports skin's natural protective functions.

Blissful
Inspired by shamanistic techniques, this divine therapy restores natural luminance by stimulating the free-flow of facial energy. Marma point massage, a mineral-rich mask, and rose and sandalwood oils reduce inflammation and increase blood circulation, resulting in skin that glows with radiance and a feeling of pure bliss. Great for jet lag and exhaustion.

Rejuvenating
Vishuddha (the throat chakra) is symbolised by a lotus flower with 16 petals, each reflected on a marma point on the face. Using deeply regenerative sea buckthorn, jasmine and orange blossom and nourishing lavender and honey, this face treatment rejuvenates the skin, calms the mind and promotes restful sleep.

Age-Reversing
This five-part, results-driven facial therapy draws on the potent healing qualities of ila's unique blend of therapeutic Boswellia – an anti-ageing panacea that removes cellular inflammation and allows cells to repair and rejuvenate. After an energy-opening back massage and reflexology to bring complete relaxation, bio hyaluronic acid penetrates deeply into the cell wall via ultrasound, plumping the skin and bringing hydration. With cells in an optimum state, stem cells and gold stimulate collagen production and reprogramme a healthy cellular structure.

Note: Prices and treatments are subject to change without notice. Prices are subject to a 21% tax and service charge.