My Four Seasons
Live Like a Local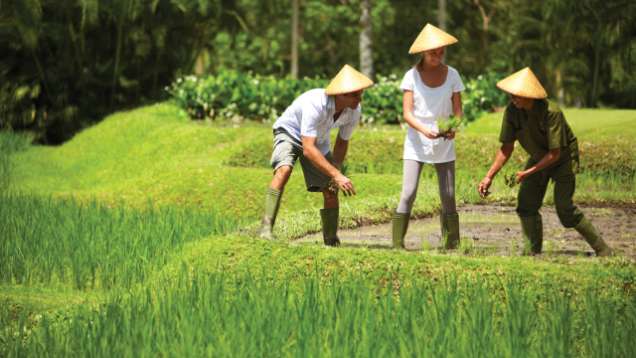 At Four Seasons Sayan, our guests can choose from a nearly limitless variety of adventures. A special treat is the chance to experience a day in the life of a Balinese farmer. With the help of an expert guide, you'll venture inland to get a firsthand look at the time-honoured ritual of farming the ubiquitous rice paddies that provide the staple of island life.

The production of rice lies at the heart of Balinese culture and religion. Every year islanders gather for large festivals that celebrate the grain, and offerings of rice are given daily in thanks. The ability to care for the rice paddies is viewed as a gift, and the Balinese farmer who is practiced at it enjoys the status of artist – sculptor of the terraces.

To fully appreciate the tine-honoured agricultural system at work in Bali, you'll experience the land from the farmer's point of view. Begin with a morning trek through the exquisitely verdant Ayung River Valley. You'll take the jungle paths along the irrigation canals that lead to the banks of the fast-flowing river and you'll witness a demonstration of rice planting. Breakfast will be served in a traditional Balinese bale, amid the lush plantings and mirror-like watery surfaces of the terraced rice paddies. You'll learn about the traditional Subak irrigation system that manages water storage and drainage for the rice terraces. And for those wishing for a true hands-on experience, you'll have the chance to plant rice seeds.

Following a refreshment break of young coconuts, soothe your sore muscles and scrub away the dirt of a hard day's labour in the fields with a river stone bathing ritual, called batukali. Bathing in the river is both an age-old ritual and a social event for the Balinese. Over the rhythm of the rushing river, villagers share laughter, songs, gossip, and stories. Receive an application of fresh herbal blends in your hair and scalp, an invigorating river stone scrub to revive your skin, and a soothing massage complete with fragrant coconut oil and freshly grated ginger paste to warm and relax the body.

Farmers always need a hearty lunch after a morning of work, so you'll end up back at Four Seasons for a traditional meal of nasi campur, served in a private bale along the river. Meaning "mixed rice," nasi campur is an Indonesian dish made of red rice topped with vegetables, meat or fish, and other accompaniments that might include egg, tofu, and fried soybean cakes. Nasi campur is typical of the everyday Balinese meal that a farmer's wife might prepare and share with her husband in a small hut known as a pondok in the rice field. After lunch you'll receive a memento photograph from the day and a nasi campur recipe to enjoy at home.