My Four Seasons
BALI FAVOURITES
Tips From Our General Manager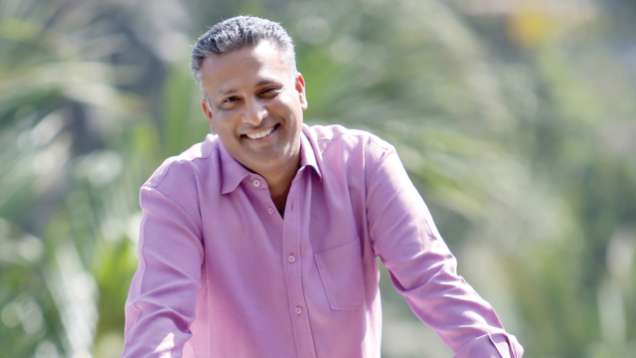 Uday Rao has been General Manager at Four Seasons Resort Bali at Sayan since 2012, and he quickly discovered that he loves living here in Bali.
"It's heaven on earth for me. Bali offers exactly what most people are looking for in life: happiness, peace and contentment. It really changes the way one views the world. It's wonderful to see the calmness, humility and serenity in how the Balinese live their lives."
We asked Uday to share some of his favourite local experiences, giving you a checklist of options to discover while you're here at Four Seasons Sayan, located in Bali's inland heart, near the cultural capital of Ubud.
Favourite Spots Within The Resort
Lotus Pond

The circular rooftop lotus pond is the first thing you see upon arrival at Four Seasons. The 360-degree view of the Sayan valley is breathtaking, humbling and at the same time overwhelming. Words cannot describe how beautiful it is.
Rice Bale by the Ayung River

This little pavilion is so peaceful and quiet, and I love the sound of the river right beside it. It's a perfect place to read a book, write down your thoughts, or just be inspired.
The Spa Villas

On my day off, the Spa is the place I go to escape the world and get pampered. I disconnect from everything and everyone for those 90 or 120 minutes. It's stress-free and healing.
Favourite Walks and Hikes
Village Walk

This is one of our Resort's most popular activities. It's a nice 90-minute walk exploring the nearby village of Sayan, visiting a traditional Balinese house, and a neighbourhood temple. It's educational and fun at the same time. The walk starts at 8 am every day.
Penestanan Rice Field Walk

I like to walk through the rice fields just before dawn and watch the sunrise above the volcanic mountains in the distant horizon. I love the noises of the wakening village: the birds chirping, the rooster giving the village a morning wake-up call. You can see ducks waddling through the rice fields and the farmers getting ready to start their day. It's magical!
Mount Batur Sunrise Hike

For an unforgettable experience of a Balinese sunrise, you can take the two-hour hike up Mount Batur, a dormant volcano. It's quite a vigorous climb and not for the fainthearted. One has to leave the Resort at 2:30 am, then climb the mountain with a flashlight in order to watch sunrise. The feeling of accomplishment and the view from the top are definitely worth the challenge!
Favourite Temples and Monuments
TirtaEmpul Temple

Holy Spring Water Temple is one of Bali's most sacred places – with spring water that is believed to have healing powers. Legend has it that the God of Indrapierced the earth to tap the Elixir of Immortality to create the spring. Built in 962 A.D., the Hindu temple was restored in 1960s. If you are open to this experience, I would recommend taking a bath with the hundreds of Balinese who come to be purified and cleansed each day.
GunungKawi

An ancient temple complex, this rock-cut monument believed to be a memorial to a member of the 11th-century royal Balinese family. You can also take a guided hike down to the caves where meditation rooms were carved into the mountain. The cells were used by monks for solitary meditation.
FAVOURITE BALINESE SPIRITUAL EXPERIENCES
Traditional Balinese Healer

Pak CokordeRai is a Balian, a traditional healer,who is based in thevillage of Negari, near Ubud. During a session, he assesses your current emotional and physical condition. He does not cure you, and he will not tell you what needs to be done with the information he provides. He merely makes you aware. What you do with that information is up to you. There is no science to what he does. You simply must have faith and belief. Should you wish to see him, I recommend speaking to our staff, either the Spa Manager or myself, so we can give more insight on the experience. Please be aware that the sessions are not conducted in private.
Traditional Balinese Water Purification

A local healer, Ida Resi Alit, performs traditional Balinese Melukat, a water purification ceremony in her village temple – helping to cleanse the body and mind of past karma and negativity. Born in a small farming village in 1986, she had no previous spiritual training, but she began to have out-of-body experiences. Following a near-death encounter during a ritual ceremony, she emerged with vast, previously unknown knowledge, including complete and complex Sanskrit. If you are interested in a session, once again, I highly recommend speaking to me or our Spa Manager for greater explanation.
FAVOURITE SHOPS AND GALLERIES IN UBUD
Tony Raka Gallery

Tony is quite a legend in Ubud. He comes from a humble background of artisans. Over the years, he has accumulated a range of traditional and contemporary art, sculptures, tribal art and he showcases them in his gallery. He is particularly passionate about promoting young, up-and-coming local artists.
Rio Helmi Gallery

A photographer and a publisher who has captured images of Asia since 1978, Rio has focused his work on the interaction between indigenous peoples and their environment. Try to meet him in person. He has traveled extensively, speaks five languages and he tells incredible stories.
Threads of Life

This is a fair trade business that works with culture and conservation to alleviate poverty in rural Indonesia. Made by local villagers, the heirloom-quality textiles are all made using local materials and natural dyes. You'll find clothing, wall hangings, pillows and more. All the proceeds go back to the community.
FAVOURITE LOCAL RESTAURANTS AND BARS
Jati Bar at Four Seasons

Perched above the valley, this open-air bar is a wonderful spot late at night. After most of the guests are tucked in bed, I love sitting at one of the banquettes,sipping a glass of Pinot or Merlot, listening to jazz and gazing out over the river valley. It's incredibly peaceful.
Riverside Café at Four Seasons

Immersed in nature, right on the river, our restaurant offers a new menu of modern bistro cuisine, made with local ingredients. Chef Jocelyn, our French executive sous chef, prepares his own mother's recipes, offering simple, home-style food with authentic flavours. It's been a big hit with our guests.
Laughing Buddha Bar

This small neighbourhood bar in Ubud combines excellent food with great live music, friendly staff and a fun ambiance. Be sure to try the honey-glazed chicken wings with sesame seeds, and also the chorizo sausages.
Jazz Café

This café in Ubud is best known for its live bands, playing an array of eclectic music from African sounds and jazz to blues and salsa. The staff is friendly and the manager is always around to take care of you. You may even hear him sing the blues himself once in a while!
Melting Wok

Run by a Parisian woman who is married to a chef from Laos, this intimate Ubud restaurant only has about 15 or 20 seats. The authentic, home-style Laotian food is fresh and cooked to order. Expect big bowls of noodles and subtle curries with meat, fish and vegetarian options.
Naughty Nuri's

Opened over 20 years ago, this place is an institution in Ubud and all of Bali – especially if you love pork ribs and a strong martini. The meat on the pork ribs falls off the bone. The martinis are shaken by the table and they are fantastic. They don't take reservations, and it'scash only.
Bridges

Owned by a Frenchman, this dinner spot has a wonderful ambiance, excellent service, very good food and an extensive wine list. They even have a wine cellar and a sommelierwho will make recommendations for pairing. So far his recommendations have been spot on for me!
Indus

The menu features both Western and Indonesian food, but I suggest the Indonesian. They have very good satays, curries and noodles. It's best to come here for lunch on the terrace so you can enjoy the stunning views over the valley and rice fields.
Mozaic

The spot is best for a special night or important occasion. I love their lounge area with their pre-dinner tapas and cocktail menu. The food is excellent, highlighting six- or seven-course set menu.
Kagemosha

A small Japanese restaurant – about 25 minutes from the Resort – run by a Japanese couple and serving home-style Japanese comfort food. It's not fancy, and they don't serve sushi or sashimi, but look for amazing yakitori anddonburi. Many Japanese expats living in Ubud come here to eat.
Kebun Bistro

An open-air café where you can watch the world go by on Hanuman Road, one of the busiest streets in Ubud. There's a lively buzz, friendly service and very good bistro-style food with an excellent tapas menu and good wine list. I go here quite often and I have never been disappointed.
Locavore

This small, air-conditioned restaurant has a Dutch chef and a farm-to-table concept.The specialty is modern European cuisine with a local influence. It's open for lunch and dinner, but I recommend it for dinner. It's hard to get a table, so ask our concierge well in advance.
To make the most of your Bali experience, Uday offers this simple advice: "Embrace the people and the culture, and you'll be inspired by how they live their lives with such love, compassion and in tune with nature. You can't help falling in love with Bali."