Meetings & Events
Conference Planning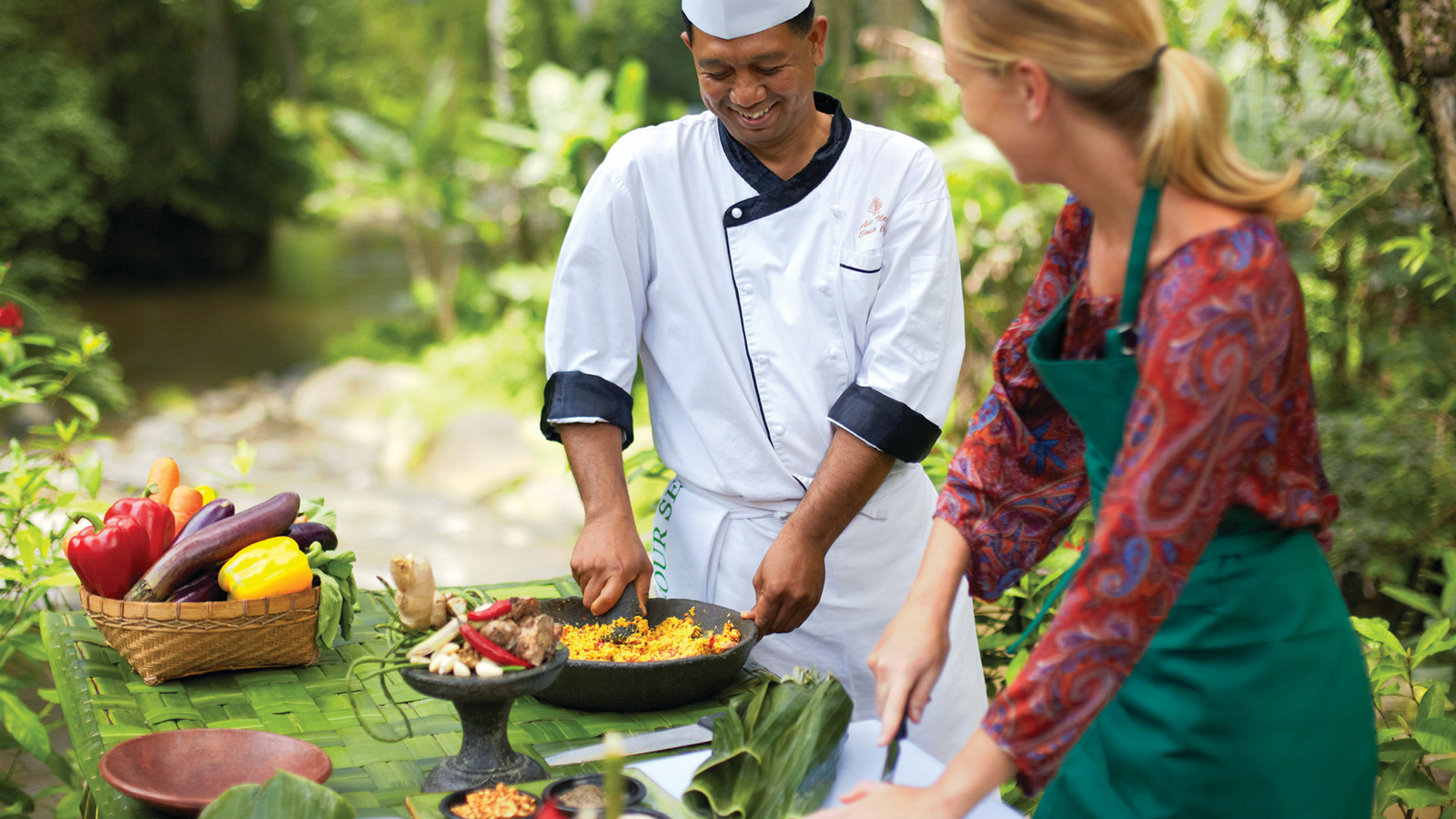 Technical assistance
Audiovisual equipment is available on request including multi-system video equipment, LCD projectors, projection screens and a sound system.
Music and entertainment
Our team of conference and banqueting specialists will arrange music and entertainment to complement your function or event. Possibilities range from local performers to classical musicians. This Resort in Bali specializes in organizing themed events, from Balinese celebrations to elegant soirées under the stars.
Receiving and maintenance
This Resort in Bali features a full-service shipping and receiving office. All packages should be sent to the attention of the front office manager with the group's name highlighted. There is limited space available for storage, so please time shipping to coincide with the group's arrival. Please communicate with the receiving department or your sales manager for special arrangements regarding the delivery of oversized packages or environmentally sensitive equipment.
The engineering department is available 24 hours a day for general assistance with lighting, room temperature control and minor repairs.
Destination management companies
PT. Bali Prestige Tours & Travel Specialists
Jl. Bedugul No. 22C, Sidakarya, Denpasar Selatan 80224, Bali, Indonesia
Telephone: 62 (361) 728 802
Fax: 62 (361) 725 004
Welcome amenities and VIP gifts
Special arrangements can be made for clients to purchase welcome amenities for their VIP guests. The banquet department will be happy to assist in these arrangements. Possibilities range from items created from locally handwoven grinsing fabric to bottles of wine.
Spouse programs
This Balinese Resort offers a variety of activities of interest to spouses of meeting participants. The Concierge will provide detailed information on specially tailored spouse programs.
On Site:
Balinese cooking classes with a Four Seasons chef

A day at the spa

Yoga at sunrise or sunset on the rooftop

Balinese Rice Farming experience

Tri Hita Karana
Off Site
A "Bali-as-you-please" tour, with lunch at Kintamani volcano

A land cruise

White-water rafting

Shopping in Ubud with a local guide

A day of golf
Family programs
White-water rafting

Golfing

Shopping tours to Kuta or Ubud

Sailing, cruises, cycling


Spend the day with the animals at The Bird Park, Reptile Park, Monkey Forest and Elephant Park
Four Seasons Resort Bali at Sayan offers a 54-square-metre (580-square-foot) Boardroom with connecting patio, ideal for exclusive executive retreats. The Resort gardens, restaurant private dining room and the spacious villas themselves all offer a perfect setting for intimate social occasions and celebrations.

In all instances, Four Seasons service and outstanding cuisine make every moment unfold flawlessly.
Quick Reference
Time zone
GMT +8 hours
Language(s) spoken
Although there are 583 languages and dialects spoken in the archipelago, Bahasa Indonesia is the national language of Bali. English is widely spoken in the tourist centres as well as some knowledge of other languages.
Electrical system
Local voltage is 220 to 240 volts AC. Adapters available; please request through the Concierge.
Shopping hours
Daily 9:00 am to 6:00 pm
Working hours
Monday to Saturday 8:00 am to 5:00 pm
Banks and government offices are closed on Saturday and Sunday