If Bali's beaches lure the glamorous crowd, then the central highlands draw a bohemian set. Artists, spiritual seekers and intellectuals flock to Ubud, the cultural pulse of the island, where upscale galleries and trendy cafés radiate laid-back cool. High above the Ayung River, Four Seasons Resort Bali at Sayan is Ubud's most peaceful retreat. From here, every step leads to a spot more beautiful than the last.
Uncover
Bali's artistic side thrives in Ubud, where painters, jewellery makers and cloth weavers line the streets with colourful wares. Start at the village market and make your way to the upscale galleries on Jalan Raya Pengosekan. The star is Jean-François Fichot, a stylish showroom filled with ornate gold jewellery and objets d'art accented with rare and antique gemstones.
Take a walk in the wild
Photography Simon Meaker / Alamy Stock Photo
The dense jungle that borders Ubud's south end is home to the Sacred Monkey Forest. Hundreds of macaques roam this temple and its grounds, making it a favourite strolling spot for nature lovers. Secure your snacks unless you plan to share – the resident monkeys are known for snatching food.
Encounter rare birds
Just a 20-minute drive from Sayan, the Bali Bird Park is home to 250 species of Indonesian, African and South American birds. This conservation centre and botanical sanctuary offers kid-friendly activities such as feedings and flight shows, as well as a bird nursery and walk-through aviaries. Don't miss the collection of reptiles in the adjacent Bali Reptile Park, which includes Komodo dragons.
Shop for local threads
Bali's colourful textiles are legendary, which may account for some of the impostor cloth peddled to unsuspecting tourists. For the real deal, stop into Threads of Life, a fair-trade boutique filled with sarongs, shawls and clothing, all handwoven and dyed by local women using traditional techniques.
Tour ancient temples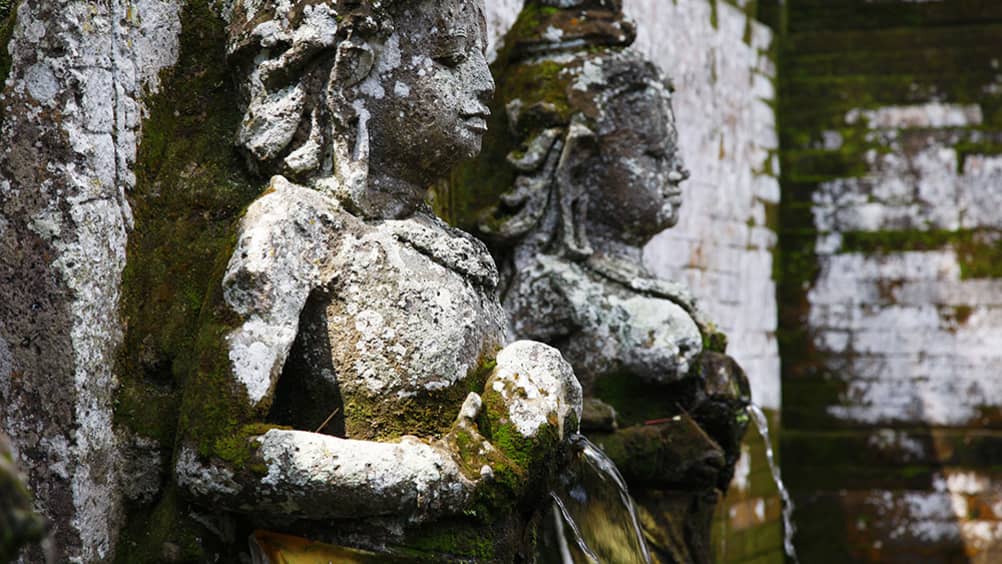 Photography imageBROKER / Alamy Stock Photo
Spiritual seekers tend to find inner peace in Bali's central highlands. In and around Ubud, petal-strewn paths lead to ancient stone temples, and Hindu rituals punctuate daily routines. Goa Gajah is a ninth-century temple famous for its bathing pools and a cave surrounded by ornate carving.
Beautiful stone reliefs are the hallmark of nearby Yeh Pulu temple, which was rediscovered in 1925, while the 11th-century mountainside carvings at Gunung Kawi temple memorialize Balinese royals. Remember to wear a sarong during temple visits (they can often be purchased or borrowed on site); otherwise, you won't be allowed to enter.
Taste island flavours
A few hairpin turns up Jalan Raya Sanggingan will lead you to the area's best restaurants. Mozaic 's four, six-course tasting menus are market fresh, while Hog Wild in Bali serves up the island's best ribs in a funky, laid-back atmosphere. Back at the Resort, you can dine on authentic Indonesian specialties at Ayung Terrace .
Learn to cook like a local
From the banks of the Ayung River to the terraced rice fields, Bali's highlands produce feast-worthy crops. The exotic herbs and spices, fruits, vegetables, and even coffee are dream ingredients for culinary enthusiasts who want to try Balinese cooking. Learn to incorporate Bali's unique flavours into your own cooking with a class in the Resort's Ayung Terrace Kitchen.
Explore art and history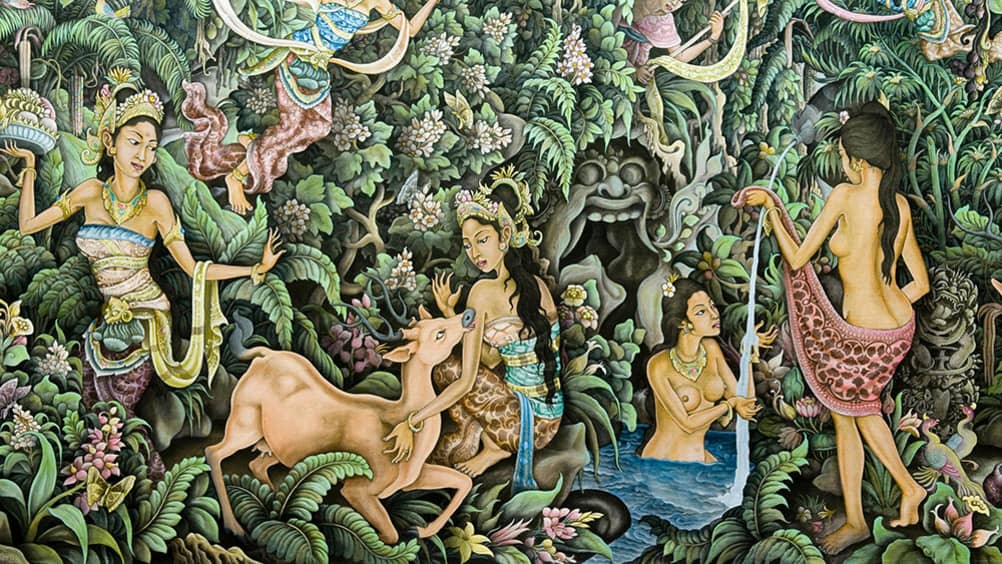 Photography Hemis / Alamy Stock Photo
Ubud's reputation as a cultural capital is in part owed to its museum scene. Between the ancient stone temples and colourful storefronts, museums and galleries celebrate Bali's past and present. The Puri Lukisan Museum is the best place to view contemporary and traditional Balinese paintings and wood carvings, while the Neka Art Museum houses local Indonesian and international works with Balinese themes.
The hippest spot may be Gaya Art Space – a gallery that exhibits modern crafts, furniture, painting, sculpture and ceramics – located within the "multi-dimensional art-and-life concept" collectively known as Gaya Fusion.
Four Seasons Resort Bali at Sayan