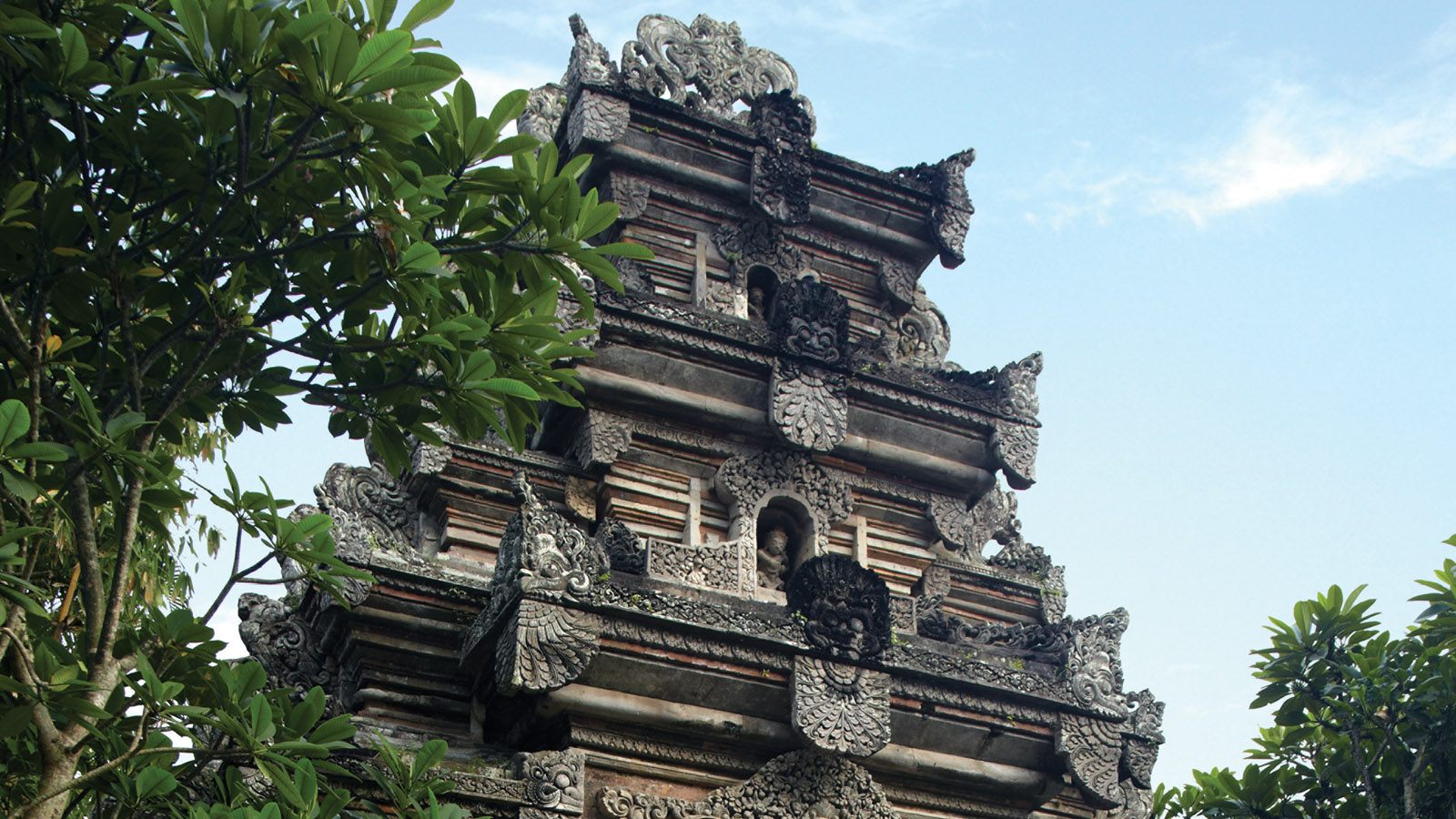 Bali is a tropical paradise with a population of approximately 3.8 million people. Most Balinese are Hindu and assume a spiritual approach to life, reflected in the island's nearly 20,000 temples.

The highland area around the town of Ubud is known for its lush landscapes and artistic traditions, including dance, sculpture, painting, leather, metalworking and music. Shopping is incredible in the stone-carving village of Batubulan, the wood-carving village of Celuk, and the gold and silver jewellery centre of Mas. You can also immerse yourself in the local culture by visiting nearby attractions such as Batur Temple, Bali Bird Park and Bali Reptile Park.
Seasonal highlights in Bali
Bali celebrates all Hindu, Islamic, Christian and national holidays – but since the majority of Balinese follow a special version of Hinduism, the religious highlights of the island are unique. At Four Seasons Resort Bali at Sayan, we abide by many of these religious guidelines. Everywhere you look, you'll see lovely offerings of flowers and food, prepared daily as symbols of gratitude.

March – May
The Balinese New Year's Festival marks the beginning of a new lunar year and usually falls during the spring equinox (late March or early April.)
Nyepi is the most important day of the Balinese New Year. On this day, everyone in Bali must remain indoors and stay completely silent in order to trick evil spirits into thinking Bali is a deserted island.
Melasti occurs three days prior to Nyepi, also in March or April. On this day villagers carry offerings of flowers, fruit, and sacred statues to the sea to make offerings and acquire holy water.
Ogoh-Ogoh Parade occurs at sunset the night before Nyepi. Participants carry giant bamboo-and-paper statues called Ogoh-Ogohs through the streets before ceremoniously burning them to scare off evil spirits.
Tumpek Kandang, which occurs in March, is dedicated to honoring animals, livestock, pets, and animal welfare.
The Annual Bali Spirit Festival, a more recent, non-traditional festival held in March, celebrates wellbeing through yoga, retreats, concerts, and other events.
Tumpek Wayang, in April, is dedicated towards Bali's much-admired art of shadow puppetry.
The Saraswati Festival in May is devoted to the Goddess of Knowledge, Art and Literature, during which books of knowledge are blessed and offerings are made for wisdom.
Rice Cake Wars occur each May in the village of Kapal. To celebrate the full moon of the fourth month in the Balinese calendar, villagers fling rice cakes at each other, signifying blessings and prosperity for the village.
Vesak: A Buddhist holiday which marks the birth of prince Siddhartha Gautama in May.
June – August
The Bali International Triathlon, in June, features an Olympic 1.5km swim, a 40 km bike ride and 10 km run, as well as a Sprint 500m swim, 20k bike ride and 5km run to the finish line in Jimbaran Bay.
The Ubud Food Festival, held in June, is an exciting three-day culinary extravanganza featuring Balinese food from local and international chefs.
Tumpek Uduh, in June, is a holy day dedicated to the blessings of plants, especially those that bear fruit and flowers. Prayers are offered for successful harvests.
The Annual Bali Arts Festival is a two-month celebration of various kinds of artworks and cultural achievements in June and July, featuring artists performing traditional Balinese songs and dances.
Galungan, Bali's most important festival, is both a feast and festival that commemorates the victory of goodness over evil. It is believed that during this 10-day period in July all Balinese gods and ancestors, including the supreme deity, Sanghyang Widi, will descend to earth for the festivities.
Bali Kite Festival, an annual four-day event in July, showcases kites in a myriad of colours and sizes which are flown in competitions throughout the day.
Negara Bull Races take place in July or August. During this festival, pampered bulls are spruced up with accessories, hitched in pairs to chariots, and raced by skilled jockeys.
October – November
The Lovina Beach Festival, which takes place in the village of Kalibukbuk in October, feature a performance by a traditional Balinese marching band, a handicraft exhibition, and a parade of towering fruits and flowers.
The Kunta Karnival, which began in 2002, celebrates the theme of peace and togetherness. The event includes highlights such as a Food Festival, Paddle for Peace memorial ceremony, and a "sunset parade" featuring music and art on the sand.
The Ubud Writers and Readers Festival, held each October and November, gathers speakers and writers for literary workshops, book launches, and youth programs.
Tumpek Landep, in October, is a day dedicated to celebrating metal items, from heirloom daggers to modern machinery and automobiles. Owners of the latter will decorate their vehicles with intricate ornaments.
The Nusa Dua Festival in November features a week of various art competitions and exhibitions at the beach fronts that line the Nusa Dua Peninsula. Other highlights include diving tours, childrens' carnivals, charity gala dinners, and various live performances.
December – February
The Besakih Temple Anniversary occurs each December as the largest and holiest temple in Bali celebrates its founding. Pilgrims from all over the Bali flock to this sacred sanctuary at the foot of the island's highest peak.
The Galungan Festival often occurs twice per solar year, depending on the lunar cycles of that year. In December, the Balinese who celebrated in June will once again decorate their homes with ornamental bamboo poles called penjor to celebrate the triumph of good over evil.
Christmas is celebrated as well on this religiously diverse island. Christian Balinese gather to celebrate the birth of Christ in churches that blend traditional Balinese architectural features.
Mekotekan Rituals takes place in the village of Munguu in December. Male villagers take to the streets brandishing long bamboo poles, which they form into a pyramid. Opponents then scale the structure to reenact the ancient battles of the Blambagan war.
New Year's Day as determined by the Western, non-lunar calendar is also celebrated on Bali, with fireworks in constant launches all over the island on New Year's Eve.
Chinese New Year is another New Year celebrated as a national public holiday in Indonesia, this one usually occurring in February. Millions of Chinese Indonesians use the holiday to honor ancestors and to exchange gifts with loved ones.
Quick Reference
Time zone
GMT +8 hours
Language(s) spoken
Although there are 583 languages and dialects spoken in the archipelago, Bahasa Indonesia is the national language of Bali. English is widely spoken in the tourist centres as well as some knowledge of other languages.
Electrical system
Local voltage is 220 to 240 volts AC. Adapters are available and can be obtained through the Concierge.
Shopping hours
Daily 9:00 am to 6:00 pm
Working hours
Monday to Saturday 8:00 am to 5:00 pm.
Banks and government offices are closed on Saturday and Sunday.
Passport requirements
To enter Indonesia, you will need to furnish a passport that remains valid at least six months after your date of arrival and includes two consecutive blank pages. Check with your local Indonesian government representative for visa requirements.

Flexible Offer – Save 25%
Book with ease and save 25%. Enjoy daily breakfast and no prepayment with our most flexible...
Bali Public Holidays 2015
| | |
| --- | --- |
| New Year's Day | 1 January |
| Birthday of Prohpet Muhammad | 3 January |
| Chinese New Year | 19 February |
| Nyepi | 21 March |
| Good Friday | 3 April |
| Labour Day | 1 May |
| Ascension of Jesus Christ | 14 May |
| Ascension of Prophet Muhammad | 16 May |
| Vesak | 2 June |
| Lebaran | 16–21 July |
| Indonesian Independence Day | 17 August |
| Idul Adha | 24 September |
| Islamic New Year | 14 October |
| Christmas Day | 25 December |