My Four Seasons
Santa Fe for Two
More Four Seasons Stories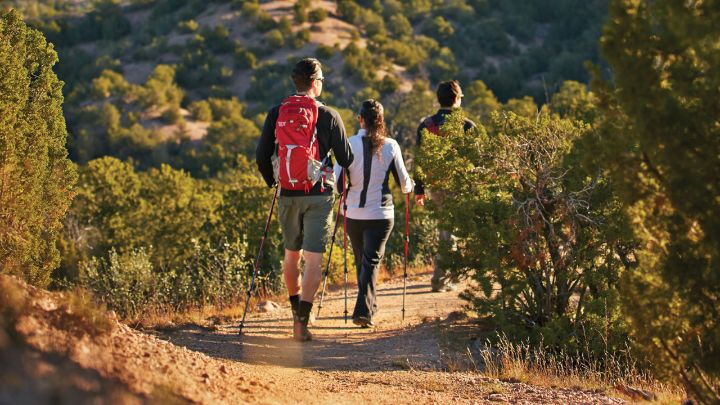 What can two do in Santa Fe? Everything under the sun! In New Mexico's very great outdoors, the sky's truly the limit. Hike together, fish, raft the white water, mountain bike, rock climb, ski or snowshoe. If you find terrestrial pursuits mundane, you can hot-air balloon or sky dive. A special kind of romance surges with the shared adrenalin rush of extreme activities.

But really, you needn't go to extremes. Imagine an easy hike, hand in hand, through piñons and ponderosa pines. Cresting a rise, the trail opens to an immaculate mountain view, and the place where you share a picnic, serenaded by birdsong.

To bring that sunshine indoors, take a Southwestern cooking class together, learning to use Santa Fe's fabulous roasted chilli peppers. It's a delicious way to import some high-desert heat back to your home table for two. Or how about a night under the New Mexican stars, more than you've ever dreamed of, during a personally guided astronomy adventure?

It's not surprising that Four Seasons can also give you a Sun, Moon and Stars retreat to share in the Spa. It's four blissful hours in the Couple's Suite, with its private sauna and soaking pool in an outdoor garden. Customize your extreme relaxation with a Thai massage, ayurveda ritual or indigenous treatments such as the Mountain Spirit Purification or Blue Corn and Honey Renewal. Afterwards, you'll have champagne and truffles to toast the stars in each other's eyes.

The perfect place for romance – especially in a casita with a cosy fireplace and your own view of the mountains – Four Seasons Resort Rancho Encantado Santa Fe can make any of this happen for you, as if by magic.