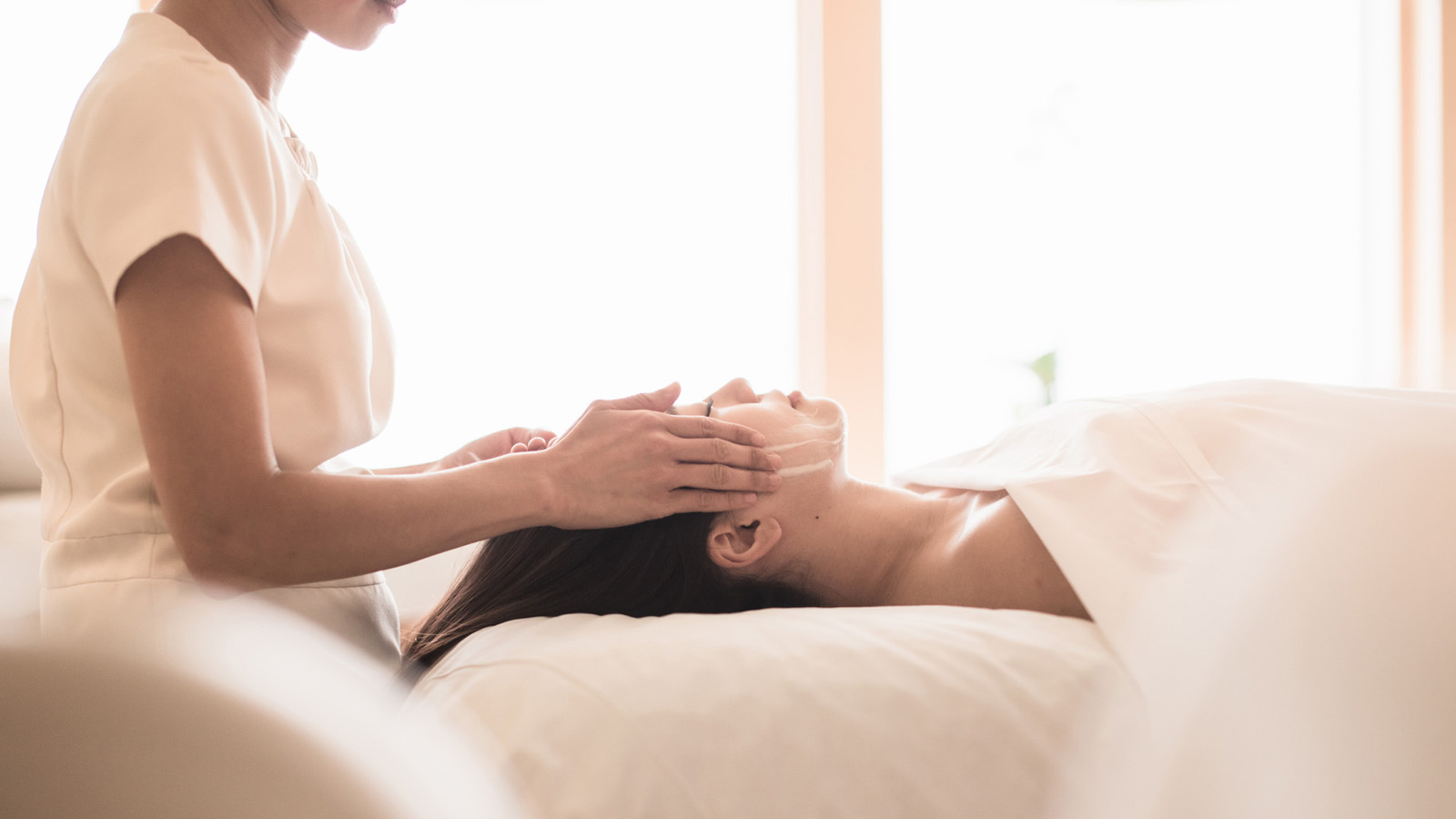 InSkin™ TREATMENTS

IN-SKIN™ is a state-of-the-art 6-1 multifunctional facial machine at the Resort's award-winning Spa. The results-driven IN-SKIN facial device features oxygen, diamond tip microdermabrasion, radio frequency, air massage, electroporation and an LED face mask that can be used in different combinations based on the client's needs. IN-SKIN allows facial technicians to customise each facial treatment based on the guest's individual skin type, history and goals. The technology also stores data, allowing the Resort's facial experts to create a long-term skincare plan for clients.
HydraFacial MD™ Treatments

HydraFacial™ is an advanced medical-grade skincare treatment, administered by licensed professionals, that targets fine lines and wrinkles; congested, oily and acne prone skin; rosacea and hyper pigmentation. It softens the appearance of large pores, improves skin texture and tone, and helps to repair existing sun damage.
HYDROPEPTIDE™ Facials
Enjoy the most advanced and comprehensive peptide collection available in skin care.
These innovative and relaxing facials infuse skin with 60+ Peptides (proteins), growth factors and botanical stem cells. Nourishing vitamins and minerals combined with antioxidants, promotes healthy skin renewal and brightness. Select from the following facials.
Anti-Aging, Regenerating, lifting and firming
Brightening, Evens out skin tone and targets dark spots
Sensitive, Gentle and soothing
Purifying, Clears congested pores and blemished skin
Tata Harper Facials
Tata Harper Pure Rejuvenating Facial
This advanced facial, which uses 100% natural Tata Harper products, repairs the skin on a cellular level and reinforces the production of collagen to smooth wrinkles, firm and lift. Super-concentrated nutrients and proven-effective antiaging ingredients maximize radiance and rejuvenation, providing an instant glow.

Tata Harper Intensive Facial
This facial treatment focuses on hydration, firming and purifying concerns by using concentrated formulas of high performing natural ingredients tailored to your specific skin concerns. This therapeutic facial nourishes the skin leaving it stronger, healthier and glowing.
Skin Care
Four Seasons custom facial
The perfect way to reintroduce radiance to your face. A relaxing, essential skin-care treatment to combat the effects of the environment. Whether your skin is dry, oily, sensitive or a combination, your skin-care specialist will determine your individual needs. A facial may include cleansing, biological peeling, steaming, facial massage and manual cleansing.
Teen Corrective Facial
Designed to treat excess oil, dead skin cells, acne, bacteria and inflammation. During the treatment our esthetician will recommend a home-care regimen that will address problem areas.
Beauty flash
A facial for those on the run. It cleans, tones, exfoliates and hydrates all in a flash!
Gentlemen's Facial
A skin fitness regimen especially for men's skin and its individual requirements. Steaming hot towels are applied to the face for a deeper cleansing effect. Using non-perfumed and non-greasy lotions, a face, neck and hand massage is included. A relaxing and rejuvenating treatment to keep your skin in good condition.
Waxing
Brow Arch Design
USD 35
Lip/Chin
USD 30
Full Arm
USD 70
Partial Arm
USD 45
Underarm
USD 35
Full Leg
USD 90
Partial Leg
USD 50
Stomach
USD 30
Full Back
USD 80
Partial Back
USD 45
Bikini
USD 55
Note: Prices and treatments are subject to change without notice.