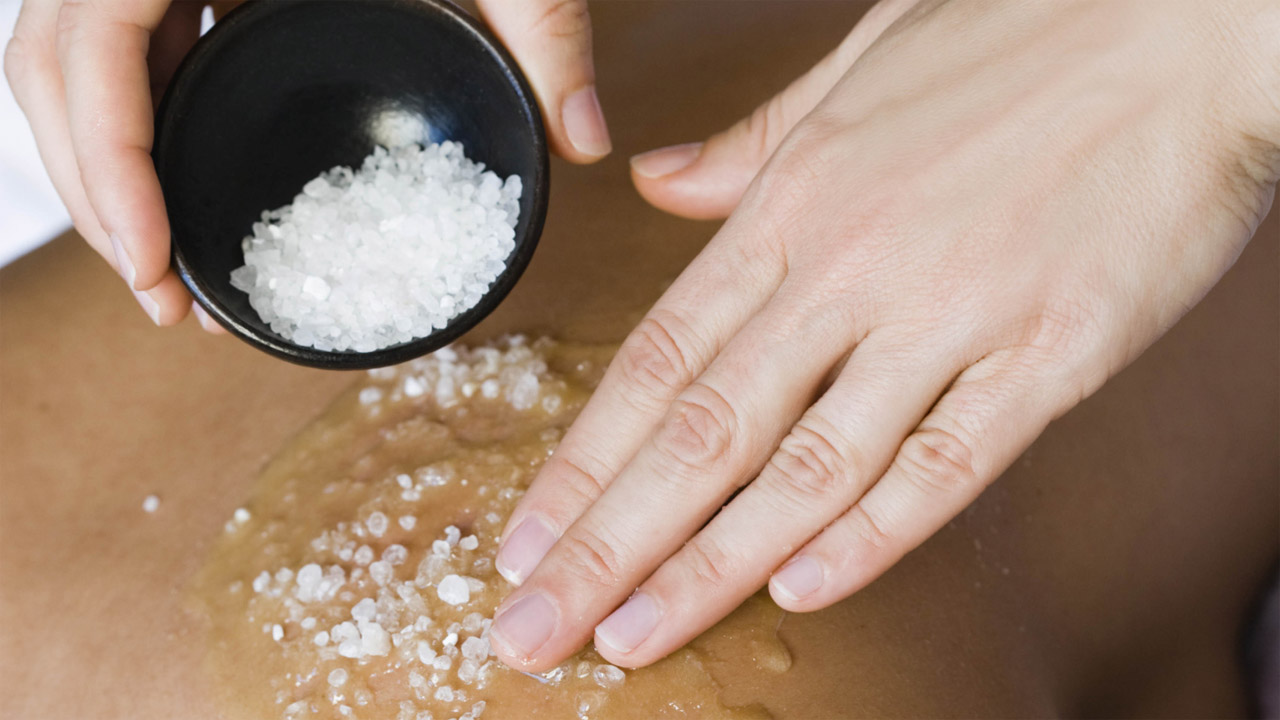 Four Seasons in One

Experience the seasons through body and mind with our signature Four Seasons Spa ritual. Enjoy the refreshing sensation of a peppermint scrub, the warmth of a herbal wrap, delight in a summer medley of massage techniques, and to conclude your journey, a hair and scalp conditioning treatment.
Grape de Vine
Extract toxins with a grape seed body scrub native to California wine country. Dull skin is gently exfoliated, releasing a natural glow. The antioxidizing and relaxing benefits of grape seed are enhanced with rose gel for your scrub. Lavender essential oil is applied during a full body massage.
Honey, grapefruit and ginger sugar scrub
Naturally rich in glycolic and amino acids, this aromatic and energising scrub gently exfoliates and revitalises dull winter skin. Evaporated cane sugar, a natural humectant, helps to hydrate and prepare the skin for warmer weather, while the honey works to condition and soften it. Grapefruit brightens tired skin and ginger assists with circulation, all for skin that glows from the inside out.
Lavender cornmeal scrub
Bring on the glow. This classic scrub combines aromatic lavender body oils with the natural healing benefits of cornmeal to rejuvenate dry, dull skin.
Avocado-citrus wrap
Extracted from the seed of the avocado and proven to reduce the signs of aging, avocado oil is one of nature's most effective emollients, providing a therapeutic and sumptuous body wrap.
Organic Seaweed Leaf Wrap
Experience a detoxifying body wrap treatment inspired by the sea. The treatment begins with an exfoliation using finely ground seaweed and walnut shells, which is followed by a seaweed leaf wrap to deeply detoxify, moisturize and revive the body. While the seaweed's minerals, vitamins and amino acids work their magic, you will be treated to a relaxing scalp massage.

Organic Seaweed Body Scrub
A crème based body buff exfoliates with finely ground walnut shells and nourishes your skin with a blend of almond oil, seaweed and ginger extracts. Our gentle yet effective formula removes rough and dry skin cells, to reveal vividly refined softer, smoother skin.
spray tanning session
We recommend you receive any of our Body Scrubs prior to the Spray Tanning session so your bronzed glow will last longer.
Bath Soak
A relaxing bath soak can be added to any body treatment.
Note: Prices and treatments are subject to change without notice.