Function Rooms
La Veranda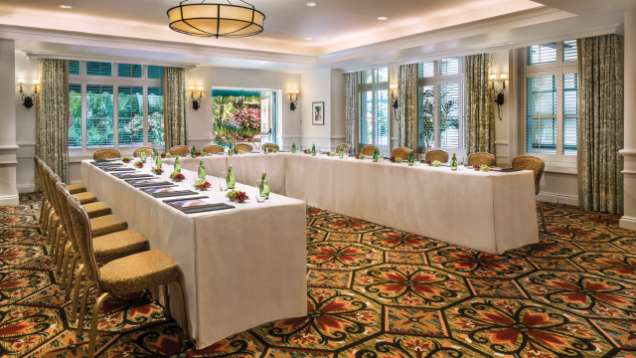 Centrally located in the Resort, this elegant and versatile space can be easily adapted to fit a range of needs.
Elegant Décor
Travel back in time to a world of Spanish-Mediterranean style in this gracious space that features linen chandeliers and windows with plantation shutters opening out into the gardens.
Room for Everyone
Theatre seating accommodates up to 200 guests
Pre-function space available
High-Tech Capabilities
Stay connected with Wayport high-speed Internet access.
Seating
Classroom
Hollow Square
U-shape
Theatre
Reception
Banquet rounds
Classroom with rear screen
Banquet with rear screen

120
60
60
200
250
180
100
140

Room Features
Breakout rooms available with this room
Pre-function space available with this room
Wired or wireless, high-speed e-mail and Internet access

Location
CENTRALLY LOCATED IN THE RESORT
Size
Area
Height

254 m2 (2735 sq.ft.)
3.1 m (7.8 ft.)