Function Rooms
Yerba Buena Pre-Function Area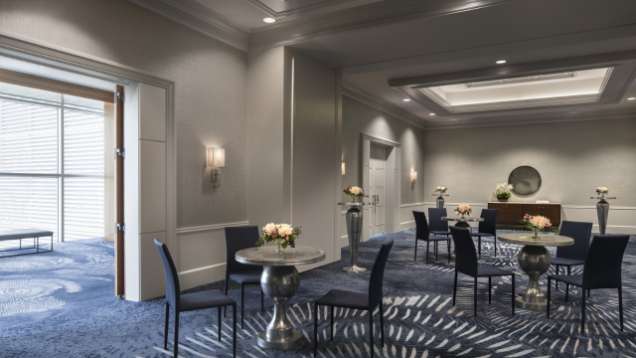 The Yerba Buena Pre-Function Area services the Yerba Buena Room and can be divided into two rooms.
Flexible and Accommodating
Like the Yerba Buena Room, which it services, the Yerba Buena Pre-Function Area can be divided into two rooms, perfect for breaks and mingling
Modern Feeling
Contemporary in design and detail
Furniture pieces are hand-finished walnut slabs and cerused oak, with strong steel and brass accents
Glowing Ambience
Modern light fixtures provide a soft glowing ambience
Recessed lighting shines down from 13.6 feet (4.1 metres) high
Seating
Banquet rounds
Conference/Boardroom
Classroom
Theatre
U-shape
Hollow Square
Reception

80
40
100
60
30
40
130

Room Features
Wired or wireless Internet access available

Location
5TH FLOOR LOBBY LEVEL (ADJACENT TO THE VERANDA BALLROOM)
Size
Area
Height

117 m2 (1130 sq.ft.)
4.1 m (13.6 ft.)

Bathrooms
Accessible
Note: Height shown is actual clearance height.