Function Rooms
Stinson Suite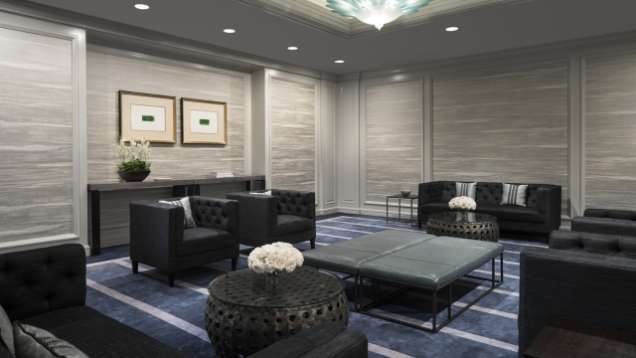 The Stinson Suite is one of two smaller function areas, which are ideal venues for board meetings or breakout sessions from the larger venues.
Residential Ambience
An intimate space, ideal for board meetings, rehearsal dinners or breakout sessions from the larger venues
Furniture pieces are hand-finished walnut slabs and cerused oak, with strong steel and brass accents
Luxurious Glow
Soft colored grey coloured walls adorned with framed art
A blue and white art deco chandelier glows from an inset ceiling
Always Complimentary
Floor-length gold linens with white overlays
Tables, chairs, votive candles and table setting
Dance floor and stage for entertainment
Printed single-page dinner menus
Seating
Classroom
Hollow Square
U-shape
Theatre
Reception
Banquet rounds
Conference/Boardroom
Banquet with rear screen

36
24
22
60
60
48
22
25

Room Features
Wired or wireless Internet access available

Location
5TH FLOOR LOBBY LEVEL (ADJACENT TO THE VERANDA BALLROOM)
Size
Area
Dimensions
Height

56 m2 (600 sq.ft.)
8.3 x 6.7 m (27 x 22 ft.)
3 m (10 ft.)

Bathrooms
Accessible
Note: Height shown is actual clearance height.