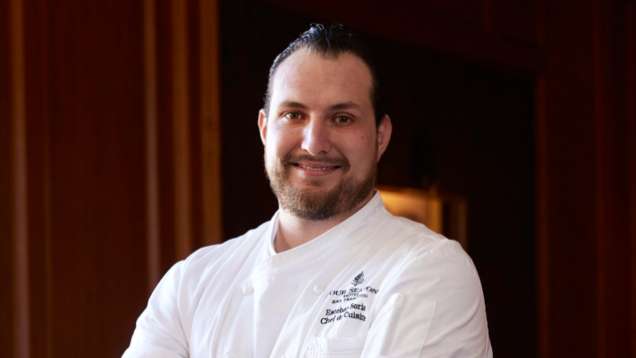 Born and raised in the heart of wine country, Esteban Soria began cooking at a very young age. Quickly discovering his passion and what would soon become a love for the culinary arts. That intensity led Soria to be taught by the best in the industry, cooking with some of the world's most acclaimed chefs, from Chef Masaharu Morimoto to Chef Michael Chiarello.
One of his first culinary jobs was at Santé, Sonoma Mission Inn, where the restaurant was awarded a Michelin star. After a few years working at Morimoto Napa, Soria had a short stint in New York before landing back on the west coast at Kaisho in Bellevue, Washington.
Most recently, he was a Sous Chef at Bottega Ristorante in Yountville, California, where Soria worked closely under Chef Michael Chiarello, helping in the creation and development of culinary products and fare. Taking his passion for the culinary arts to the next level, Soria is working with culinary team on MKT Restaurant's sustainable seafood menu.
DESCRIBE THE FIRST MEAL YOU REMEMBER COOKING.
At 14, it was a spicy shrimp with kalamata olive tapenade, green bean and vegetable ragu. I was sick with pneumonia and was bored at home. So one day I looked in the fridge and started throwing things in hot pans.

WHAT DISH WOULD YOU SAY REPRESENTS YOU?
Fruit of the Sea. I've had a long love affair with seafood.

WHERE DO YOU GET IDEAS AND INSPIRATIONS FOR YOUR DISHES?
When you're a chef for so long, you develop this connection between our minds and our tongues. When we get in our zone, they speak to each other.

WHAT CAN GUESTS EXPECT FROM YOUR STYLE OF COOKING?
A few spicy things here and there throughout the menu. I love spicy foods.
WHAT THREE WORDS WOULD YOU USE TO DESCRIBE YOURSELF?
Fortunate, Grateful and Hungry
WHAT THREE WORDS WOULD YOU USE TO DESCRIBE MKT?
Elegant, Tantalizing, Lively
NAME A PLACE YOU HAVEN'T BEEN TO THAT YOU'D LOVE TO VISIT.
Bali
WHAT DO YOU LOVE BEST ABOUT SAN FRANCISCO?
The sights and seeing so many people living together in a space that sometimes seems too small. It makes one appreciate humanity and acknowledge its existence.
FAVORITE FARMERS MARKET STALL?
The random ones that show up with all the best fruits and vegetables, the ones that you never know when they will be back. The only way to get ahold of them is to swoon them into giving you their contact info. Sometimes their product isn't for everyone. For some farmers it's about nurturing their beautiful produce and they want to see it go into the right hands.