In Riyadh, the capital city of Saudi Arabia, soaring modern skyscrapers rise up from the desert landscape—sleek and shiny reminders that you're in one of the wealthiest cities in the world. A metropolis filled with contrasts, Riyadh is both conservative and opulent, and filled with unique things to see and do. We asked Hany El Heshawy, Concierge Manager at Four Seasons Hotel Riyadh at Kingdom Centre, to help us uncover the very best of Riyadh—from desert camping to posh restaurants to historic landmarks.
Riyadh attractions
Get to know the fascinating history of Saudi Arabia by visiting the National Museum, the focal point of the King Abdul-Aziz Historical Center. The museum's eight main halls, filled with antiques, artefacts, documentary films, manuscripts and more, are designed to give a chronological history of the Arabian Peninsula.
The Saudi Royal Air Force Museum—also known as Saqr Al-Jazeera, which translates to "Hawk of the Peninsula"—is home to a variety of private, commercial and military aircraft, as well as a comprehensive collection of memorabilia spanning the history of Saudi aviation. For performing arts, head to the King Fahd Cultural Center: Situated amidst a landscape of formal plazas, gardens and fountains overlooking Wadi Hanifah, the centre boasts a large theatre, library, restaurant, café and even a modern planetarium.
Sightseeing in Riyadh
One of the first stops on any sight-seeing tour of Riyadh should certainly be Al Murabba Palace. Built in the early 20th century, this grand former home of King Abdul Aziz was the site of official functions, and where the Kingdom's royal court would convene up until the King's death in 1953.
Prior to the Palace's construction, the court would meet at Masmak Fort, a formidable mud-and-clay structure and another excellent display of culture and history that is now home to a popular museum. Also don't miss a visit to King Fahd National Library to see its striking modern design. Along with an extensive collection of books and a beautiful reading area, the library is home to exhibition spaces, special collections, a restaurant and a bookshop.
Riyadh's culinary scene
Saudi Arabia's food scene is quickly becoming more global, with an increasingly varied landscape of restaurants. For a unique dining experience, try the contemporary Japanese cuisine at award-winning Nozomi, or head to Spazio 77, serving up excellent international cuisine paired with breathtaking city views from its perch on the top floor of Kingdom Tower.
The Abdel Wahab Restaurant is one of the city's most popular Lebanese eateries, with a great selection of grilled menu items, while Lusin celebrates Armenian culture by preparing enticing Armenian specialties. For traditional Saudi food in a Saudi-style setting, Al-Najdiyah Village is the perfect place to sample kabsa (meat with rice) or the Najd region specialty, hashi (baby camel).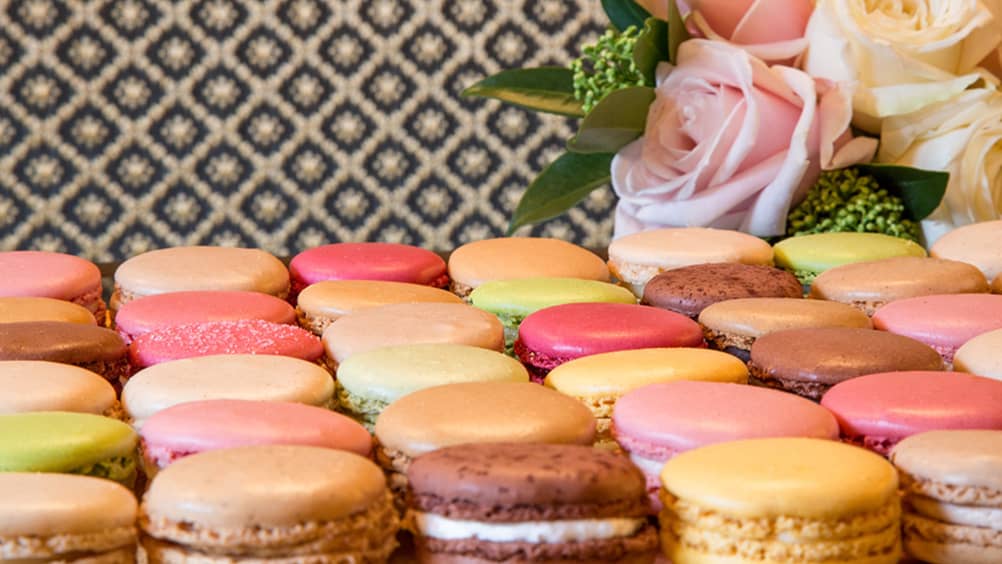 Photography Julian Schlosser courtesy Ladurée
If you can't quite decide what you're in the mood for, go to Tahlia Street, just minutes from the Hotel, for an enormous selection of restaurants offering Italian, Japanese, French, Indian, Lebanese and American cuisine. Cafés are also plentiful in Riyadh, with popular French chains Ladurée, Paul and Lenôtre all represented.
Shopping Riyadh's old and new
From designer shopping to hunting for antiques, this growing, cosmopolitan city presents plenty of different shopping opportunities. At the Mall at Kingdom Centre, conveniently connected to the Hotel, shoppers will find a large range of international brands such as Louis Vuitton, Dior, Burberry, Ralph Lauren, Gucci and more, as well as shops for accessories, beauty products and footwear. Ladies should certainly visit the mall's female-only floor, which offers a relaxing atmosphere for female shoppers with an all-female staff and more than 40 stores, an entertainment centre, restaurants and a spa.
Nearby Centria Mall also hosts some of the most luxurious designer shopping in the city. Souq al-Thumairi, known as the antique souk, is an excellent place to find authentic Saudi souvenirs. Be on the lookout for interesting finds such as musical instruments, jewellery and handwoven textiles.
Outdoor attractions
Riyadh is a beautiful desert city, and one of the most scenic spots to visit is the Wadi Hanifah, a 120-kilometre-long (75-mile) valley that cuts through the capital. Its water channels, green corridors, walking trails and hundreds of palm trees make it an attractive spot for a picnic. The well-kept gardens and open spaces of the Diplomatic Quarter parks offer serene areas for a bit of quiet time away from the hum of the city centre. A run in Al Nahda Park or on the track around the King Fahd Medical City is another great way to enjoy the outdoors.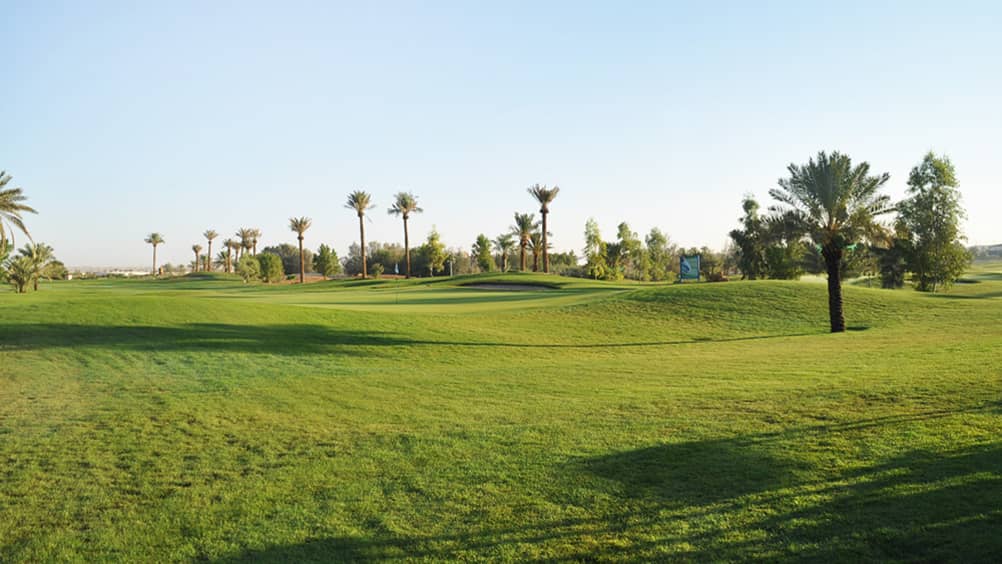 Photography courtesy Riyadh Golf Courses
Golfers should check out Riyadh Golf Courses, just 20 minutes from Riyadh and home to an excellent course, clubhouse and academy. Not only that, at its Sports Garden facility you can play tennis, mini golf or volleyball, go swimming, or find another indoor sport that suits you.
Relaxation at the Spa
Using warm quartz on a swing table that activates different reflex zones of the skin, the Sahara Massage/Desert Ride treatment at the male-only Hotel Spa stimulates circulation and promotes total body wellness. This unique treatment is based on the practice of employing the Earth's energy by grounding the body to the Earth's natural surfaces.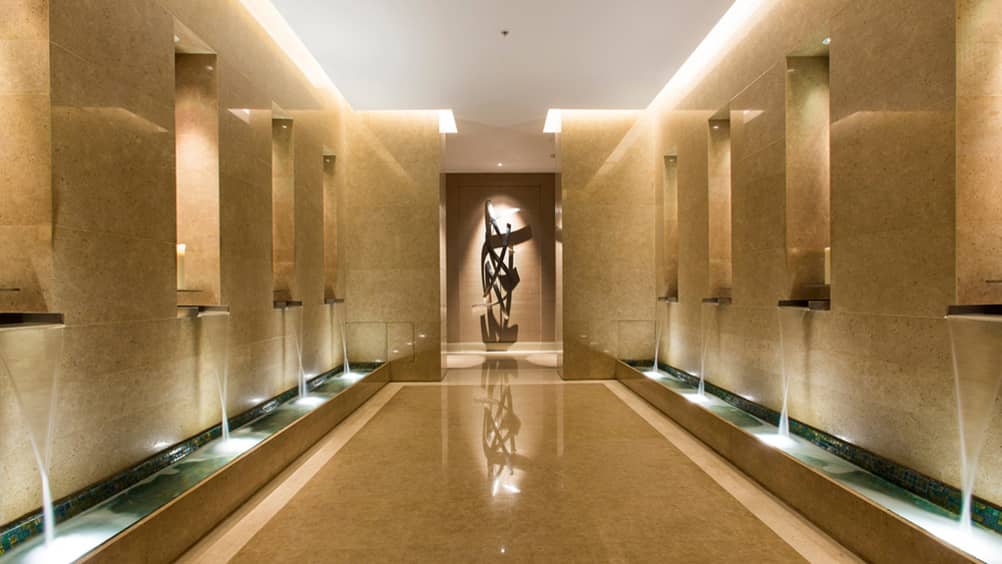 Photography courtesy Four Seasons Hotels and Resorts
Female guests can visit the Hotel's elegant Pearl Floor lounge to unwind or exercise in the ladies' gym, or head to the Kingdom Centre's Ladies Kingdom floor for hair and nail treatments at Scented and The Nail Shop.
Family fun in Riyadh
A day trip to Al Thumama Desert, just 30 minutes from the city centre, should be on the itinerary of every family visiting Riyadh. Make sure to rent dune buggies for an exhilarating desert adventure that the whole family can enjoy (especially if you're travelling with teenagers). After exploring the dunes, dig into a delicious barbecue picnic packed by the Hotel as you sit and marvel at the expansive desert landscape.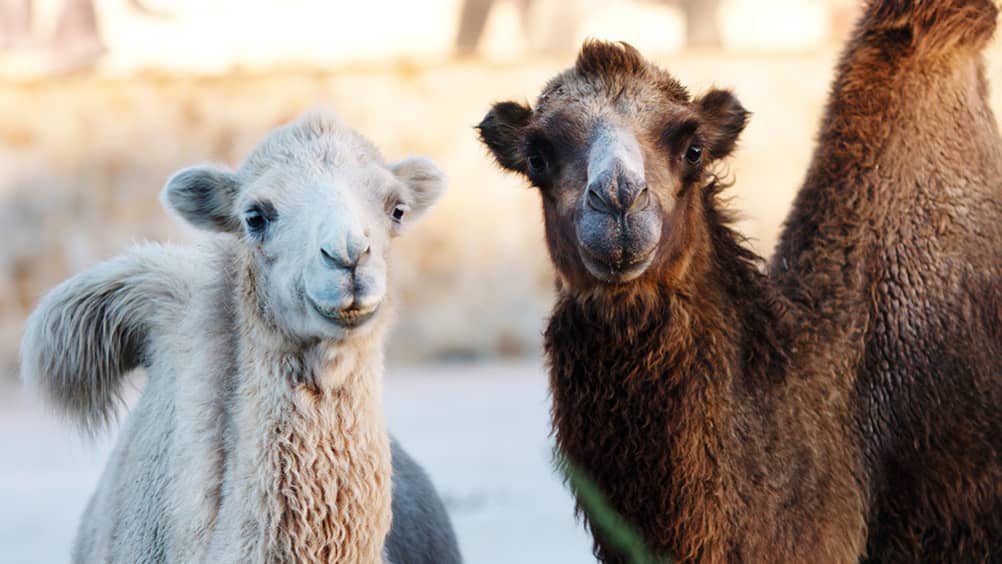 Riyadh Zoo is one of the largest zoos in the country, and children will love seeing animals from every continent. The whole family can enjoy a day in Salam Park, one of the newest parks in Riyadh, complete with a large lake, water fountains, playgrounds and green spaces. Before the sun sets, head to the top of the Kingdom Tower for a walk across the Sky Bridge. Perched 300 metres (984 feet) above the city, it is an incredible place to watch Riyadh light up as night sets in.
Adventure in the desert
Riyadh is first and foremost a desert city, which means that some of the most exciting and unusual activities can be found out in the sands. For instance, you can unleash your inner archaeologist on a fossil hunting expedition. With a bit of patience, it is relatively easy to unearth a fossil in this area, which lay underwater millions of years ago.
One can't-miss Riyadh experience is a night of desert camping. Ask the Concierge to help arrange a peaceful evening spent snuggling up next to a warm fire beneath a blanket of stars. Or spend a day trekking through the desert, exploring cliffside villages, remote valleys, ancient rock carvings and other historic remnants along the way. Be sure to go 96 kilometres (60 miles) northwest of Riyadh, where the cliffs of the Tuwaiq Escarpment suddenly drop, creating awe-inspiring views over the plains below. This area, dubbed the Edge of the World, is a truly magnificent sight.
A perfect day in Riyadh
Fuel up for the day with a hearty breakfast at Elements before heading to Deira Souq to peruse the local goods amid exotic aromas. A few steps away from the souk stands Masmak Fort, a well-maintained monument of Saudi history well worth exploring.
After visiting the iconic fortress and museum, enjoy lunch on Tahlia Street, choosing from a bevy of international restaurants. Then it's time to explore Centria Mall, a veritable shopper's paradise offering a wide range of high-end brands and a luxurious shopping experience.
Take all your new-found treasure back to Kingdom Centre and freshen up at the Hotel, then ride the elevator up to the top of the tower for a quick but unforgettable visit to the SkyBridge. Along with its city panorama, this is the best place in Riyadh to watch the sun set over the desert. Top off the evening with a meal at Al Najdiyah Village, a traditional Najdi-style eatery that couples a vivid display of Saudi décor and architecture with delicious Saudi cuisine.
Four Seasons Hotel Riyadh at Kingdom Centre

Four Seasons Hotel Riyadh at Kingdom Centre
Book Now