My Four Seasons
A Golfer's Paradise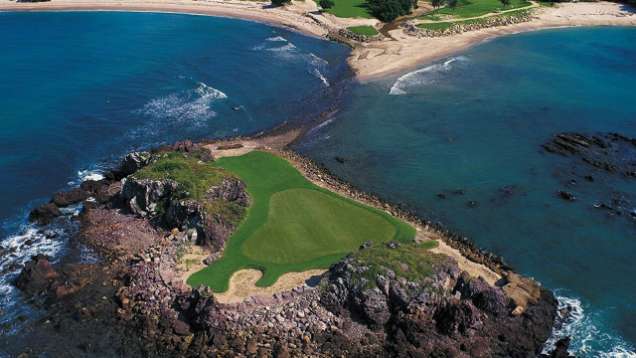 More Four Seasons Stories
As far as tropical vacation destinations go, Mexico's Punta Mita is unique. For one, it's a small village rather than a large resort area. Second, it's home to what is probably the most unique golf course in the world – the Jack Nicklaus-designed Pacifico Golf Course at Four Seasons Resort Punta Mita.

What makes this course so incredible? Hole 3B. Commonly known as the "Tail of the Whale," it's the world's only natural island green. That's right, the hole is on its own black-lava island, and the only way to get to it is by amphibious golf cart.

It's a favourite of guests, from experienced golfers to beginners, and Jack Nicklaus himself has said it's probably the nicest hole he's ever designed.

Of course, the Tail of the Whale isn't the only thing that is special about the Pacifico Golf Course. Eight other holes are on the water, and every hole on the course offers striking views of the Sierra Madres. The course itself is a resort-style design, with generous landing areas off the tee and subtle movement in the greens that make it a fun course for players of all abilities.
Grab your clubs and get ready for a truly unique experience.