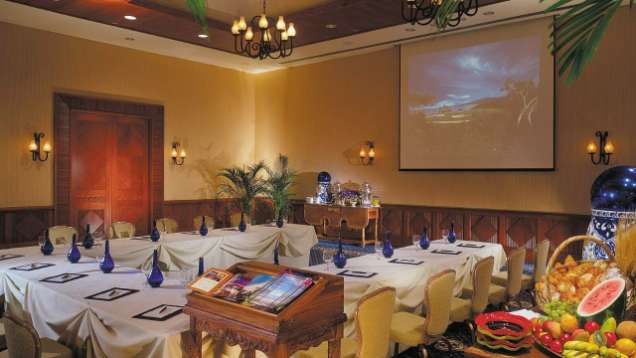 A majestic ballroom with high ceilings, an adjoining room to accommodate meal set-up and a private-function room that extends to an outdoor courtyard.

Grand Décor
Soothing natural tones with mahogany panels and tasteful chandeliers provide a formal yet relaxed atmosphere.
Events of All Sizes
Theatre-style seating for up to 150 guests
Pre-function space available
A Breath of Fresh Air
Step into the adjoining outdoor courtyard for quiet conversation or to gaze at the stars in the Riviera night sky.
Seating
Classroom
Hollow Square
U-shape
Theatre
Reception
Banquet rounds
Conference/Boardroom
Classroom with rear screen
Banquet with rear screen

60
40
25
125
70
70
40
30
60

Room Features
Breakout rooms available with this room
Pre-function space available with this room
Breakout rooms available: Tau, Tukarita, Eka.

Location
INDOOR FUNCTION ROOMS
Size
Area
Dimensions
Height

121 m2 (1308 sq.ft.)
9.7 x 12.5 m (32 x 41 ft.)
4.9 m (16 ft.)

Note: Actual clearance height is 11.15 feet (3.4 metres).