Entrust your wedding celebration to Four Seasons Hotel Shanghai at Pudong with the confidence that it will be private, personal and perfect. Our beautiful Ballroom is ideal for an exclusive gathering of up to 500 – and divides in half for greater flexibility. Easily accessible to your guests, Four Seasons will be the site of happy memories for you and your beloved.
A Four Seasons Wedding
Four Seasons experts can attend to every detail, from menu planning and décor to a last-minute touch-up of your manicure in the Hotel's salon.
Function rooms and settings
Centred around our extravagant Grand Ballroom, Four Seasons Hotel Shanghai at Pudong has the perfect space for your wedding.
Menus and catering
From the luscious scents of floral arrangements to the swirling colours of the gowns, and from the joyous celebration of your guests to your first taste of wedding cake, weddings are a feast for the senses.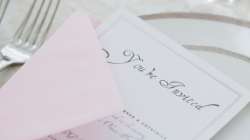 Wedding planning
From invitations to wedding cakes, floral creations to memorable farewells, trust Four Seasons to simplify your planning and make your wedding day everything you have ever imagined.