The momentum of modern China is palpable in Shanghai's glamorous Pudong district. This booming area, on the east bank of the Huangpu River, was developed just over two decades ago. Today, Pudong boasts a recognizable skyline, luring visitors and locals with a prestigious financial centre, luxury shopping and a rising culinary scene.
The action happens in Lujiazui, on Pudong's western tip, which is easily explored on foot from Four Seasons Hotel Pudong, Shanghai.
Lujiazui Central Green
15 Lujiazui East Road
As part of your tour of Pudong's landmarks, join locals for a midday rest at this 9-hectare (22-acre) oasis. A magnolia-shaped path (fashioned after the official flower of Shanghai) surrounds a green lawn, in the centre of which is a man-made lake shaped like Pudong. Music rises softly from speakers in the ground, while fountains spout water into the air.
Sky Walk 100
Photography robertharding / Alamy Stock Photo
Shanghai World Financial Center, 100 Century Avenue
See Pudong from 100 storeys (474 metres) above the ground while standing in Sky 100, a glass-paneled walkway that sits within the Shanghai World Financial Center.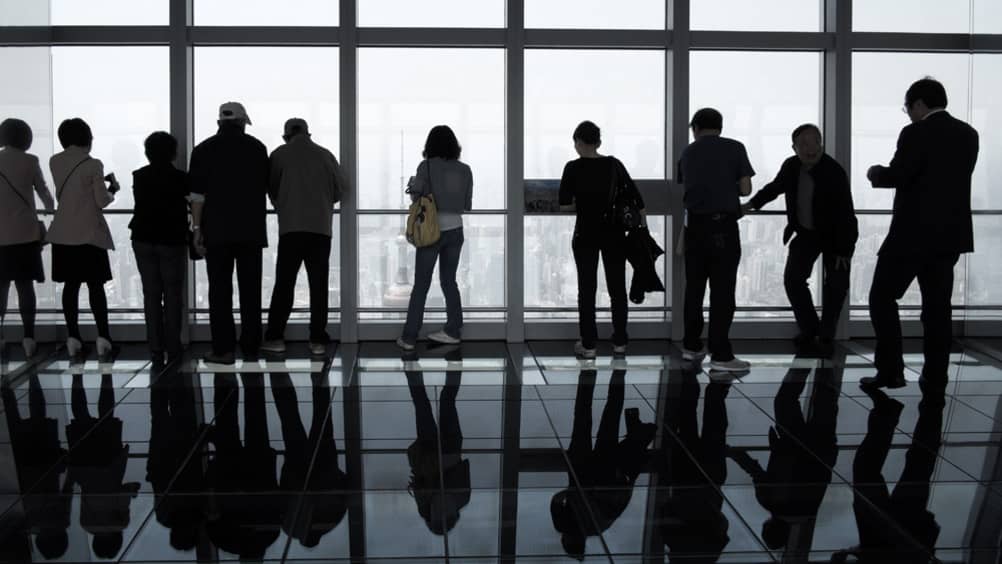 Photography Iain Masterton / Alamy Stock Photo
Aurora Museum
Aurora Building, 99 Fu Cheng Road
Designed by renowned Japanese architect Tadao Ando, the Aurora Museum displays Chinese antiquities from the private collection of the Aurora Group's chairman. Consider renting an audio tour to guide you through collections of exquisite jade artefacts, porcelain, Buddhist art and Tang and Han dynasty figurines.
Pudong Riverside Promenade
Binjiang Da Dao
Pudong's Riverside Promenade shines especially bright after sunset. A number of hip international restaurants and bars line this waterfront area, which offers beautiful night-time views of the Bund's lighted buildings and sweeping beacons over the Huangpu River.
Popular choices for an evening meal include quick bites at Deli & Leisure, a casual bakery and coffee shop with outdoor seating, and a slice of delicious pizza at The Kitchen Salvatore Cuomo.
Shanghai Ocean Aquarium
Photography WorldFoto / Alamy Stock Photo
1388 Lujiazui Ring Road
The Shanghai Ocean Aquarium, which has an entire section dedicated to endangered Chinese aquatic animals such as the Chinese sturgeon, is considered a national treasure. Wander through the world's longest underwater tunnel while 450 species of marine life swim overhead, including an impressively large (43.5-centimetre/17-inch) Oranda goldfish.
Snow Bar at Käfer by The Binjiang One
Fu Cheng Road, Shi Bu Jie
The ice bar serves nothing but chilled shots in glasses made of ice imported from Sweden. Don a provided parka before braving the subzero temperature to sample from more than 150 international vodkas. Snow Bar is located on the ground floor of Käfer by The Binjiang One, a European restaurant popular for Sunday brunch.
Super Brand Mall
168 Lujiazui West Road
This 13-storey shopping centre features an arcade, a cinema and an ice-skating rink – there is plenty for both kids and adults. Discover local flair at JiXiang Zhai, where designer Yang Fan weaves inspiration from ancient Chinese art into elegant and modern silk clothing for women. The mall's branch of Din Tai Fung serves delicious xiaolongbao (steamed dumplings).
Shanghai Tower
Lujiazu Financial Centre
The Shanghai Tower, which opened in 2015, reaches a height of 2,073 feet (632 metres) – making it the tallest building in Asia and the second-tallest in the world. Marvel at modern architectural prowess as you peer up at the building, which ascends over the Pudong skyline at 632 metres (2,073 feet). Head inside for some retail therapy or a meal at one of the many restaurants.
Xiao Yang Sheng Jian
1406-1408 Lujiazui Ring Road
Yang's is the go-to spot for Shanghai's famous shengjianbao, a classic street food that's definitely worth the wait. These delicious fried pork dumplings are topped with sesame seeds and spring onions. To avoid a mess when eating, first bite off the top, then slurp the broth (beware – it can be hot) out of the dumpling before savouring the pork meatball inside.
Four Seasons Hotel Shanghai at Pudong