Destination
Recreational Activities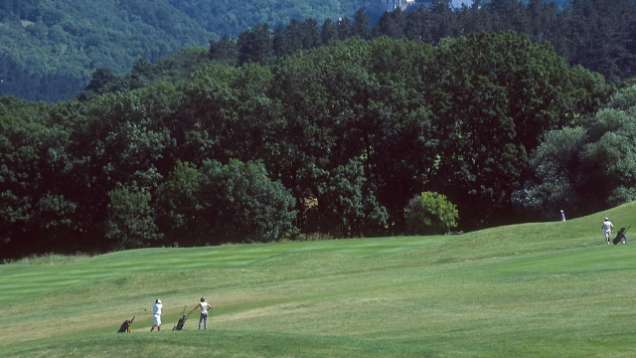 Within easy reach of your Four Seasons guest room or suite are other options for sports or active enjoyment. For further ideas or details, our Concierge is always pleased to advise and assist you.
Golf Resort Konopiste

Located just one hour from the Hotel, Golf Resort Konopiste is one of the most beautiful golf resorts in the Czech Republic. It offers two championship courses to choose from – the Radecky, which opened in 2002, and the D'Este, which opened in 2005. Both are 18-hole, par-72 courses.

Details
Estimated travel time
1 hour's drive
Estimated distance from Hotel

60 kilometres

37.5 miles
Golf Resort Karlstejn

The Golf Resort Karlstejn, established in 1992, opened its golf course in 1993. This unique course was designed by the Canadian duo Les Furber and Jim Eremko, and is set amidst beautiful scenery with the majestic Karlstejn castle as a backdrop.

Thirty minutes' drive from the Hotel, the wooded hilly landscape is an oasis of peace and quiet, with limestone outcrops and rich flora and fauna. Within this pleasant environment, the challenges of broken terrain, natural gorges, two lakes and many sand traps will satisfy even the most demanding of players. Designed to offer an easy bogey but difficult birdie, the course ensures that players with very different handicaps can play with equal enjoyment.

Details
Estimated travel time
30 minutes' drive
Estimated distance from Hotel

37 kilometres

23 miles
Golf Club Karlovy Vary

The oldest golf club in the Czech Republic, established in 1904, is today based at the Karlovy Vary course, Olsova Vrata. Designed by architect Noskowski in 1931 and created in 1932, the golf course reflects the highest contemporary standards, with completely reconstructed tee boxes, an irrigation system and a clubhouse.

Details
Estimated travel time
2 hours' drive
Estimated distance from Hotel

144 kilometres

90 miles
Golf Club Marianske Lazne

This is the oldest existing golf course on Czech soil. It was inaugurated by King Edward VII of Great Britain in August 1905. Owned by the famous neighbouring spa town and leased by the golf club, the site features a clubhouse restored to preserve its original design.

This very well maintained flat parkland course is the setting for European PGA Tour events, and a good challenge for every category of golfer.

Due to the course's elevated position above sea level, the season starts a few weeks later than on other Czech courses.

Details
Estimated travel time
2 hours' drive
Estimated distance from Hotel

180 kilometres

113 miles
albatross golf resort

The newly opened golf resort Albatross is located close to Beroun town and features a gorgeous clubhouse.