My Four Seasons
A Feast For The Eyes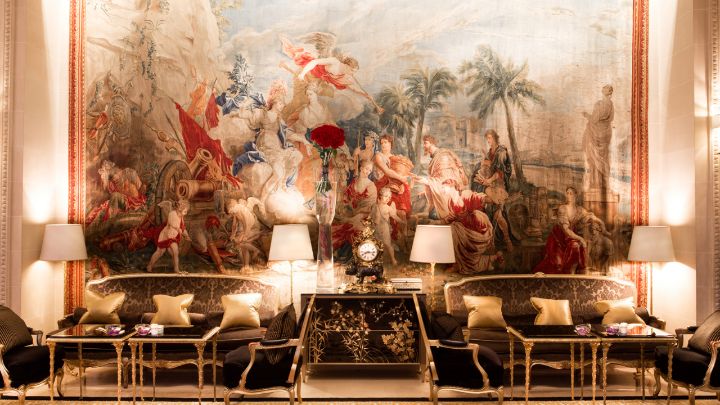 Entering Four Seasons Hotel George V, Paris, is like stumbling upon a treasure trove of lovingly preserved 18th century French antiques and intricate reproductions.

The Hotel is steeped in gorgeous period pieces, from the glittering Florence chandelier in the lobby to original tapestries to spectacular bronze sculptures.

First opened in 1928, it was the Hotel's second owners, Mr. and Madame François Dupré, who began to enrich the property's vast collection of artwork. Mme. Dupré, especially, was extremely knowledgeable about the period and the sophisticated grandeur of the pieces.

Together, the couple purchased and installed many of the extravagant objets d'art that can still be seen throughout the lobby, spa and guest rooms.

Upon checking in, guests will notice the copy of the famous Nicolas Poussin painting, Landscape with Diogenes, behind reception. The lobby area is also graced with two stunning 19th century console tables and original bronzes.

La Galerie, meanwhile, is hung with three chandeliers made in Murano near Venice; one is genuine while the other two originals, which were damaged, were carefully reproduced in 1999.

What is arguably the focal point of the entire collection is also located in La Galerie. It features two superb Flanders tapestries. The first, called War and Peace Protecting the Arts, comes from the Leyniers studio and dates from the first half of the 18th century. The second, called The Triumph, dates from the same period. These pieces depict what a relatively peaceful time it was during those years in France and the beginning of the Age of Enlightenment.

The rest of the Hotel is also adorned with carefully chosen pieces. Le Cinq restaurant, for example, features a still-life with game bird and a still-life with fruit and parrot – both paintings dating back to the 18th century. In the Spa, guests can admire the beautifully restored terracotta fountain and a trompe-l'oeil fresco in the swimming pool which represents the Grand Trianon gardens at the Chateau de Versailles.

Even the suites themselves feature neoclassical elements, from enamel bronzes to Empire chandeliers and petit point tapestries.

A visit to Four Seasons Hotel George V, Paris, is like being transported to a unique time in France's history: one of cultural exploration and a lively spirit of innovation.
More Four Seasons Stories