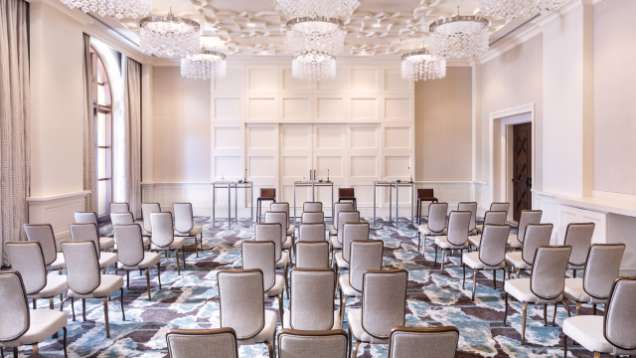 Welcoming and well equipped, the Queen meeting room offers 1,500 square feet (139 square metres) of space, as well as 14-foot (4.3-metre) ceilings.
Private Outdoor Patio
This venue has an adjacent covered 450-square-foot (42-square-metre) patio.

Advanced Technology
To maximize efficiency, the space is equipped with top-of-the-line audiovisual equipment.

Convenient Location
The space is conveniently located on our Meeting Space Ground Level.

Seating
Classroom
Hollow Square
U-shape
Theatre
Reception
Banquet rounds
Conference/Boardroom

72
42
36
96
96
96
30

Room Features
Wired or wireless high-speed email and Internet access
Covered terrace

Location
Palm Level
Size
Area
Height

139 m2 (1500 sq.ft.)
4.3 m (14 ft.)