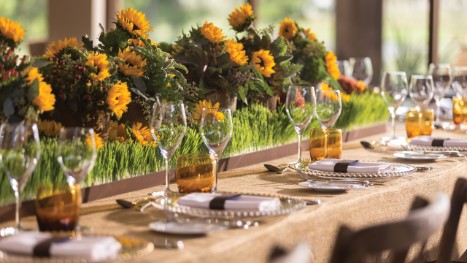 Authentic flavours
Our chefs create regional dishes that celebrate the best of every destination.
Customized menus
We use food to make an emotional connection with custom menus that reflect your group's tastes.
Restaurant-quality banquets
The food, beverage and service at our banquet meals measures up to the finest restaurants.
Diverse catering choices
We've got options to satisfy every member of your group.
When you attend an event at Four Seasons, good food is a given. We hold ourselves to the highest standards and we deliver, with innovative catering options and impeccable service.

Group Experiences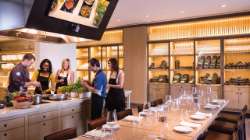 For team building
Interactive Culinary Experience
Combine the best of a Cocktail Party, Cooking Class and Team Building event to for the ultimate recipe for success. Strengthen your group's team dynamics with fully interactive and hands on group experience. This unique activity challenges team members to work together, providing a perfect balance between conventional team building activities and creating delicious hors d'oeuvres to share between group members. Event includes a Four Seasons Expert Chef as your host.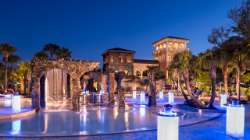 For a welcome splash to remember
Make a Splash
Available for evening events, the Splash Zone surrounds your guests in a world of water. Enjoy libations under the stars in this fun and memorable setting.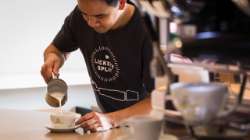 For a fun educational activity
Barista Bootcamp
For those who've ever wanted to become the consummate at-home coffee barista, the Barista Bootcamp experience presents the perfect chance. The two-hour class at Lickety Split will give the coffee lover the necessary skills to move beyond creating a basic "cup of joe" to creating an extraordinary, signature cup of coffee rich in flavour and with an artful presentation. Baristas-in-training will learn from coffee connoisseur Allison Burkard, Manager of Lickety Split, who honed her coffee making skills in Seattle, Washington at the headquarters for Caffe Umbria coffee roasting company.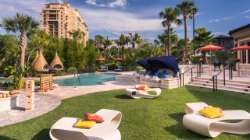 For an afternoon of leisure
Chill at The Cove
For client and incentive events, our pool side hospitality area is unmatched. Between your own ice cream shop, patio and lawn area, guests will enjoy the flavors and fun of Four Seasons Resort Orlando.