The beauty of the theme parks at Walt Disney World® Resort is that there is something for everyone. Whether you're a 4-year-old embarking on your first roller-coaster ride or a teenage daredevil with a need for speed, Walt Disney World® can deliver. Parents can rest assured that no matter what line they wind up in, their kids will delight in each attraction's unique story and walk away with a taste of Disney magic.
With more than 100 attractions to choose from, it can be difficult to decide which rides are best for your family—especially if you're new to the park. Visit the Disney Planning Center at Four Seasons Resort Orlando at Walt Disney World® Resort when you arrive to help finalise your itinerary. But to get you started, we've compiled a list of our 10 favourite attractions for beginners, enthusiasts and daredevils.
For beginners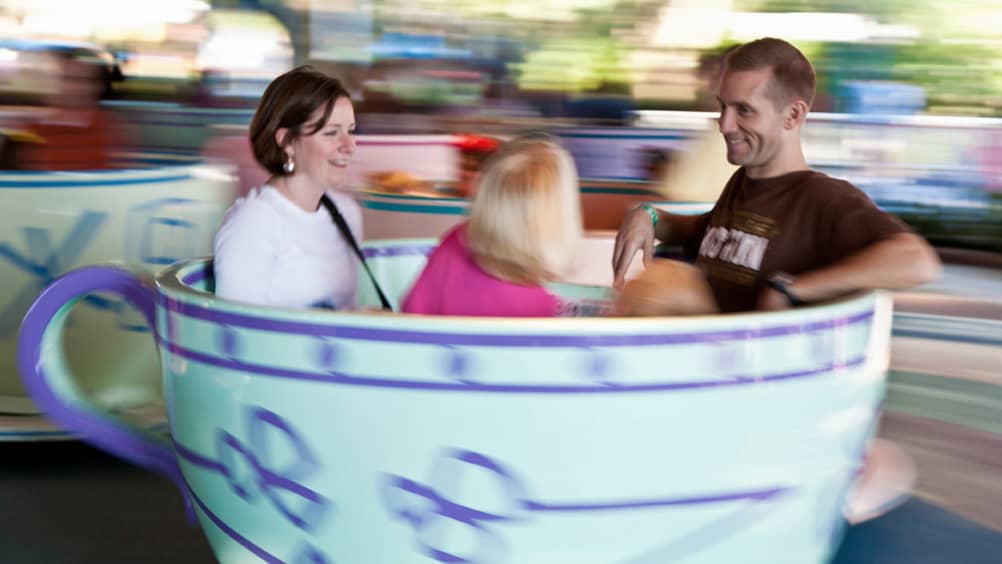 Photography RSBPhoto1 / Alamy Stock Photo
Seven Dwarfs Mine Train

One of Magic Kingdom® Park's newest attractions, this smooth but swift adventure takes you from Snow White and the Seven Dwarfs' cosy cottage to the mine where you'll see Sleepy, Doc, Grumpy and company hard at work. The thrills are small (the mine train sways and swings without offering any real drops), but the fun is in ample supply.

Guest must be 38 inches (97 cm) or taller.
The Barnstormer featuring the Great Goofini

There are enough twists, turns and small drops on this Goofy-themed adventure to make it a true roller-coaster experience, but the ride is short. Start here if you're not sure your little one is ready for roller coasters; if panic sets in, you only have to endure one minute before it's over!

Guest must be 35 inches (89 cm) or taller.
Test Track® Presented by Chevrolet®

A favourite within the Future World realm of Epcot®, this attraction is designed for kids who are itching to get behind the wheel. Design a new car through an interactive touch screen, then hop into a special simulation car for a test drive along a mile-long track riddled with rough terrain and obstacles. Drivers will feel a strong G-force as they rocket around the track at up to 65 mph (105 kph), but they won't run into any big drops.

Guest must be 40 inches (102 cm) or taller.
For enthusiasts
Big Thunder Mountain Railroad®

An older brother to the Seven Dwarfs Mine Train, this roller coaster takes you on a smooth yet speedy ride through canyons and rising rock buttes. No significant drops on this one, just ear-to-ear grinning as you zip your way up, down and around. Designed to look like an old American mining town, the scene transports you from Magic Kingdom® Park to the Wild West.

Guest must be 40 inches (102 cm) or taller.
Splash Mountain®

Billed as a "hare-raising adventure," Splash Mountain stars characters like Brer Rabbit and songs like "Zip-a-Dee-Doo-Dah" from Disney's classic film Song of the South. Hop aboard an eight-passenger hollow log for a leisurely float past caves and meadows that play home to more than 100 singing and storytelling Audio-Animatronics characters. You'll go over a few small drops before ascending the final lift towards the iconic 5-storey plunge down a waterfall and into the Briar Patch. Prepare the kids to get wet!

Guest must be 40 inches (102 cm) or taller.
Space Mountain®

The third mountain-themed thrill at Magic Kingdom® Park is perhaps its most famous. Originally built in 1975, Space Mountain underwent a major renovation in 2009, updating the tracks and queue area while maintaining the integrity of the original attraction. This ride captures the thrill of the unknown as you go hurtling through nearly pitch-black space, not knowing what twist, turn or drop awaits. You'll be convinced that you're travelling through the outer reaches of the cosmos as you pass through fields of stars, whiz by comets and swirl through a wormhole upon re-entry to Earth. The drops are relatively short but steep, and since you can't see what's coming up next, each one can feel more intense than it actually is.

Guest must be 44 inches (112 cm) or taller.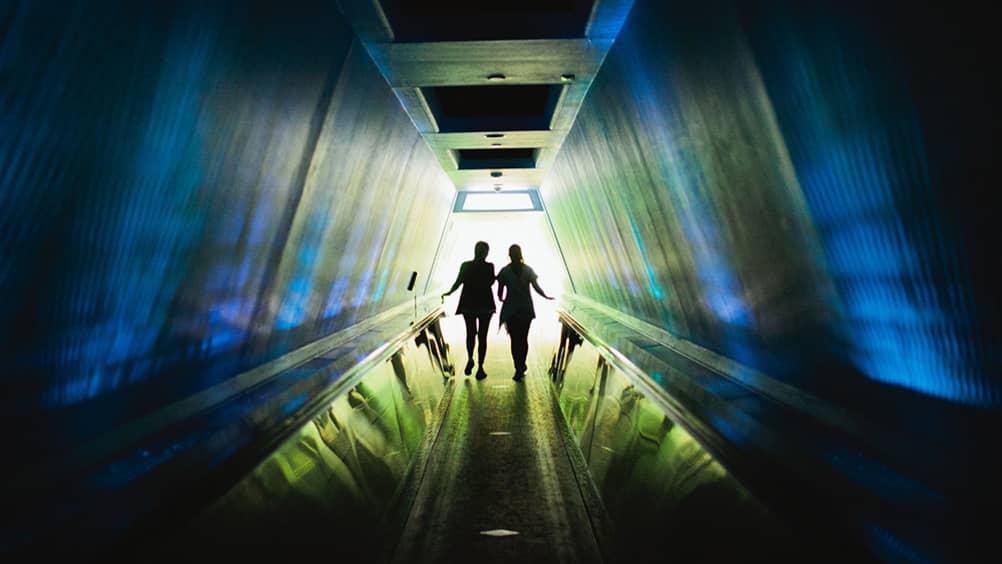 Photography Emiliano Rodriguez / Alamy Stock Photo
Mission: SPACE®

For a high-tech, immersive thrill, nothing quite matches Mission: SPACE at Epcot®. Experience tremendous G-forces and simulated weightlessness as you and your four-cadet crew take off on a mission to Mars aboard the X-2 Deep Space Shuttle. Definitely not for the claustrophobic or motion-sickness-prone, Mission: SPACE is as close as you can get to experiencing space travel without heading to NASA. The ride comes in two intensities, Orange Team and Green Team, with Orange Team being more intense.

Guest must be 44 inches (112 cm) or taller.
For daredevils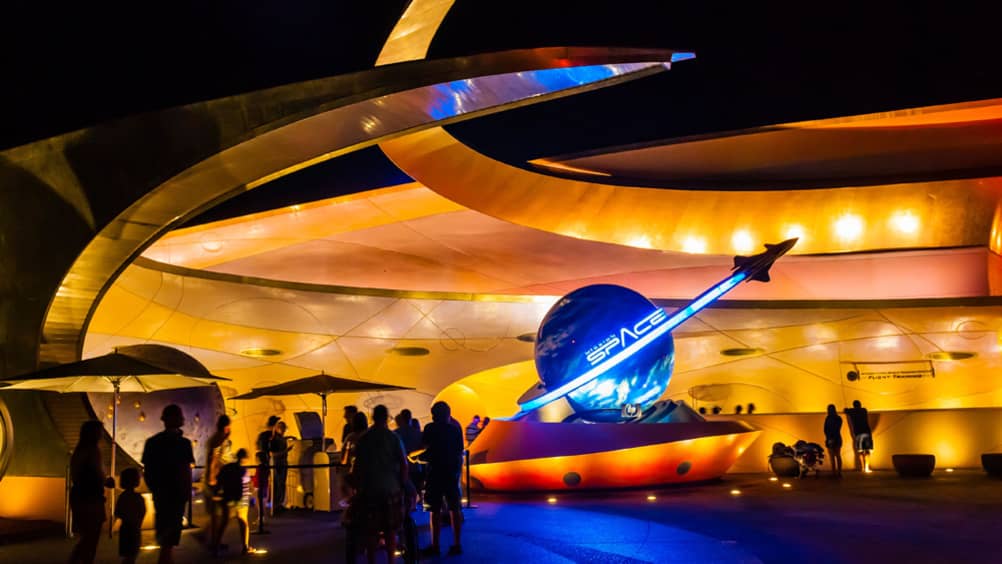 Photography Blaine Harrington III / Alamy Stock Photo
The Twilight Zone Tower of Terror™

A haunted hotel in the middle of Disney's Hollywood Studios® is the setting of the park's very own window into the Twilight Zone®. As you enter the decrepit lobby of the Hollywood Tower Hotel, you just know something's not right. Maybe it's the creepy bellman who greets you, or the cobwebs strewn about. After making your way into the boiler room, you'll board the service elevator and slowly ascend in darkness up and into The Fifth Dimension before plummeting down the abandoned elevator shaft in a series of randomised drops. At one point, the doors open directly in front of you to reveal that you are 170 feet (52 metres) up in the air—but not for long. Over the next few moments, you'll be dropped straight down and lifted back up again and again.

Guest must be 40 inches (102 cm) or taller.

The Twilight Zone® is a registered trademark of CBS, Inc. and is used with permission pursuant to a license from CBS, Inc. ©Disney/CBS, Inc.
Expedition Everest—Legend of the Forbidden Mountain®

Imagine you're high on Mount Everest on a rickety train, only to realize that the tracks have broken. Your train starts to roll backwards, building speed, and then you see him—the legendary Abominable Snowman you were warned about. On Expedition Everest, an amazing thrill ride in Disney's Animal Kingdom® Theme Park, you'll careen backwards into a double-looping turn before plunging down the main 80-foot (24-metre) drop and swirling in and out of murky caves. This ride is an immersive experience, true to Disney form, and the tallest of the Resort's mountain-themed attractions.

Guest must be 44 inches (112 cm) or taller.
Rock 'n' Roller Coaster® Starring Aerosmith

For pure high-speed thrills, nothing beats the Rock 'n' Roller Coaster Starring Aerosmith ride, the fastest in Disney's Hollywood Studios® and the entire Resort. From start to finish, this ride is a non-stop terror rocket. It starts off with a 0–57 mph (0–92 kph) acceleration in 2.8 seconds, during which you'll experience 4.5 Gs, before entering a tight loop, all while being blasted with Aerosmith hits. The three inversions and sheer speed may be too intense for some, but big thrill seekers will love it.

Guest must be 48 inches (122 cm) or taller.
Four Seasons Resort Orlando at Walt Disney World® Resort