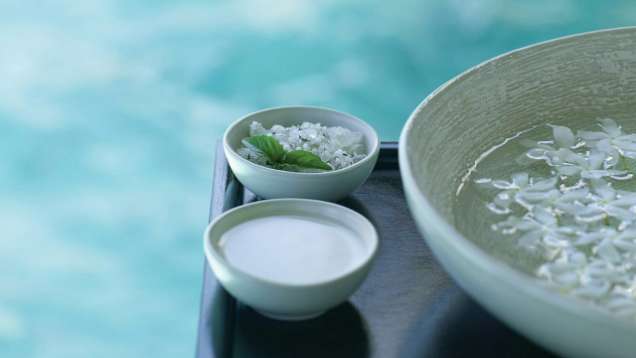 REJUVENATE
A peaceful melody for the body and skin, take one moment to lose yourself in an ultra-relaxing experience. Revel in a customized Signature Massage, complemented by a Frangipani Nourishing Hair and Scalp Treatment for vibrant hair and a Warming Paraffin Treatment to soothe your soles. Pair this body therapy with the ELEMIS Superfood Pro-Radiance facial - powerful and energizing, leaving the skin radiant. A timeless journey.
110 Minutes
110 Minutes
Call +1 (242) 363-2501
NOURISH
Discover a wonderland for the senses with an 'anthology' of ELEMIS therapies to cleanse, nourish and balance. The skin is lathered in an Intensely Cleansing Salt Scrub to reveal a new layer that will be moisturized with a Body Nectar Nourishing Wrap - both therapies delivering soft and supple skin whilst priming the body for a full body massage. Immerse yourself into total relaxation as Swedish techniques release trapped energy from the muscle and a Warming Paraffin Treatment relieves the hands and feet. A heavenly awakening for the body and soul.
120 Minutes
120 Minutes
Call +1 (242) 363-2501
DETOX
This restorative escape begins wit the Thousand Flower Detox Wrap, a detoxifying yet nutritiously-indulgent therapy to stimulate the elimination process. After an Omega-rich Green Tea seed oil is massaged into the skin, the body is enveloped in a vitamin-packed, earth wrap followed by a Freestyle Deep Tissue Massage. These therapies are paired with our Garden of England Rose Restore Hand Treatment with Manicure and our Sole Delight Foot Treatment with Pedicure. A purifying and grounding experience.
3½ Hours
3½

Hours

Call +1 (242) 363-2501
PEACEFUL PREGNANCY FACE AND BODY EXPERIENCE
This beautifully-reviving facial and specially-formulated massage take care of all your skin's needs during pregnancy. The treatment combination gently addresses any visible effects of hormonal changes on the skin and supports it as it accommodates your baby. Taking care of your ever-changing needs at this very special time. Just nurture5, nourishment and tranquility.
110 Minutes
110 Minutes
Call +1 (242) 363-2501
ELEMIS Couture Touch Experience
Your total spa experience for two begins with side-by-side personalized deep tissue massages. Our skilled therapists will address any areas of tension using a combination of ancient and modern massage techniques. This healing experience is followed by and ELEMIS Superfood Pro-Radiance facial for her, a High Performance Skin Energiser facial for him, and a deeply relaxing scalp massage for both.
110 Minutes
110 Minutes
Call +1 (242) 363-2501
Note: Treatments are subject to change without notice.