My Four Seasons
PEEL. EAT. REPEAT – OAHU'S SHRIMPIN' STORY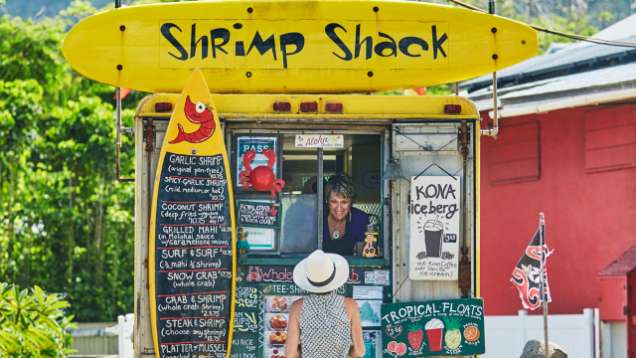 More Four Seasons Stories
Warning – story may result in excessive mouth watering!
Garlic. Shrimp. Butter. What do these three ingredients have in common? Cooked with a pinch of aloha, and it's the making of Oahu's famed plate lunch. Whether you're a garlic enthusiast or think you have an aversion to it, there's no denying the appeal (let alone hypnotic aroma!) of Oahu's renowned shrimp shacks and trucks. One bite of a made-to-order sautéed garlic-butter shrimp plate and it's easy to understand the charm of these eclectic roadside eateries.
While the food truck trend has been sweeping the nation for the past couple of years, Oahu has been dishing up mobile delights for over two decades in the form of shrimp – garlic-butter shrimp to be precise. Driving along the northeastern coast of the island on Kamehameha highway, from Kahuku to Haleiwa on the North Shore, begins the 15-mile (24-kilometre) stretch of colourful shrimp shacks and trucks. The potent aroma of sizzling garlic and melted butter replaces the otherwise tropical fragrance naturally associated with Hawaii. Shrimp-lovers can choose from an assortment of purveyors, each offering their own mouth-watering version of the popular plated lunch.
There are well over 10 purveyors, and each have their own claim to fame – broiled shrimp, fried shrimp, coconut shrimp, spicy shrimp and garlic shrimp. The rustic roadside eateries not only dish up the best tasting shrimp on the island, but also perhaps offer the best ocean views. The trucks' vibrant design palettes add to the charm. Think: colours of the rainbow and graffiti-inspired artistry, as well as patrons' own autographs on the trucks.
Giovanni's, a white truck adorned with writing all over, is said to be the first shrimp truck in the area, dating back to 1993. The crustaceans are grown locally along the North Shore in aquaculture farms, which guarantees the freshest quality fare.
Get shrimpin' and experience this iconic local plate lunch delicacy first-hand. Remember, when someone tells you to go taste this Epicurean fare – go, and go fast!
Tips
Bring cash.
Wait times can be long, but remember it's made-to-order and well worth the wait!
Garlic aroma may linger for a good five hours post lunch feast.
Allow the Concierge to call ahead and put your order in faster.