Whether you prefer bonding over a hike with your significant other, or you and your spouse are craving a special candlelight dinner without the kids, the island and Four Seasons offer a variety of romantic activities and things to do for the two of you.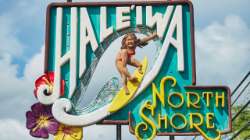 Haleiwa Day Trip
Stroll through North Shore's Haleiwa Town, which is known for having some of the top surfing beaches in the world. Haleiwa Town is also home to boutique shops and eateries, making it a perfect place for day trips. Don't forget to stop for some shave ice, an island specialty.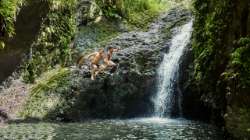 Waterfall Hike
Lace up your hiking shoes for a climb to one of the island's secluded waterfalls, ideal for taking a dip in the refreshing mountain waters.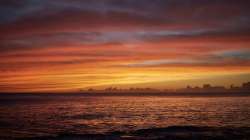 Sunset Snorkelling
During a sunset snorkel and reef tour, you'll bond over the experience of swimming alongside green sea turtles, reef sharks and scores of colourful fish, all taking on a different hue as the sun goes down. Opt for a sunset cruise at nearby Ko Olina Marina, which offers snorkelling and dinner with other couples.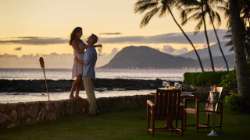 Your Own Private Paradise
For a romantic, one-of-a-kind experience, have the Resort set up a private barbecue dinner overlooking the ocean. Indulge in champagne, a customized menu with perfect wine pairings. Celebrating something extra special? Add fireworks to your evening for a truly memorable moment.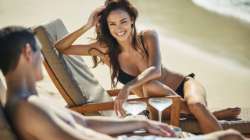 Adult-Only Pool
The Resort's Adult Pool offers a serene pool experience with an optimal westward-facing location, perfect for taking in the colourful sunsets famous on the leeward coast of Oahu.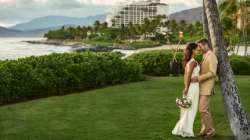 OCEANFRONT NUPTIALS
Tie the knot on the sprawling, picture-perfect 10-acre (4-hectare) estate of Lanikuhonua, located next to the Resort. Our Wedding Specialists will take care of all the details for you, from flowers and linens to Hawaiian entertainment and honeymoon plans.