The Resort is your family's playground, with plenty of opportunities to keep the kids entertained. Build sandcastles on the white-sand beaches, watch your kids learn how to hula dance, splash around in the Family Pool, or even treat your little ones to a kid-friendly spa treatment while you indulge in a little pampering of your own. Find a wealth of fun things to do with kids in Oahu!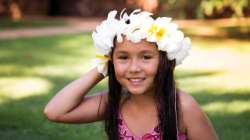 HULA AND UKULELE LESSONS
Watch your children learn how to play the ukulele, a traditional Hawaiian string instrument, or learn together as a family with our on-site teachers. The Resort also offers hula dancing lessons for kids and families.