Destination
Directions & Maps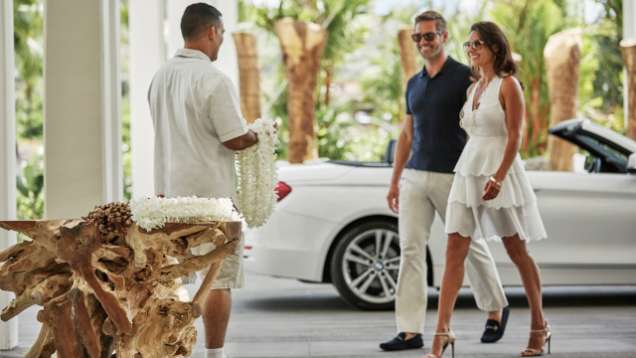 Convenient for international travellers, Oahu is the most air-accessible Hawaiian island, thanks to the many direct flights to Honululu International Airport. It's a 35–45 minute drive by car from the airport to Four Seasons Resort Oahu at Ko Olina.

DIRECTIONS FROM HONOLULU INTERNATIONAL AIRPORT (HNL)
Distance: 20 miles/32 kilometres
Instructions:
Exit the airport, following the signs for H-1 West.

Drive on H-1 West until it turns into HI-93 West.

Take the exit for Ko Olina.

After approximately ¼ mile (0.4 km), Four Seasons is on your right.
Services Provided
by the Hotel
The Resort offers transportation to and from the airport. Please ask the Concierge for private car service arrangements, as well as Helicopter and luxury yacht arrival options.

Overnight valet parking is available for USD 45 per night.
Luxury Car or SUV Transfers
The Resort would be happy to arrange transfers to and from the airport for you, taking just 30 minutes. A fleet of spacious Lincoln Navigators seat four people comfortably, while Mercedes Benz sedan cars can fit two people comfortably. Fees apply. Contact Reservations or our Concierge for more information.
Guests looking for a scenic, extra-quick transfer to and from the airport may arrange a helicopter ride, taking just 10 minutes from the airport to the Ko Olina Resort's helipad. The Concierge would be happy to arrange helicopter service for you.
Begin your Hawaiian journey with a transfer like no other. Our guests have exclusive access to a 47-foot (14-metre) luxury yacht, with convenient drop off at the Resort. Our staff will meet you at the airport and transfer you to the marina. Luggage can accompany or arrive in advance via road.

Taxi and rental services are available. Most major car rental firms operate at the airport. Enterprise is available at the Resort as well as at the airport. Please ask the Concierge for rental car and taxi rates.
Both online services can operate on Oahu. Please refer to the apps for details and arrangements.
Quick Reference
Time and distance to city centre
To downtown Honolulu: 38.6 kilometres (24 miles)/35-minute drive

Time and distance to shopping
To Waikiki: Approximately 41.7 kilometres (25.9 miles)/35-minute drive

To Ala Moana Centre: Approximately 41.4 kilometres (25.7 miles)/35-minute drive
Arrival & Departure Lounge
Arriving before or after the Resort's standard check-in and check-out times? Relax at our Arrival & Departure Lounge, complete with luggage storage and facilities to refresh before or after your flight.