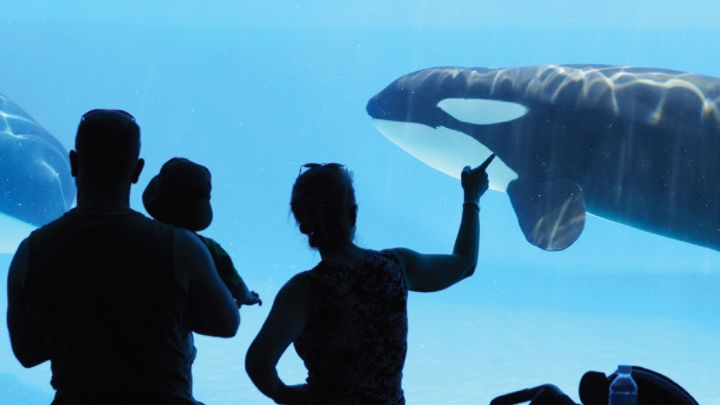 Our Concierge would be pleased to suggest and help arrange family activities both on site and off. Ask about our Pizza and a Movie Night and weekly s'mores event.

10 Things to Do in San Diego With Kids

In San Diego, with its cheerful weather, miles of gorgeous beaches and world-renowned attractions, relaxation and family vacation go hand in hand. Four Seasons Magazine has narrowed down the many options to a list of 10 things to do in San Diego with kids. But believe it or not, most of these recommendations would still make the cut for an adults-only getaway: This laid-back city specializes in merging the interests of all ages.
LEGOLAND

Designed for children ages 2 to 13, this family park combines hands-on interactive attractions, family rides, food stands, five restaurants, four shops and four shows. Landscape features include unique LEGO themes modelled after the original LEGOLAND in Denmark. Thirty million LEGO bricks are used throughout the park setting. Amusements such as boat tours, water play areas, mazes and simulated jousts will entertain the entire family
SeaWorld

A 150-acre (60-hectare) marine-life park located on San Diego's Mission Bay. Among the major attractions are Manatee Rescue, Shipwreck Rapids, Shark Encounter, Shamu the Killer Whale, Wild Arctic and Rocky Point Preserve, the world's largest dolphin and sea otter habitat.
San Diego Zoo

Located in beautiful Balboa Park, the 100-acre (40-hectare) world-famous San Diego Zoo was founded in 1916 by Dr. Harry Wegeforth, a San Diego physician, who started the collection with 50 animals gathered from various local menageries. Today, the San Diego Zoo cares for over 3,800 animals of 800 different species, and its collection of plants and animals is acknowledged as one of the finest in the world. Visitors can enjoy entertaining tours, shows and exhibits such as Ituri Forest, Gorilla Tropics, Hippo Beach, Tiger River, Sun Bear Forest and Polar Bear Plunge. The zoo is also home to Hua Mei, the first surviving giant panda cub ever born in the United States, and an international symbol of hope for the future of giant pandas.
San Diego Safari Park

On a 2,100-acre (850-hectare) preserve where animals wander freely in surroundings much like their native homelands, a quiet railway, pathways and shows enable you to observe animals and exotic plants. The wildlife preserve houses more than 3,500 animals representing 260 species, and also has a botanical garden.
Balboa Park

Enjoy more than 1,000 lush acres (405 hectares) of house gardens, 15 famous museums, galleries, theatres, a golf course and the world's largest zoo. The landmark California Tower features a 100-bell carillon that chimes the quarter hours and delivers a noon bell concert.
Stephen Birch Aquarium

Explore the largest oceanographic museum in the country and enjoy a spectacular view from the tide-pool plaza. An outdoor picnic area is also available.
Belmont Park

This beachfront landmark features the historic Giant Dipper Roller Coaster, Liberty Carousel, a family play land, Southern California's largest indoor swimming pool, arcades and more.
SEA LIFE Aquarium at Legoland

Embark on an interactive journey through fantastic ocean habitats at SEA LIFE Aquarium. During your voyage, find amazing creatures to touch, discover and admire. SEA LIFE is packed with interactive play zones, hands-on encounters, engaging shows and feedings.

Legoland Waterpark

Let your imagination flow at the first and only LEGOLAND Waterpark, an interactive, splash-filled, fun time for the entire family. The centrepiece of the waterpark is a 45-foot-tall (14-metre-tall) tower designed to immerse children in the creative world of Lego. The park also features more than 20 Lego models, including giant Lego friends who splash and spray water on guests, two sandy beach wading areas, retail shops and snack carts. The waterpark is open during spring and summer.

Disneyland

Take a trip to the "happiest place on earth" and explore the worlds of Yesterday, Tomorrow and Fantasy. Take a ride on iconic Splash Mountain, Pirates of the Caribbean, Haunted Mansion, It's a Small World and Finding Nemo Submarine Voyage.

Dive In Movie Night

Spend quality time with your family at Aviara's outdoor movie night at the Summits Pool complex. Lounge poolside with complimentary popcorn before heading into the water to watch a family-friendly flick. Order dinner and drinks from the comfort of your chaise lounge, kick back and enjoy the show!

Movie and popcorn are complimentary. Additional food and beverages are also available for purchase. Dates and movie selections are subject to change.