Function Rooms
The Sutton Room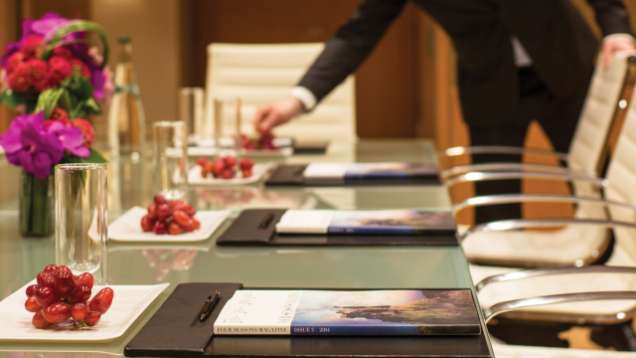 Contemporary in design, this private function room provides an intimate dining and/or meeting experience for 20 to 50 guests.
Room Features
Intimate in atmosphere, this venue may be set up as a residential-style space or configured for more formal gatherings.
Videos or presentations are easy on the drop-down audiovisual screen.
Sophisticated Décor
The neutral interior design offers a distraction-free environment that's versatile for any décor theme.
Technical Assistance
An audiovisual company maintains an office in the Hotel with specialised equipment and technicians.
These on-site technicians work with your Four Seasons event planner to ensure flawless presentations.
State-of-the-Art A/V Equipment
Our A/V team will be happy to work with you to meet your specific requirements.
Internet Access
Wired or wireless Internet access available.
State-of-the-art AV equipment
Lecterns with light and sound control
Dedicated telephone lines available on request
Motion picture projectors, slide projectors, overhead projectors
Video cameras, video projectors, video players
Seating
Classroom
Theatre
Reception
Banquet rounds
Conference/Boardroom
U-shape
Hollow Square

32/24
48/36
50
44/33
32/24
24/18
28/22

Room Features
Wired or wireless, high-speed e-mail and Internet access

Location
MEETING ROOM LEVEL
Size
Area

55 m2 (595 sq.ft.)