Function Rooms
The Cosmopolitan Suite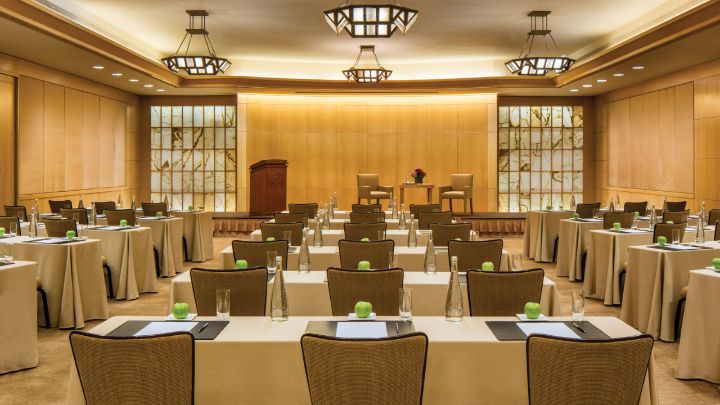 Among the premier venues at Four Seasons Hotel New York, the Cosmopolitan Suite offers a sophisticated design that is versatile for any kind of event.
Room Features
The Hotel's entrance on East 58th Street provides the easiest access to The Cosmopolitan Suite – creating a sense of VIP privacy and exclusivity.
Elevator service is available from the lobby directly into the venue.
Sophisticated Décor
The elegantly neutral décor features light beech-panelled walls and hand-tufted taupe-coloured carpet.
The 12-foot (3.6-metre) ceilings and backlit onyx panels reflect the signature design of the main lobby.
Technical Assistance
An audiovisual company maintains an office in the Hotel with specialised equipment and technicians.
These on-site technicians work with your Four Seasons event planner to ensure flawless presentations.
Internet Access
Wired or wireless Internet access available.
State-of-the-Art A/V Equipment
Projection booths, front and rear
Lecterns with light and sound control
Dedicated telephone lines available on request
Motion picture projectors, slide projectors, overhead projectors
Video cameras, video projectors, video players
Seating
Theatre
Reception
Banquet rounds
Classroom
U-shape
Hollow Square

190/150
192
165/132
110/104
50/45
60

Location
COSMOPOLITAN LEVEL
Size
Area

210 m2 (2268 sq.ft.)