Dining
New York's Signature Dish is
Still Selling Like (Lemon Ricotta) Hotcakes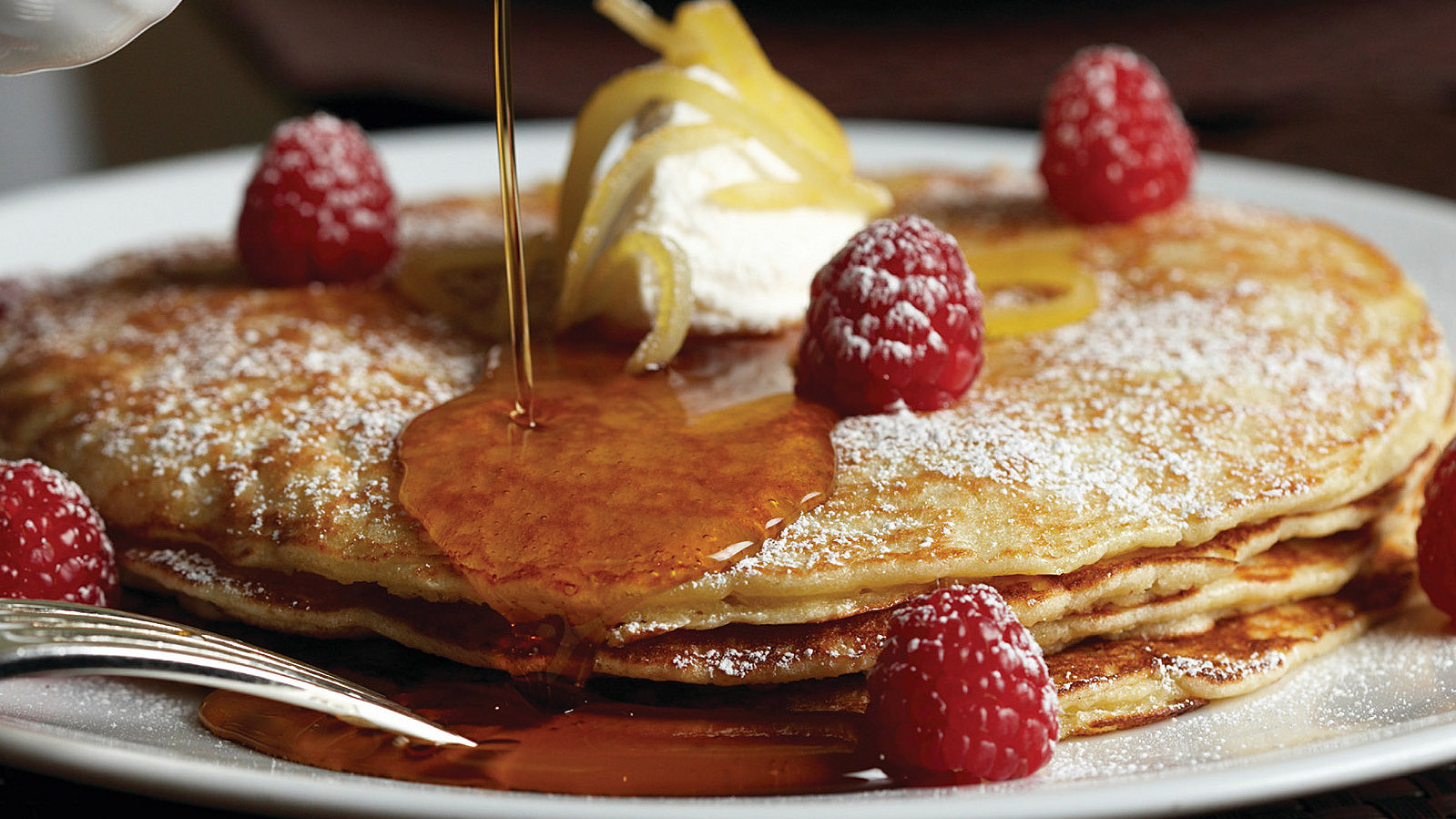 When John Johnson became Executive Chef at Four Seasons Hotel New York, he had a lot on his proverbial plate. His biggest challenge? To revive the property's storied restaurant, The Garden, with a new emphasis on local ingredients and healthy eating. But there was one menu item he couldn't touch: the Lemon Ricotta Hotcakes, a bestseller and power-breakfast favourite since the property opened in 1993.

Years later, Chef Johnson reflects on future food trends, the most important meal of the day and of course, his first encounter with the formidable Four Seasons hotcakes.

When you interviewed for the job, were you aware you'd be inheriting this rather famous menu item?
John Johnson: Oh, I knew all about the lemon ricotta hotcakes. This dish has a cult following! Everyone says it originated here at the New York property but no one is one hundred percent sure — it's all part of the legend, which makes it fun.

Did you ever think about changing the recipe to give it your own flavour, so to speak?
JJ: I wouldn't dare mess with it too much. We have many regular customers who come to The Garden and order these hotcakes on a daily — yes, daily — basis. We even have one regular who eats them twice a day. So our customers know what they like, which is great. Where I have a chance to be creative is with the toppings. I change things up with the seasons, so it could be Meyer lemon preserves or local black raspberries depending on what's in the market at that time.

What is it about these hotcakes that make them so popular?
JJ: It's a very simple, old-fashioned recipe with fresh lemon zest, strained ricotta and a little bit of extra whipped egg white to make them extra light, that's the secret.

Apart from the hotcakes, you re-worked the breakfast menu. What was your inspiration?
JJ: It tends to be a polarizing meal: People either want something super-healthy or they're traveling and want something indulgent. So, we've kept all the classics and introduced and identified more healthy choices, like fruit smoothies, whole-wheat omelet wraps and gluten-free items.

It sounds like that's all a perfect fit with the Eat-Drink-Local menu and general philosophy that you've brought to The Garden.
JJ: We're lucky because some of the world's most amazing produce comes from New Jersey, upstate New York and Connecticut. And I should know, since I grew up in New Jersey. My love of cooking comes from being in my grandma's kitchen and garden, and spending time on my uncle's lobster boat on the Jersey coast. So incorporating local products and having contact with the cheese mongers and the farmers, it's infectious and I wanted to bring that energy to our menu.

Do you think the "Eat Local" movement will ever hit a saturation point?
JJ: It's definitely here to stay. Butchers and farmers are now at a celebrity level, and most people's new food shopping routine includes backyard gardens and the farm stand down the street. But maybe we won't hear the term so much because it's just part of our culture now.

Are there any other food trends you think we'll be hearing about in the next few years?
JJ: I think we will see a further shift towards a Plant Based Diet, a strong push for sustainable seafood products and more awareness for the health of our oceans. We will continue to see craft brewing evolve, and hopefully remain small, and we will see organic and responsibly sourced coffee continue to gain in normalcy. As a chef, you have to be agile with your menu and adapt to what's going on in the world. I look forward to the challenge.

– Beth Hitchcock
Try Chef Johnson's exclusive Lemon Ricotta Hotcakes recipe at home:
Lemon Ricotta Hotcakes
Serves: 4

Ingredients:
6 eggs
1½ cups (325 ml) ricotta cheese
½ cup (125 ml) melted butter, cooled
½ cup (125 ml) all-purpose flour
¼ cup (60 ml) sugar
½ tsp (2 ml) salt
2 tbsp (30 ml) grated lemon zest
Butter, for griddle or pan

Garnish:
Powdered sugar
Fresh blackberries

Method:
1. Separate the egg whites from the yolks.
2. In a large bowl, combine the egg yolks, ricotta cheese and melted butter.
3. In a separate bowl, combine the flour, sugar, salt and lemon zest. Slowly add to the ricotta mixture.
4. In another bowl, whip the egg whites until they form firm peaks. Fold the egg whites gently into the batter, until just combined.
5. Over medium heat, lightly butter a griddle or non-stick pan. Ladle in a spoonful of batter to form small hot cakes and cook until golden brown on both sides.

To Serve:
Top with powdered sugar and blackberries… enjoy!