Experience three new packages that showcase the flexibility of our luxurious villas, offering opportunities for groups, romantics and day trippers to get away in style. Each package provides unparalleled access to the authentic warmth and charm of Nevisian hospitality via a meeting or vacation experience that celebrates the Caribbean as it was meant to be – unspoiled, undisturbed and unforgettable.
Land & Sea Day Pass Package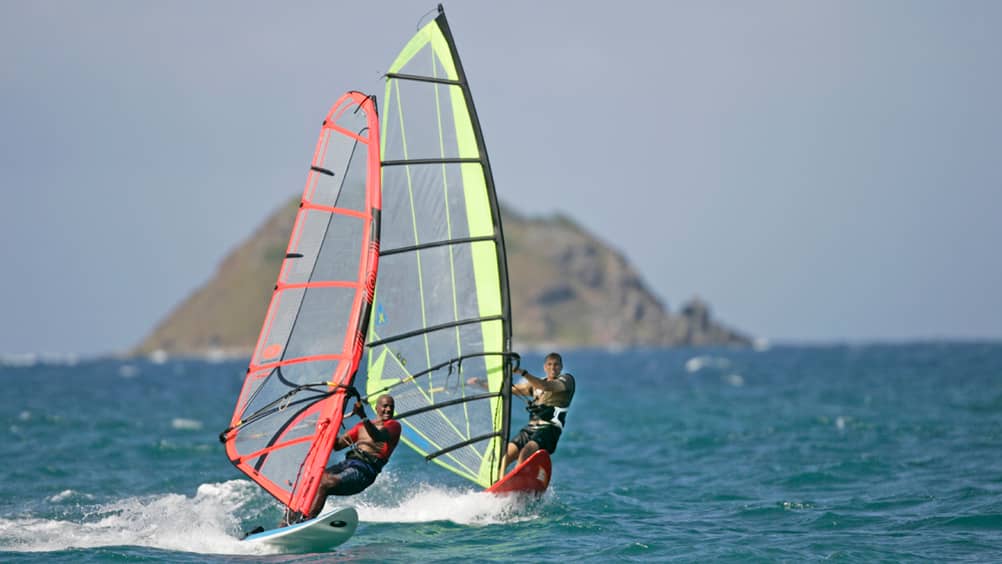 If you had only 12 hours to experience the best of Four Seasons Resort Nevis, what would you do? Well, we've done the hard part, so all you have to do is relax and experience it all. Whether you're looking to spend a day with us or are just sailing through, the Land & Sea Day Pass Package is perfect for a quick getaway with friends and family. Dock your yacht at our brand new pier and spend the day in paradise in one of our luxury villas. Guests will have access to a private residence, where they can spend the day in their own private pool or get out and experience all of the Resort's facilities. So why pick one, when you can experience the best of it all? All these activities and more are available to experience a perfect day in paradise.
Inclusions – Land:
Docking rights at Resort pier
Access to Pinney's Beach Villa for the day (7:00 am – 7:00 pm)
Provisions stocked, including snacks and beverages (water, juice, sodas and domestic beer). Additional alcoholic beverage extra (i.e., wines, liquors, etc.)
Catered breakfast through In-Room Dining with welcome bottle of Champagne
One in-Villa spa treatment per person
Dedicated Villa Ambassador, golf cart
Either one round of tennis or 9 holes of golf per person
Inclusions – Land & Sea (All land inclusions, plus the following)
Motorized water sports
Access to Beach Cabana – Serene Limin' Package
Terms and Conditions will apply.
For pricing details, please contact our Reservations team at 869-469-6234.
Marriage Milestone Package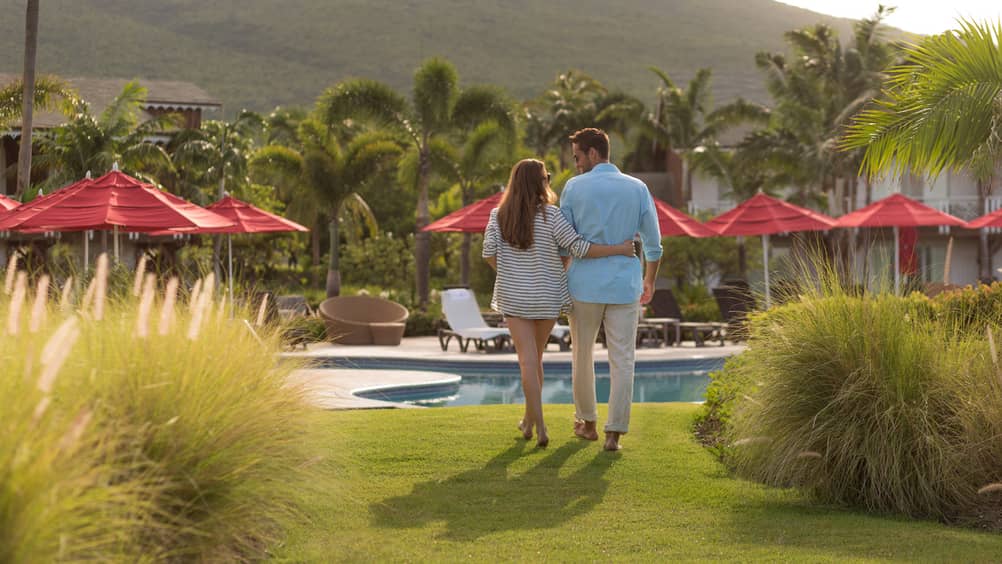 What better way to commemorate your marriage milestones than by nurturing your relationship in Nevis? Four Seasons Resort Nevis invites couples to bask in the glow of authentic Caribbean charm and revel in a selection of romantic experiences designed to create a deeper connection. Set against the stunning backdrop of Nevis, your escape together will feature moments of relaxation, adventure and everything in between to ensure your celebration of love is invigorating and inspiring.
Package Inclusions:
Three-night accommodations in a One-Bedroom Hill Estate Villa
Cooking class and Herb Garden Dinner
Spa Under the Stars
Hike, bike tour or horseback ride
Beach cabana rental
Sunset Catamaran cruise
Take Home gift bag (i.e., tote bag with Paw Paw Pepper Sauce, Spa essential oils, bottle of Nevisian rum, etc.)
Terms and Conditions will apply.
For pricing details, please contact our Reservations team at 869-469-6234.
Pinney's Retreat Meeting Package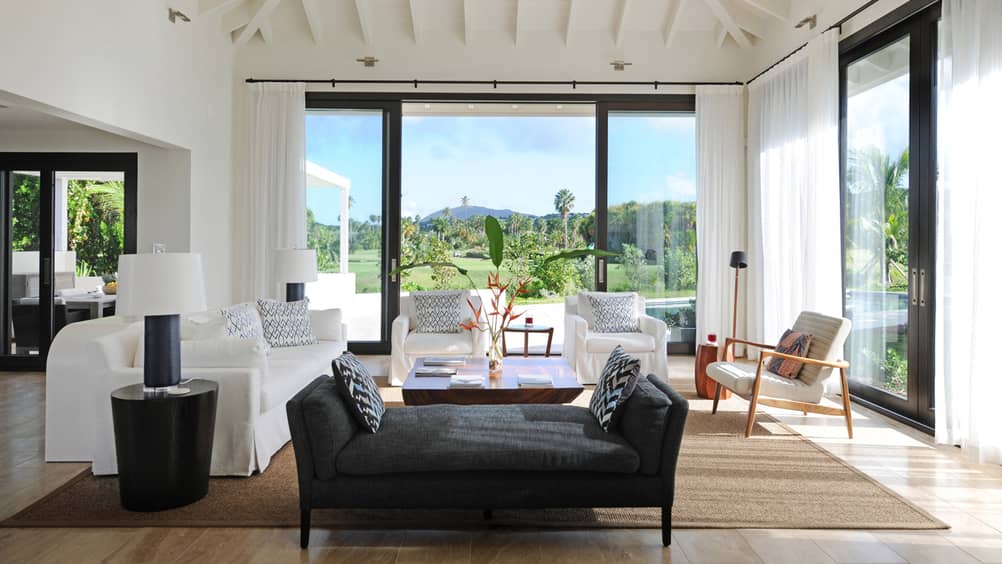 Let the majestic Nevis Peak provide the backdrop for your company meeting or corporate retreat with our Pinney's Retreat meeting package. Just a three-minute walk from the Resort, Pinney's Beach neighbourhood provides guests with the perfect combination of privacy within their own beachside hideaway, as well as access to our full range of amenities and activities. Featuring a total 23 guest rooms (all with private bathrooms) across seven-, three- and four-bedroom luxury villas on 79,395 sq. ft. of land, there is no limit to what your team can accomplish. Whether you're envisioning an intimate planning session or a group team building activity, there's no doubt that your guests will love the Resort feel while living in a private residence.
Package Inclusions:
Exclusive accommodations in up to seven modern townhouses at the southern end of the Resort
Each villa features three bedrooms with ensuite bathrooms and a separate indoor/outdoor living and entertainment area, including a modern kitchen, outdoor dining table and private pool
Daily in-Villa catering through Room Service for breakfast
Access to Resort meeting rooms for one day with catered lunch outside on terrace
Casual welcome beach dinner on South Beach/Kastawey
Rum Cart cocktail hour
One farewell "Block Party" group dinner on Pinney's Pathway
DJ or band, dance floor and stage set-up
Plated or buffet dinner with long table set up
Gelato Cart + Dessert Bar
Sunset Catamaran Sail
Team building activity on the beach
Access to Beach cabanas for one day with lunch
Dedicated Villa Ambassadors
Dedicated Conference Concierge/Conference Services Manager
For pricing information, please contact the Sales Team at 786-655-8510.
Terms and Conditions will apply.