Nevis is an idyllic romance destination perfect for lovebirds looking to reconnect. Experience an intimate dinner on the beach at sunset, or enjoy a romantic stargazing dinner.
Romance under the Stars
Couples seeking an exclusive experience will be captivated by the Resort's Spa Under the Stars experience in the spacious, Eden-like garden Spa. This intimate evening is available to one couple after the Spa has been closed to all other guests, creating a perfectly intimate atmosphere.
Intimate Beach Dinners at Sunset
Take a stroll along the water's edge of Pinney's Beach to find a shimmering candlelit table for two. Savour your meal along with the beautiful scenery of Nevis, sister island St. Kitts and a breathtaking sunset.
RELAXING IN THE CARIBBEAN SUN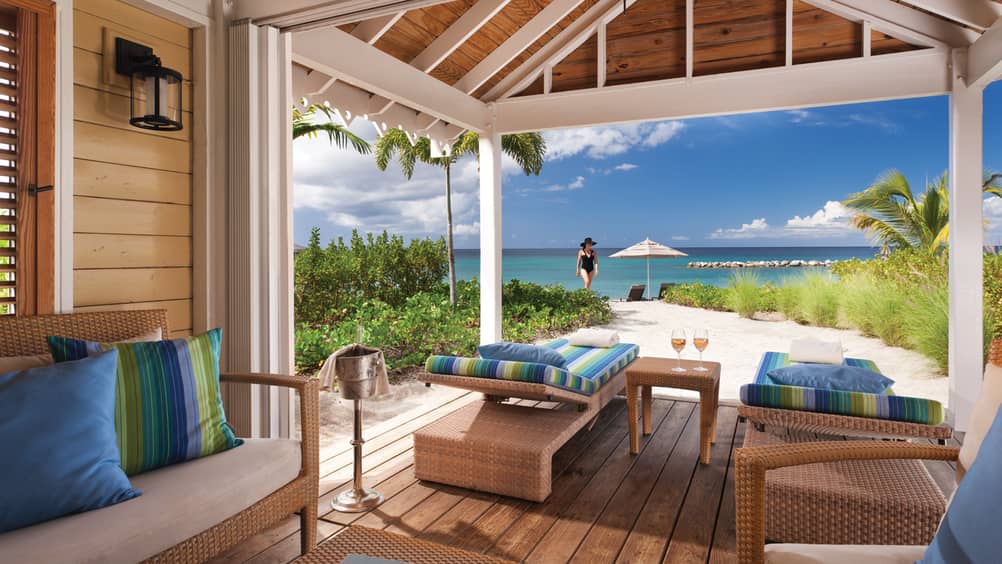 Spend the day relaxing on the soft sands of Pinney's Beach in your very own beachside hideaway. Four luxury beach cabanas stand alongside the beach and provide an ideal dayimte escape. Our Cabana Concierge is prepared for your every request to make your stay seamless. Each beach cabana is available for daily rentals and offers an array of refreshing amenities.
ADMIRE THE BEAUTY OF MOTHER NATURE
Make memories on an incomparable adventure to Montserrat, known as the Caribbean's modern-day Pompeii. Take in Montserrat's Soufrière Hills volcano from the sky via helicopter, followed by a guided tour atop the cooled, hardened pyroclastic flow. Then enjoy a delicious three-course lunch on the veranda at the Olveston House, home of the late Sir George Martin, who was the long-time producer for The Beatles. End the day back at the Resort with an intimate afternoon at the Spa. Enjoy a unique cleansing with our 'Essence of the Peaks' spa ritual, utilizing special volcanic sand to exfoliate and rejuvenate from head to toe.
Four Seasons Resort Nevis West Indies