Flooded with natural light, this elegant space is a showcase for exceptional regional ingredients fashioned into authentic Italian dishes by Executive Chef Fabrizio Borraccino.
HOURS
Breakfast

7:00 am – 11:00 am

Lunch

12:00 noon – 3:00 pm

Dinner

7:00 pm – 10:30 pm

Children's and Teen's Menu

7:00 am – 10:30 pm
Signature Dishes
WILD LEAVES SALAD, FLOWERS AND VEGETABLES

Marinated with Lemongrass, Ginger, Corn Cream and Onion

With Mango, Tomato, Avocado and Wild Herbs

LOBSTER FUSILLONI, PUMPKIN FLOWER AND ZUCCHINI

With Fruit, Vegetables, Buffalo Mozzarella and Carasau Bread

With Vierge Sauce, Aubergine Caviar and Balsamic Vinegar

MERINGUE, MINT AND BLUEBERRY WITH LIME CREAM

With Apricot, Peach and Timut Pepper
The Team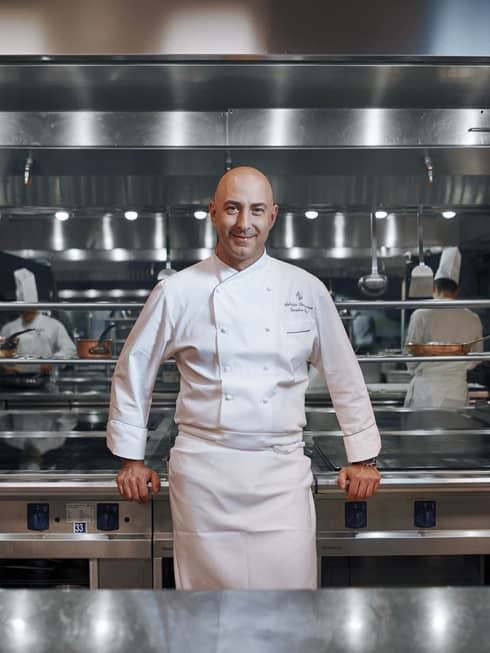 Fabrizio Borraccino
Executive Chef
Chef Fabrizio enlivens the signature Italian dining experience with the tradition and innovations of his native cuisine. Originally from the Abruzzo region, he studied culinary arts in Pescara where he recalls his first look at the school kitchen during student orientation: "It was love at first sight, and I never looked back."
"Come to La Veranda, and you will have a small tour of Italy right at the table – and of Milan as well."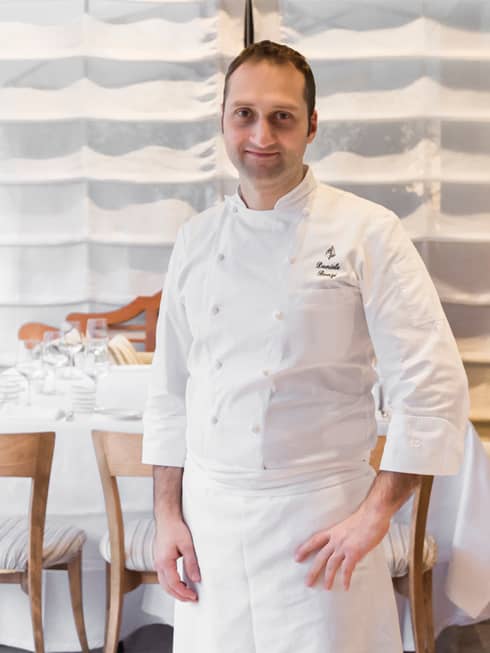 Daniele Bonzi
Executive Pastry Chef
The genius behind the Hotel's one-of-a-kind Chocolate Room, Italian-born Daniele also puts his skills to good use in the creation of delicate pastries and desserts that make good use of Italian ingredients and recipes. House-made sorbets, fresh-fruit tartlets and Four Seasons Milano-style tiramisu are all products of Daniele's deft hands and attention to detail.
"I love the fact that there are so many varieties of cocoa growing around the world, all with distinctive properties, flavours and tastes, and countless ways to use them."