Flooded with natural light and drawing a chic, local crowd, this elegant space is a showcase for exceptional Italian ingredients fashioned into innovative Mediterranean dishes. Gather with friends over a cold Pinot Grigio on our garden terrace.
HOURS
Breakfast

7:00 am – 11:00 am

Lunch

12:00 noon – 4:30 pm

Dinner

7:00 pm – 11:00 pm

Children and Teen Menu

7:00 am – 11:00 pm
Signature Dishes
Green tomato cream, poppy leaves, breadcrumbs and Calvisuis caviar

Carnaroli risotto "Gran gallo"

Robiola goat cheese, green peas, candied lemon and capers

pigeon breast and cannolo filled with its own stewed leg

Nettle pesto and coriander sauce

Oat, sheep milk ricotta and flowers
The Team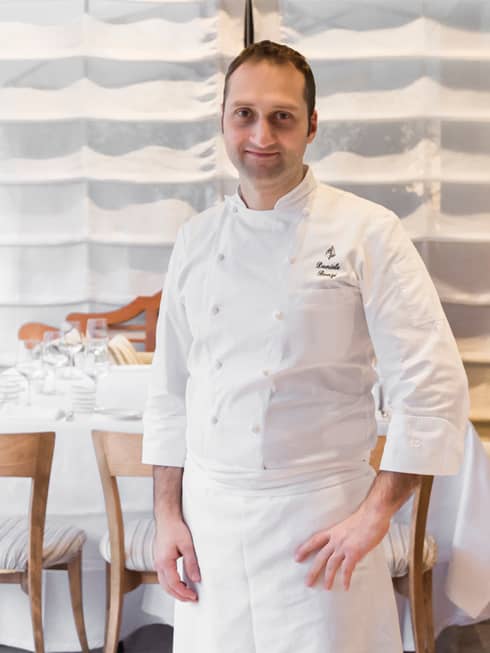 Executive Pastry Chef
Daniele Bonzi
The genius behind the Hotel's one-of-a-kind Chocolate Room, Italian-born Daniele also puts his skills to good use in the creation of delicate pastries and desserts that make good use of Italian ingredients and recipes. House-made sorbets, fresh-fruit tartlets and Four Seasons Milano-style tiramisu are all products of Daniele's deft hands and attention to detail.
"I love the fact that there are so many varieties of cocoa growing around the world, all with distinctive properties, flavours and tastes, and countless ways to use them."
In-Room Dining

With a focus on fresh and healthy Mediterranean dishes, our 24-hour, in-room dining menu encompasses everything from Japanese-style breakfasts to a Milanese veal osso buco with risotto.

Details

Il Foyer

Live piano music plays, the fireplace crackles, and your gin and tonic – customized with fresh thyme or wild strawberries – is served with a smile. Our foyer bar is open all day for afternoon teas, pre-dinner cocktails or a quiet moment with an espresso.

Details