On the Atlantic coast of southeastern Florida, Miami sizzles with life, music, art, parties, conversation and spicy cuisine. The city is warm and mild all year round, thanks to the Gulf Stream; and because of its close proximity to Cuba, Miami enjoys rich, multicultural influences. There's plenty to experience with kids of all ages, from the beach to the zoo.
Why go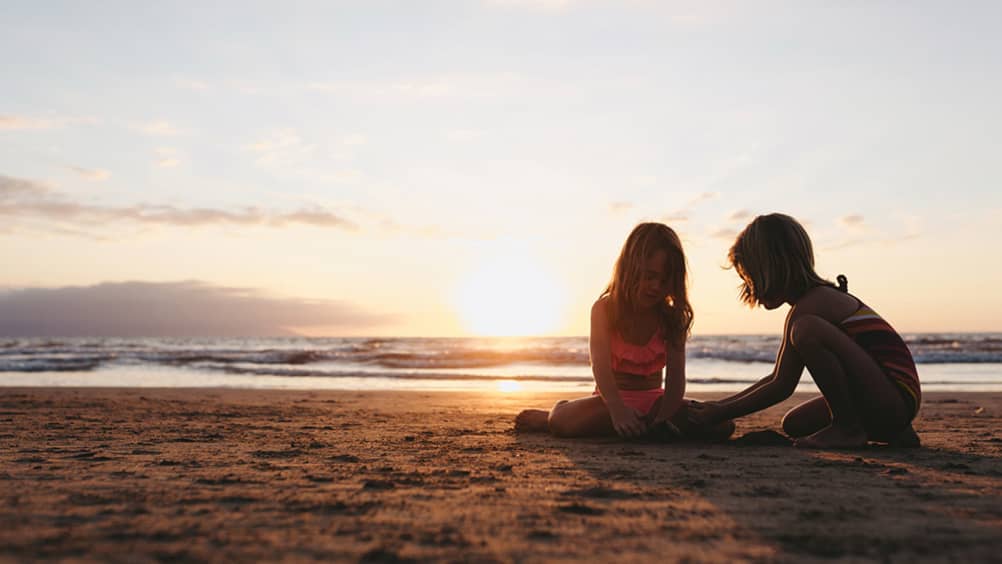 Photography Rob & Julia Campbell
Experience lively Latin culture in this glitzy, balmy, pastel-hued city on the Atlantic. Miami is also a top market for Latin American art.
The incredible food. Get your fill of freshly caught seafood, Cuban cuisine, interesting fusion dishes and Caribbean flavours.
The beach. The turquoise water is incredible. In Miami, public-access beaches are also state parks (and close to Four Seasons).
Professional sports. Watch a Miami Heat basketball game with diehard fans. Miami is also home to major league football, baseball and hockey teams.
The view. Four Seasons Hotel Miami is the tallest building south of Atlanta, at 70 storeys high.
What the kids will love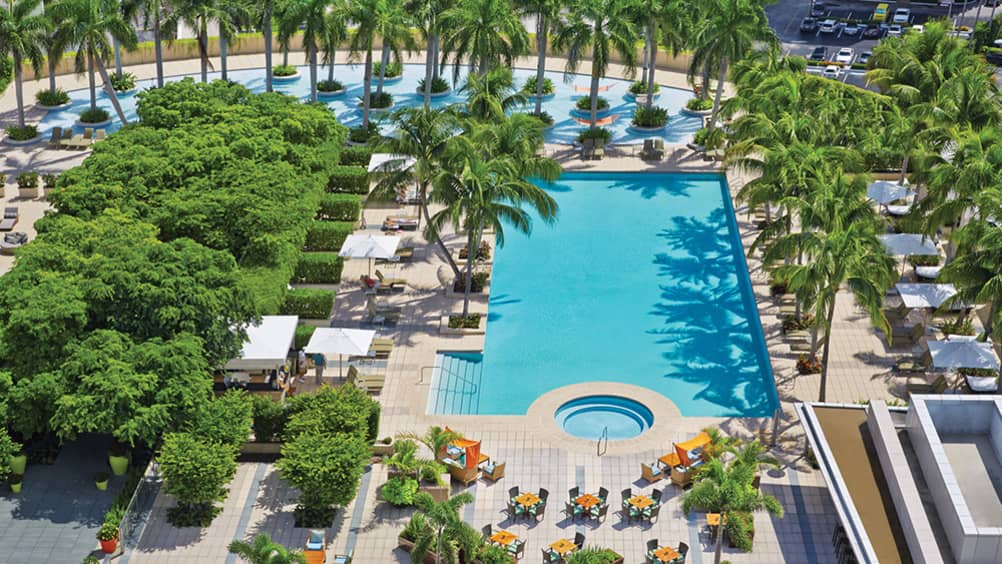 Photography courtesy Four Seasons Hotels and Resorts
The Hotel pools. Surrounded by a tree-lined, two-acre (0.81 hectare) patio garden, with birds of paradise and cushy outdoor conversation areas, the seventh-floor Main Pool is an urban oasis. At the far end, the shallow Palm Grove Pool houses a grove of palm trees with hammocks draped in between.
The ocean. It's warm and the aquamarine water is stunning. Go at dusk to watch the sun melt into the Atlantic.
Miami Children's Museum. With a two-storey sand castle, giant piggy bank and a 900-gallon (3,407-litre) marine tank, kids will love exploring the museum's exhibits.
Walking around lively South Beach. Pick an outdoor café and people-watch.
What you will love
The Spa. Sign up for a poolside signature spa treatment, or join the hard bodies at the fourth-floor Equinox. Hotel guests get complimentary access.
Walking around South Beach. The nightlife sizzles here, and if you've got the kids with you, they'll love taking in all the action on the street. Think bustling cafés, blaring music, glamourous storefronts and enticing aromas.
Date night. Hit South Beach again, but this time without the kids. You'll love the stylish Art Deco architecture, top-notch restaurants and luxe hotel bars. Take in some live Latin music, and sip some refreshing cocktails under the palm trees. Set aside time for late-night drinks at Delano South Beach.
Private shopping or art tours. From shopping high-end fashions to fine art, ask the Concierge to book you a private tour.
Four Seasons Resort Palm Beach. Located just over an hour north, spend a few relaxing days in Palm Beach to make it a two-stop Florida family vacation.
Look for
Natural beauty. Look up to see orchids hanging from the trees; or if you're lucky, you might even spot a manatee in the waters of Biscayne Bay.
Dine in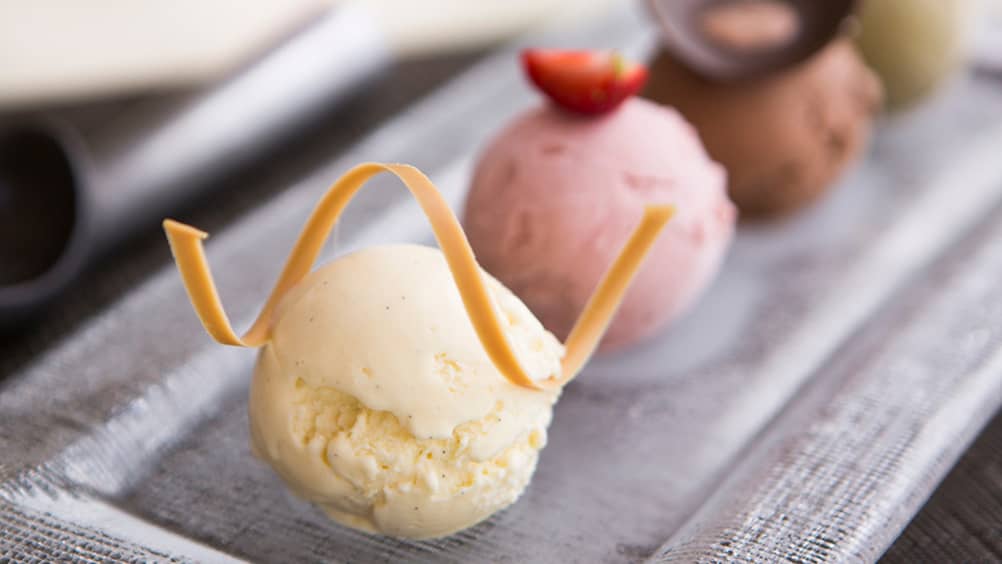 Photography courtesy Four Seasons Hotels and Resorts
Perched above the Hotel's pool terrace, indoor-outdoor EDGE Steak & Bar is known for its steakhouse-light concept and farm-to-table sensibility. Local seafood, fresh fruit and veggies, and unusual cuts of meat are the stars of the menu. Chef Aaron Brooks even harvests produce from the Hotel's two-acre pool terrace. A stylish, sleek lounge, the restaurant bar is particularly fun when a Miami Heat game is on.
For lunch, order the refreshing ahi tuna tartare with pickled shallots, watermelon and Italian parsley, or the flavour-packed grilled shrimp served over a quinoa and fire-roasted corn salad, shaved fennel and tender baby spinach. The juicy EDGE Burger, featuring Creekstone Farms ground beef with Vermont cheddar, chef's pickles and a side of house-cut fries, is also a winner.
The kids' menu at EDGE is a hit, with classic kid staples such as chicken fingers or a triple-decker PB&J. Bonus: Children under five, accompanied by parents, eat free at EDGE.
Dine out
Piola Brickell, off South Miami Avenue, is a great place to grab a slice of pizza with the family. The bright décor and colourful murals captivate children and adults alike.
Perricone's Marketplace & Cafe offers delicious food set in a beautiful indoor-outdoor tropical garden area where the ocean breezes add a relaxing vibe. With authentic Italian fare on offer, the Sunday brunch is the best time to take it all in.
Another local favourite located within walking distance of the Hotel is Novecento, home to local foods with a Latin American flare. Catch a movie at Lincoln Mall and head here for a post-show treat that's sure to please.
5 family to-dos
1. Spend a day at the beach. Crandon Park in Key Biscayne is one of the best options. It's very quiet and you'll feel like you're in the Caribbean. Rent umbrellas and chairs here; Four Seasons will supply pool towels.
2. Head to the zoo. Zoo Miami is something special. Yes, there are lions and monkeys, and you'll learn about the Everglades. But the zoo also puts a huge focus on education. There are a variety of tours and interactive programmes available to help kids of all ages experience the animal kingdom in a unique and exciting way.
3. Take the kids to the museum. The Miami Children's Museum is also top-ranked. It includes a mini city where kids can try out being a doctor or a chef and even shop in a miniature supermarket. (And Jungle Island is just across the street.)
4. Explore both land and sea. For younger kids, try Duck Tours, a silly, high-octane ride in an amphibious bus that takes you in the water and back on land with a zany, costumed driver. For older kids, take a boat trip around Star and Palm Islands, passing celebrity mansions. Or, visit the Schnebly Redlands boutique winery and Robert Is Here fruit stand in Homestead, about 45 minutes away by car.
5. Get outdoors. Take the family for a round of golf or tennis lessons. Or, head out on the water with a boating, sailing or deep-sea fishing expedition.
Four Seasons Hotel Miami