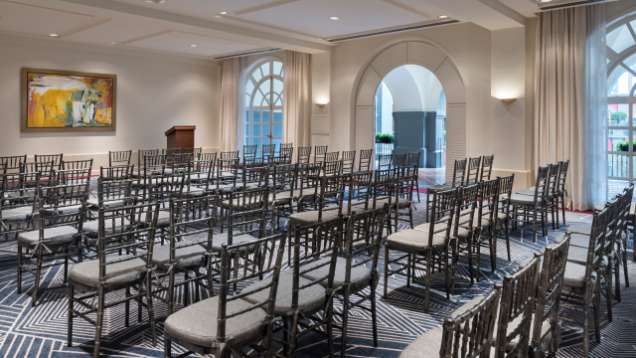 This lovely room, with its spacious terrace and magnificent view of the central courtyard, has a capacity of 40 to 100 people, depending on the function.
Refined Décor
Exquisite European ambience, with muted tones and high ceilings.
Room Functionality
Spacious terrace offers view of central courtyard.
Capacity ranges from 40 to 100 guests.
Complimentary Amenities
Built-in screens, podium and staging in all meeting rooms.
A meeting box comes equipped with standard office supplies.
Seating
Classroom
Hollow Square
U-shape
Theatre
Reception
Banquet rounds
Conference/Boardroom

70
45
40
80
100
80
34

Room Features
Pre-function space available with this room
Wired or wireless, high-speed e-mail and Internet access
Note: Portico Nayarit is available for pre-function.

Location
SECOND FLOOR
Size
Area
Dimensions
Height

117.2 m2 (1261 sq.ft.)
13.2 x 8.9 m (43.3 x 29.1 ft.)
3.2 m (10.3 ft.)