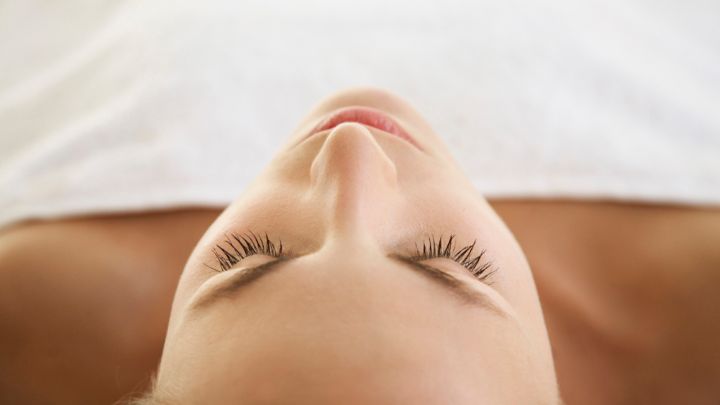 Revitalize your skin and leave your face glowing, with a choice of facial treatments from Anne Sémonin, MCCM and Terres d'Afrique.
Baby Bliss Pregnancy Facial
Anne Sémonin
Soothing and nourishing, achieve radiance.The hormonal effects on your skin during pregnancy can cause dryness, breakouts, increased pigmentation and a lacklustre complexion. gain that beautiful pregnancy glow with this rehydrating, soothing facial. Using an intensive nourishing oil, special attention is paid to relaxing your neck and shoulders followed by a heavenly scalp message which will leave your skin glowing.
60 Minutes
60 Minutes
Call + (230) 4023100*
Oligo Skin Protect
Anne Sémonin
Detoxifying, balancing, age-preventing. The ultimate in anti-oxidant defence, this treatment instantly hydrates and balances, boosting oxygenation to the skin cells. Using the exclusive Oligo range of products, an advanced formula combining dynamic ingredients such as algae and chlorella, this facial ensures clear skin that is thoroughly protected from urban environmental aggressors.
60 Minutes
60 Minutes
Call + (230) 4023100*
Cryo Time Freeze
Anne Sémonin
Immediate radiance, toning, brightness. A flawless skin brightening experience, this facial uses the age-defying effects of cryotherapy with the Anne Semonin 100% Active Serum to reinforce the skin's firmness at a cellular level. Complemented by a neurocosmetic containing Wild Indigo which stimulates the release of B-endorphins, during this treatment, the body is flooded with a total sense of well-being.
60 Minutes
60 Minutes
Call + (230) 4023100*
Gentleman's First Choice
Anne Sémonin
Detoxifying, purifying, radiance. Starting by a back exfoliation, the use of natural sea minerals and essential oils in this treatment results in a skin that is deeply cleansed and totally purified. The peel off mask reveals a smooth texture and brilliantly clear complexion.
60 Minutes
60 Minutes
Call + (230) 4023100*
Ultimate Skin Renew
Anne Sémonin
Peeling rejuvenating, smoothing. This medically inspired therapy brings together the gentle peeling action of micronised peeling powder with a deeper exfoliation from the magic resurfacing complex. Together the non-irritant formula softens visible imperfections on the skin's surface, such as pigmentation and spots, and diminishes wrinkles. Luxurious yet powerful, when used regularly, this treatment truly is the ultimate transformation for visibly younger and more radiant skin.
90 Minutes
90 Minutes
Call + (230) 4023100*
Marine Mineral Purifiyer
Anne Sémonin
Deep cleansing and decongestion techniques combine with the power of marine elements, resulting in a deeply purifying treatment. The advanced Anne Semonin peel off mask, with the highest concentration of minerals and algae, leaves the skin instantly calmed, decongested and silky smooth.
90 Minutes
90 Minutes
Call + (230) 4023100*
White Star
Anne Sémonin
Brightening, purifying, balancing. A gentle but powerful, complete clarifying treatment using exclusive Anne Semonin Brightening Complex, rich in detoxifying antioxidants and sea-sourced minerals. This intensive dark spots corrector treatment will visibly brighten the complexion while leaving skin fresh, hydrated and radiant.
90 Minutes
90 Minutes
Call + (230) 4023100*
Afrique Restore
Terres d'Afrique
The detox process of this facial begins with a combination of deeply relaxing massage techniques. Accupressure points and lymphatique drainage will help to eliminate toxins and reduce congestion. A cleansing mask and an omega oil rich botanicals moisturizer will leave you with a naturally radiant look.
60 Minutes
60 Minutes
Call + (230) 4023100*
Afrique Arising
Terres d'Afrique
The Afrique Arising facial is the perfect cure for thirsty skin, with a unique combination of Marula oil and Baobab pulp extract, this treatment uses lymphatic drainage techniques to restore your skin's elasticity and procures deep moisture by leaving a comfortable feeling and a glowing complexion.
60 Minutes
60 Minutes
Call + (230) 4023100*
Moisturizing Facial
MCCM
Deeply hydrating, this facial promotes elasticity, firmness and smoothness of the skin. Suitable for all skin types, the treatment helps to restore the optimal level of hydration, while combating free radicals to prevent aging.
60 Minutes
60 Minutes
Call + (230) 4023100*
Multi Active Whitening Facial
MCCM
The Multi-Active Whitening Facial is specifically designed to promote a lightening effect and will leave your skin with a soft glow. Through use of a unique multi-active exfoliation that blends strong anti-oxidant ingredients and combination with liquid plasma technology that has platinum nanoparticles, this facial will ensure intensive skin rejuvenation. The rejuvenation process is triggered by MCCM's transdermic mesotherapy, after which a soothing alginate face mask provides the special touch of this advanced cosmetic treatment.
90 Minutes
90 Minutes
Call + (230) 4023100*
Purifying Facial
MCCM
This facial is specifically designed to improve the texture of the skin through stimulating cell renewal that balances the brightness and smoothness of the skin. Dead cells are eliminated by the glycolic acid component and the cellular metabolism is activated to allow an immediate renewal of the skin. The treatment is particularly well suited to those with excess sebum secretion, solar erythema, seborrhoea tendency or hyperkeratosis.
60 Minutes
60 Minutes
Call + (230) 4023100*
Collagen Facial
MCCM
This exclusive treatment is designed to fight premature aging, giving a revitalizing and lifting effect. Combining the efficacy of strong, principle and active ingredients in a high-tech device, penetration of the skin is increased and balance is achieved through an enriching Nano-fiber mask to revitalize, hydrate and tone the skin.
90 Minutes
90 Minutes
Call + (230) 4023100*