My Four Seasons
A Golf Course with a Built-In Groundskeeper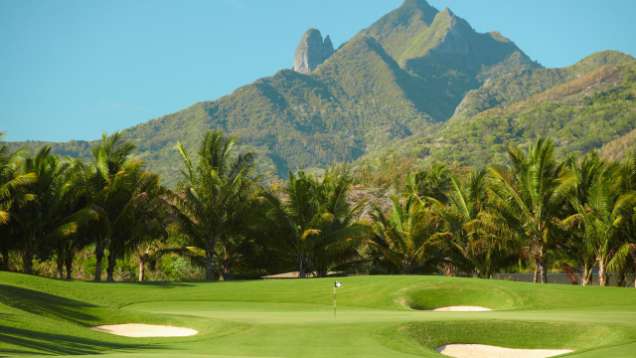 The designers of the golf course at the Four Seasons Mauritius at Anahita, led by South African golf pro Ernie Els, always wanted what they were building to blend in with nature. Each of the 18 holes is cleverly integrated into the landscape, a lush tropical mix of leafy vegetation set off by a crystal-clear lagoon and green-covered mountains. What they didn't intend was for nature to do some of the work for them.

Golfers who play often enough and long enough will eventually see a giant tortoise. His name is Gromomo, and he's over 100 years old. Four Seasons Resort Mauritius at Anahita was built in 2008, so age-wise it's got nothing on this oldster.

Despite having original claim to the territory, Gromomo seems relatively blasé about sharing it with visitors, who return the favour by feeding him treats like cabbage and bananas.

Gromomo is one of four giant tortoises that live on the Resort grounds. Here's a quick look at the rest of the line-up:

Name: Venus
Age: Unknown
Species: Malagasy tortoise
Fun Fact: Considered one of the most beautiful tortoises because of the star-shaped patterns on her shell

Name: Apollo
Age: 66
Species: Aldabra tortoise
Fun Fact: Excellent swimmer, naturally buoyant

Name: Caesar
Age: 58
Species: Aldabra tortoise
Fun Fact: Digs burrows to keep cool when it's hot out

Whether you enjoy golf or prefer to watch from the clubhouse, keep your eyes open and you may see some of the Resort's most interesting and exotic residents.
More Four Seasons Stories