With a storied past and charming Creole architecture, Mauritius is a cultural destination. It's also one of the world's most beautiful islands, boasting steep, volcanic, green mountains, swaying palms, a crystalline sea, sugar cane fields and coral islets.
Kids and adults can enjoy lying on white sand beaches, hunting for giant tortoises and swimming in the warm Indian Ocean. If you're looking for an adventure, go fishing on a deep-sea vessel or take a wild ride through the jungle on a zip line. Just 45 minutes from the airport, Four Seasons Resort Mauritius at Anahita is surrounded by 64 acres (26 hectares) of tropical gardens, a sanctuary perfect for the whole family.
Why go
Aquatic adventures. Enjoy world-class snorkelling, diving, fishing and golf.
Diverse culture. The Republic of Mauritius is a happy melting pot of folks from India, Africa, France, England and China. While English is the official language, you'll hear French spoken widely, as well as the local Creole.
Beautiful beaches. They are so gorgeous, it's almost a cliché.
Perfect weather. Temperatures throughout the year hover around 27 degrees C (80 degrees F), so it's always warm, but not too hot.
Delicious cuisine. With such a diverse culture, you can sample cuisines such as Creole, Indian, Chinese, African and much more. The seafood is a must-try as well.
What the kids will love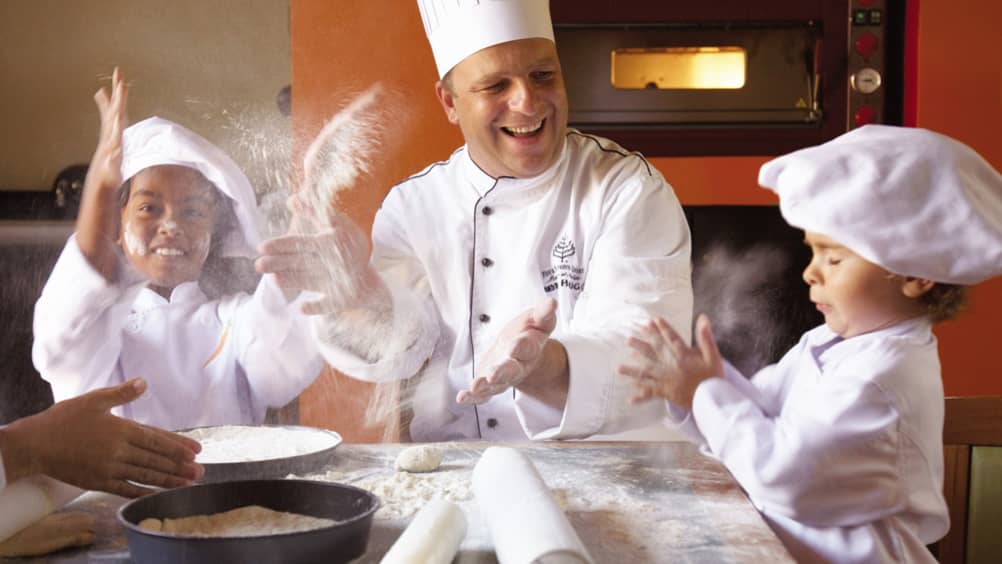 Photography courtesy Four Seasons Hotels and Resorts
Open-air village markets. These are a local hot spot in most towns, including Port Louis and Centre de Flacq. Take in the aroma of local herbs, colourful spices and exotic fruits and vegetables.
The island's famed rainbow sand dunes. The kids will love seeing these naturally occurring swirls and stripes of vibrant reds, browns, greens, indigos, yellows and violets. The most spectacular is the Seven Coloured Earths in Chamarel, also home to the 400-foot (122-metre) Chameral Falls.
Free kids' cooking classes. At the Resort, kids can enjoy pizza-making sessions in a kid-friendly kitchen at the Hobbit Village Kids' Club. Additionally, teens can take part in a seasonal dessert-making class, where they'll make sweet treats like classic macarons, chocolate moelleux and banana-vanilla tart.
Giant Aldabra Tortoises. Be sure to stop by and say hello to the Resort's resident tortoises, Gromomo and Ticolo, who reside by the ninth hole on the golf course.
Golf Academy. Available for all ages, kids can receive lessons from one of the pros on the Resort's oceanfront golf course. They'll get outfitted in golf attire, eat lunch in the clubhouse and test out the video swing analysis software.
What you will love
A day out. With the Resort's complimentary kids' club, you can drop the kids off in the morning and head out for a day of scuba diving or sailing.
Oceanfront golf course. All Resort guests enjoy unlimited, complimentary golf during their stay. This 18-hole course was designed by Ernie Els, featuring six lagoon-side holes that make for a stunning backdrop while perfecting your game.
Mini Cooper tour. Zoom up and down Mauritius' varied terrain in a convertible Mini Cooper, where your custom itinerary will be programmed into the on-board navigation system.
Scenic views. Visit Eureka Mansion, a restored colonial manor in Moka, for unbelievable mountain views and hidden waterfalls.
Spa bliss. Take an hour (or three) for a restorative treatment, like the Jet Lag Refresher or the Sugar Body Purifying Polish, provided with a beautiful view of the Indian Ocean.
Eat this
For families, the Resort's Beau Champ restaurant serves an amazing Mauritian fish cake with capsicum rémoulade. Another must-try is the grilled babonne with saffron and papaya chutney, lemongrass foam and roasted cherry tomatoes.
At Bambou, sample the traditional Mauritian chicken and prawn curry, served with faratha, rice and Mauritian sambals. The restaurant also serves a delicious non-alcoholic Bambou Shooter, made with a combo of sugar cane syrup, passion fruit juice, passion fruit purée, lime and soda water.
Kids will love creating homemade pizzas and pastas at Acquapazza, and you'll love the view overlooking the Resort's lagoon.
Photography Photography courtesy Four Seasons Hotels and Resorts
Head to Trou d'Eau Douce, a small fishing village about a 15-minute drive north along the coast, to Chez Tino. This restaurant features authentic local fare served on a charming outdoor terrace with beautiful views of Trou d'Eau Douce Bay. The kids will like the crispy calamari and fresh crab.
5 family to-dos
1. Claim your own beach
Take a complimentary boat shuttle to Ile aux Cerfs, just a 15-minute ride across the lagoon, where your family can spend the day playing ball or tag on these spacious, uncrowded beaches. Or, cross over to the eastern side of the island for sweeping views of the Indian Ocean and a shoreline dotted with unusual shells and starfish.
2. Dance the Sega
Known for its chaotic movements, colourful garb and traditional instruments, a live Sega performance at Bambou is a must-see. This entertainment takes place weekly, so plan accordingly.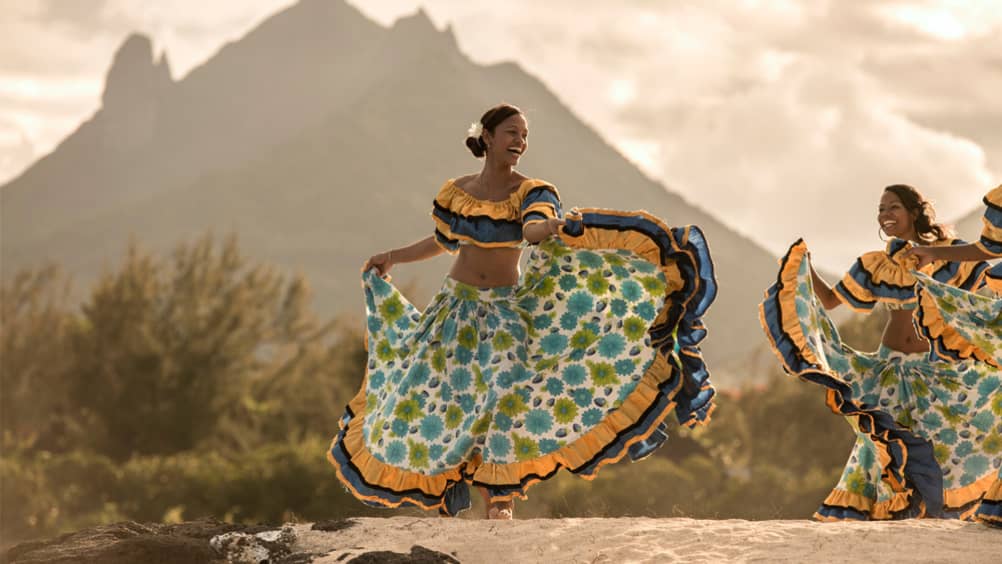 Photography courtesy Four Seasons Hotels and Resorts
3. Pilgrimage to Grand Bassin
Overseen by the giant statue of Lord Shiva, this lake is high in a secluded mountain area in the heart of Mauritius. Every year, local Hindus make a pilgrimage on foot to the lake, walking three days to celebrate the festival of Maha Shivaratree.
4. Wild Kingdom
Make your way to Casela Nature and Leisure Park, where you can explore more than 1,500 different species. The park is habitat to lions, tigers, monkeys and more. You can also enjoy quad biking and zip lining while you're there. Also worth a visit is La Vanille Reserve des Mascareignes, one of the world's largest insectariums with guided treks past some 2,000 crocodiles and 1,000 tortoises.
5. Sail the lagoon
Rent a sailboat from Hobie Cat, and request a picnic lunch from the Resort for the perfect afternoon on the water.
Four Seasons Resort Mauritius at Anahita