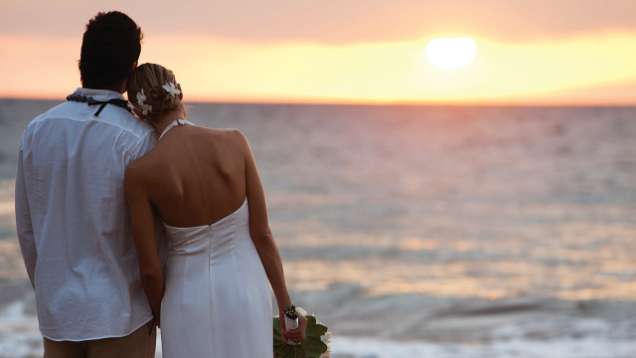 Four Seasons defines the essence of a superb honeymoon in Maui. As a destination setting, for just you two or for your whole party, we make weddings and honeymoons in Hawaii seamless and inspiring. For your first night, we offer a retreat of peace and comfort – with a smooth start for your trip to another Four Seasons honeymoon setting. Or, for your honeymoon with us, we can help you craft every unforgettable detail.
Honeymoon Wishes
To help make your honeymoon even beyond your dreams, allow your friends and family to contribute towards experiences at Four Seasons Maui. Peruse our catalogue and become inspired or allow them to choose for themselves. Couples Massages while listening to the sound of the ocean; an Ultimate Dinner under the Wailea stars for just the two of you; a bottle of champagne to celebrate with, it is all available for them to contribute towards for your honeymoon experience.
Couples Instructional Massage
A lifetime of happiness together begins here. Learn basic massage techniques to relax and ease your partner's tense muscles. Each of you will receive 50 minutes of hands-on instruction from one of our skilled therapists, creating a fourhanded treat for your partner. During the massage, you'll use a specially formulated his and hers herbal massage oil, designed to promote hormonal balance and stress relief, that contains over 75 healing botanicals

Romantic Activities for two
Do more than say "I do." Let Four Seasons Resort Maui arrange other memorable experiences for you.
Examples include:
Private picnic on the beach

Bougainvillea trail

Ultimate

romantic dinner for two