My Four Seasons
House of The Sun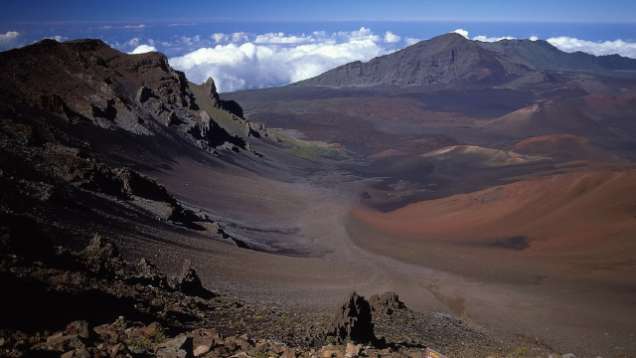 Two hours from the Resort is a deeply sculpted landscape with many nicknames. Some call it Wao Akua, the Wilderness of the Gods, where the goddess Pele fought her sister to the death.


Its official name is Haleakala, which means House of the Sun, and it comes from a different legend, one in which demi-god Māui snared the sun to slow it down, just so his mother could complete her chores during daylight hours.
A dormant volcano, Haleakala's roads snake up 10,000 feet (3,000 metres), through cotton candy-shaped clouds, all the way to a visually expansive summit—all in a mere two hours.


A visit to the top reveals another possible inspiration for its name, and it isn't the fire that once raged in its belly. No less than Mark Twain has called the sunrise atop Haleakala the sublimest spectacle he'd ever witnessed. At night, the summit takes on a new dimension, with views of distant suns twinkling like nowhere else in the world.
If you came for the sunrise or the sunset, that would be enough. Still, unique ecological treasures abound. About 90 percent of Haleakala's native flora is found only in Hawaii—perhaps the most unusual and beautiful is the Silversword. Making its home on the bleak lunar landscape near the top, it looks like an offspring of a sea anemone and a cactus when viewed from afar.
The volcano is only one part of the Haleakala National Park, which offers rainforests, alive with colourful honeycreepers, dry forests, and the completely natural riparian habitat of the Oheo stream ecosystem, home to native fish. But don't be surprised if you come across wildlife not listed in your guidebook. A new species hitchhikes to the park about once every 20 days. You can't blame them, not when it's one of the most magnificent parks under the sun.