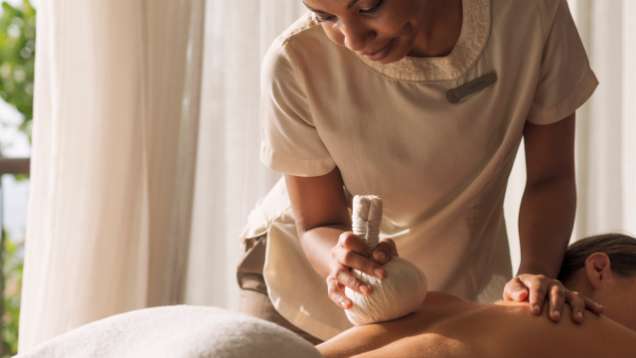 Balinese Massage
Warm, sensual and cocooning, this massage ensures deep relaxation of the muscles and nervous system. Dry pressure-point techniques and long, gentle strokes follow the natural direction of the body's energy, working deeply to eliminate toxins, soothe damaged tissue and relieve strained muscles and joint pain. The boost to your circulation also helps reduce stress and balance your body's chi.
Price starts at MAD 1,150
Indian Champissage
Champissage is a massage technique based on Ayurvedic medicine in India and is popular among women for its deep hair-conditioning results. Focusing on the head, scalp, neck and shoulders, this massage uses pure argan oil to completely de-stress and relieve tension. This treatment is highly beneficial for relieving migraines, promoting hair growth and reducing anxiety, as well as promoting deep, sound sleep.
Manipura Massage by Ila
This treatment starts with a Himalayan body scrub to purify and detoxify the body inside and out, followed by a full-body massage. Through marma pressure points, lymphatic drainage and the application of a warm Himalayan salt poultice, your solar plexus is balanced, leaving you in a state of deeply relaxed bliss.
Price starts at MAD 1,350
Kundalini Back Massage by ILA
This spine and facial massage is a deeply holistic treatment that balances your energy and nervous system. Through a synergistic blend of organic and essential oils in combination with ancient massage techniques, your body will experience chakra healing and awakening.
Ku Nye Massage by Ila
Widely believed to be one of the most important external therapies, this unique treatment combines two different phases. In the Ku phase, your therapist applies oil, moves joints and applies heat to the body. During the Nye phase, the therapist kneads, knuckles, rubs and taps your muscles and tendons. Combined, Ku and Nye are important for general well-being and are perfect for balancing energy and removing tension, fatigue and nervousness.
Foot Reflexology
Reflex points on the feet and hands correspond to every part of the body. Applying pressure to these points stimulates them, enhancing circulation and optimizing specific bodily and muscular functions.
Note: Prices and treatments are subject to change without notice. Treatments are available in-room for an additional 40%. We suggest that you arrive 20 minutes prior to your appointment time in order to enjoy our facilities, including steam rooms, saunas, relaxation rooms and gardens, with complimentary refreshments. Should you wish to cancel or reschedule, please advise us at least four (4) hours prior to your appointment time in order to avoid a 100% cancellation fee.