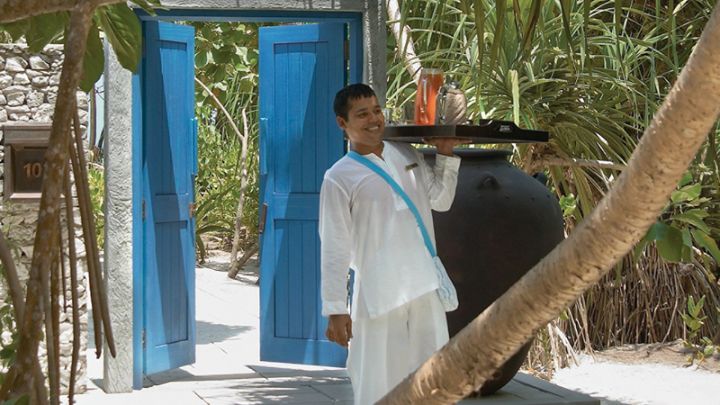 hours
| | |
| --- | --- |
| Breakfast | 7:00 am – 11:00 am |
| All-day dining | 11:00 am – 11:00 pm |
| Overnight dining | 11:00 pm – 7:00 am |
| Afternoon tea | 2:30 pm – 5:30 pm |
| In-Villa Dining is available 24 hours a day. | |
In-Villa Dining at Four Seasons is a fine-dining experience within the comfort and convenience of your bungalow, villa or suite. Choose from an extensive menu throughout the day, featuring western and Asian favourites.
Specialties
Breakfast includes an inspired selection of nutritionally balanced, healthy items including freshly squeezed juices, granola and egg white omelettes. Also available are set Japanese breakfasts. Lunch and dinner present home-style classics, curries and a vegetarian selection. For afternoon tea, enjoy traditional tea-time favourites or a Maldivian version with a unique twist. Satisfy your midnight cravings with a light salad, sandwich or pasta dish. An extensive selection of wines and other alcoholic beverages complements your In-Villa Dining.
In addition to a children's menu, we also offer a complimentary infants' menu for children age three or under who have been introduced to solid food.
Special arrangements can be made for romantic beach and sandbank dinners, Robinson Crusoe picnics and private parties of any size.
Restaurant menus
All restaurant menus are available for In-Villa Dining between 7:30 pm and 11:00 pm.